Mayor Faulconer's Climate Action Plan Wins Unanimous City Council Approval
Final Plan Provides Roadmap for a Cleaner San Diego that Creates Green Jobs & Significantly Reduces Greenhouse Gases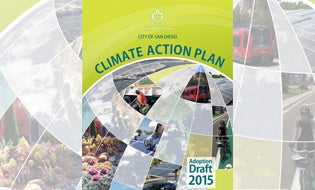 Tuesday, December 15, 2015 - NEWS RELEASE
San Diego – With the goal of creating a cleaner San Diego for future generations, Mayor Kevin L. Faulconer's Climate Action Plan for the City of San Diego won unanimous approval Tuesday from a bipartisan City Council.
The Climate Action Plan calls for eliminating half of all greenhouse gas emissions in the City and aims for all electricity used in the city to be from renewable sources by 2035.
"Today San Diego took a landmark step toward securing a greener and more prosperous future," Mayor Faulconer said. "We've done something remarkable, bringing business and environmental interests together in a bipartisan manner to support a cleaner community and a stronger economy. We've struck the right balance with this plan, and San Diegans can look forward to more clean technology, renewable energy and economic growth."
Mayor Faulconer brought together environmental, business and community leaders to endorse the Climate Action Plan and they stood beside him again at a Tuesday news conference to show the widespread support throughout San Diego for the plan.
"Today, San Diego positions itself as a national leader by becoming the largest city in the U.S. to commit to 100% clean energy," said Nicole Capretz, executive director of the Climate Action Campaign. "Following on the heels of the landmark agreement in Paris, we are showing cities around the world how to create a better, cleaner and healthier future to protect the people and places we love."
San Diego Regional Chamber of Commerce CEO Jerry Sanders said, "Everyone agrees that we need to reduce carbon emissions. It's important for a healthy environment, but it's also important for a healthy economy. The San Diego business community applauds Mayor Faulconer and the City Council for charting a path for the City to significantly reduce carbon emissions, while providing enough flexibility to be adaptable, cost-effective and to enable innovation. Many of the breakthroughs that will propel our planet's sustainable future are sure to come from right here in San Diego, and we look forward to working together with the City and others to make that vision a reality."
The Climate Action Plan is a package of policies that will benefit San Diego's environment and economy. It will help create new jobs in the renewable energy industry, improve public health and air quality, conserve water, more efficiently use existing resources, increase clean energy production, improve quality of life and save taxpayer money.
"The Climate Action Plan is a necessary tool for the City to show our commitment to environmental stewardship so that we can implement sustainable and responsible policies for the future," said City Council President Sherri Lightner.
The plan also clearly identifies steps the City of San Diego can take to achieve the 2035 targets. That list includes creating a renewable energy program; implementing a zero waste plan; and changing policy to have a majority of the City's fleet be electric vehicles.
"Not only did San Diego make history with this bold climate plan, we also made history with the unprecedented and diverse alliance of stakeholders, from businesses to environmentalists to a unanimous bipartisan Council, who came together to support this plan to protect the people and places we all love," said Councilmember Todd Gloria.
The Climate Action Plan helps achieve the greenhouse gas reduction targets set forth by the state of California. The City's first Climate Action Plan was approved in 2005 and a commitment to update the plan was included in the City's 2008 General Plan update.
The Climate Action Plan can be viewed here on the City's website.
CONTACT: Craig Gustafson at (619) 453-9880 or [email protected]