City Kicks Off 'Housing America Month' by Approving Over 500 Units of Affordable Housing
Two New Multifamily Projects Will Rehabilitate Existing Buildings to Preserve Affordable Units for 55 Years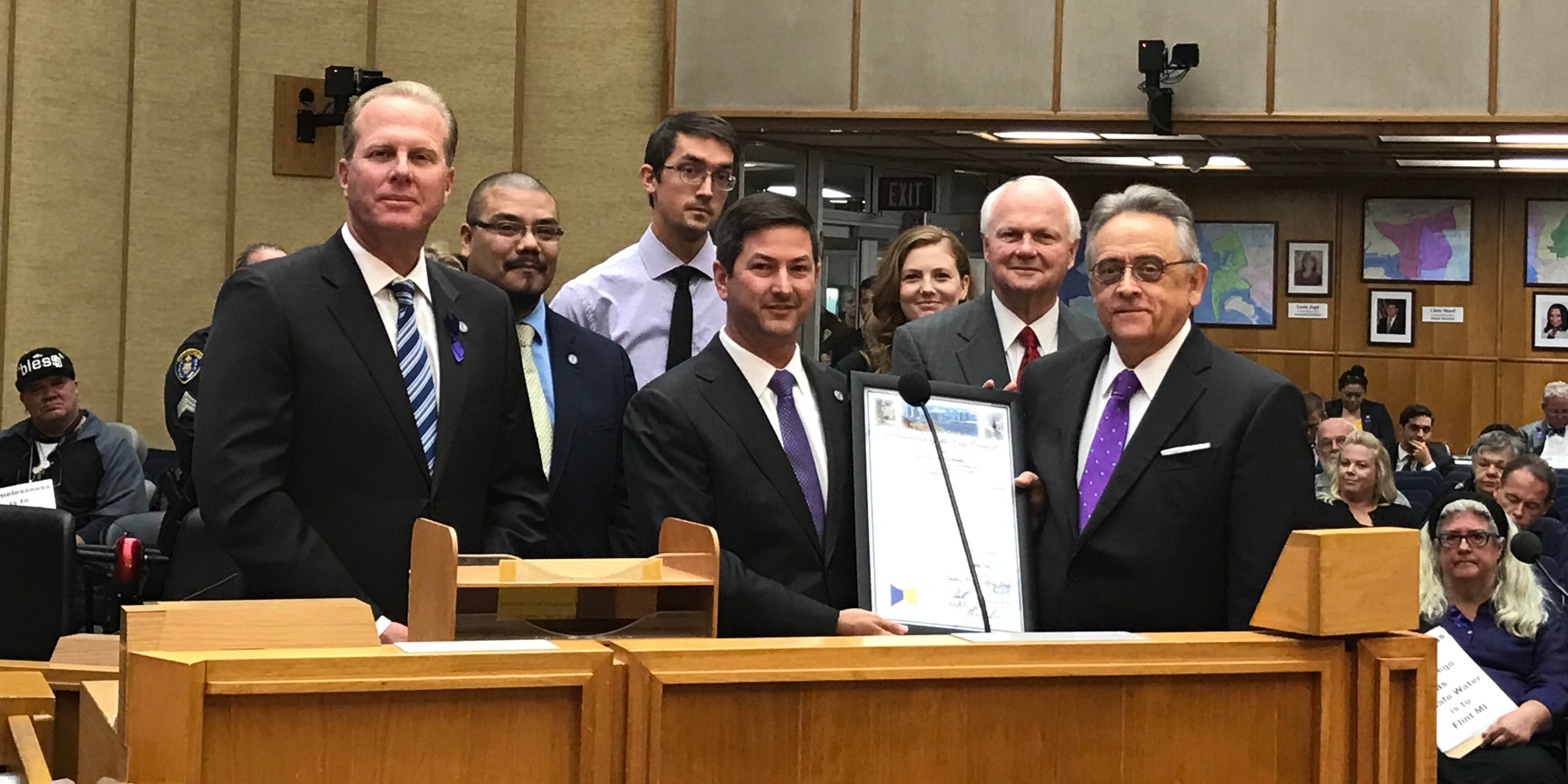 Wednesday, October 11, 2017 - NEWS RELEASE
San Diego – On the heels of Mayor Kevin L. Faulconer and the City Council proclaiming October "Housing America Month," the Council yesterday approved two projects that will preserve a total of 508 affordable rental housing units for San Diego residents.
The projects, funded partially by Multifamily Housing Revenue Bonds authorized by the San Diego Housing Commission (SDHC), are part of the City's multipronged efforts to address the housing crisis by building more units, lowering costs and promoting smart growth.
"We need to build more housing that San Diegans can afford, and projects like this are a big step in the right direction," Mayor Faulconer said. "We are focused on creating more housing opportunities for our low- and middle-income residents and speeding up the approval process so those units are available sooner rather than later. No one who loves San Diego and wants to live in San Diego should be priced out of San Diego."
The approved projects are:
Coronado Terrace in the Otay Mesa-Nestor neighborhood, which includes 310 affordable rental apartments and two manager's units. It will be rehabilitated with $95.8 million in Multifamily Housing Revenue Bonds authorized toward the total rehabilitation cost of $125.7 million. Coronado Terrace was originally built in 1971.
Luther Tower in the Cortez Hill area of downtown San Diego, which includes 198 affordable rental apartments, an unrestricted manager's unit and an unrestricted employee's unit. It will be rehabilitated with $20 million in Multifamily Housing Revenue Bonds authorized toward the total rehabilitation cost of $29.3 million. Luther Tower was originally built in 1964.
Each project is a rehabilitation of an existing building and will remain affordable housing for 55 years.
"The rehabilitation of Coronado Terrace and Luther Tower will ensure that these 508 rental apartments will remain affordable for the next 55 years for low-income individuals and families. Public-private partnerships like these – with the support of Mayor Faulconer, the City Council, and the San Diego Housing Commission Board – are essential to meeting the City's affordable housing needs," said SDHC President & CEO Richard C. Gentry.
SDHC authorizes the issuance of Multifamily Housing Revenue Bonds, subject to the approval of the City Council, sitting as the Housing Authority of the City of San Diego. SDHC, the City of San Diego and the Housing Authority are not financially liable for the bonds. Private sources of funds, such as revenue from the development, are used to repay the bonds.
These rehabilitation projects are separate from other local efforts to address the statewide housing crisis.
In June, Mayor Faulconer introduced the "Housing SD" plan – a package of proposals to be implemented over the coming year that will:
Spur the construction of low-income and middle-class housing through incentives;
Streamline development standards and speed up the review process;
Direct funding toward affordable housing; and
Encourage growth in transit-friendly areas, which supports the goals of the Climate Action Plan.
In July, Mayor Faulconer and SDHC officials kicked off the Commission's

three-year plan to direct nearly $80 million toward programs that will provide permanent housing opportunities for thousands of homeless San Diegans, as well as prevent individuals and families from becoming homeless.
The "HOUSING FIRST – SAN DIEGO" plan for Fiscal Years 2018-2020 includes:
Landlord Incentives: Expand the landlord outreach program for the "Housing Our Heroes" campaign to house homeless veterans to also provide housing for non-veteran homeless individuals. Up to 3,000 homeless individuals will be assisted by increasing resources for SDHC's landlord incentives and benefits program. $6.6M.
New Permanent Supportive Housing: Provide more than 700 housing vouchers for San Diego County's "Project One For All" initiative, invest $20 million to create 200 units eligible for vouchers, and award up to $30 million to developers to create 300 new units eligible for vouchers. $61.1M.
SDHC Moving Home Rapid Rehousing Assistance: Assist about 600 households through SDHC's Moving Home Rapid Rehousing Program, a federal "Moving to Work" initiative for families who become homeless because of an unexpected life experience, such as a job loss, domestic violence or medical crisis. $7.7M.
SDHC Moving On Rental Assistance Program: Provide rental assistance to 50 formerly homeless individuals who are transitioning out of permanent supportive housing but continue to need rental assistance. $1.1M.
Homelessness Prevention & Diversion: Help up to 1,450 households that are homeless or at risk of homelessness to remain permanently housed. $2.9M.
Coordinated Outreach: Expand support and coordination among existing street outreach efforts to address homelessness and the demand for existing resources, such as emergency shelters. $300,000.
CONTACT: Greg Block at (619) 227-3752 or [email protected]