City Nearly Two-Thirds of the Way to Mayor Faulconer's Pledge to Fix 1,000 Miles of Streets
655 Miles of Road Repairs Completed in Just 28 Months, Ahead of Schedule to Meet Mayor's Five-Year Goal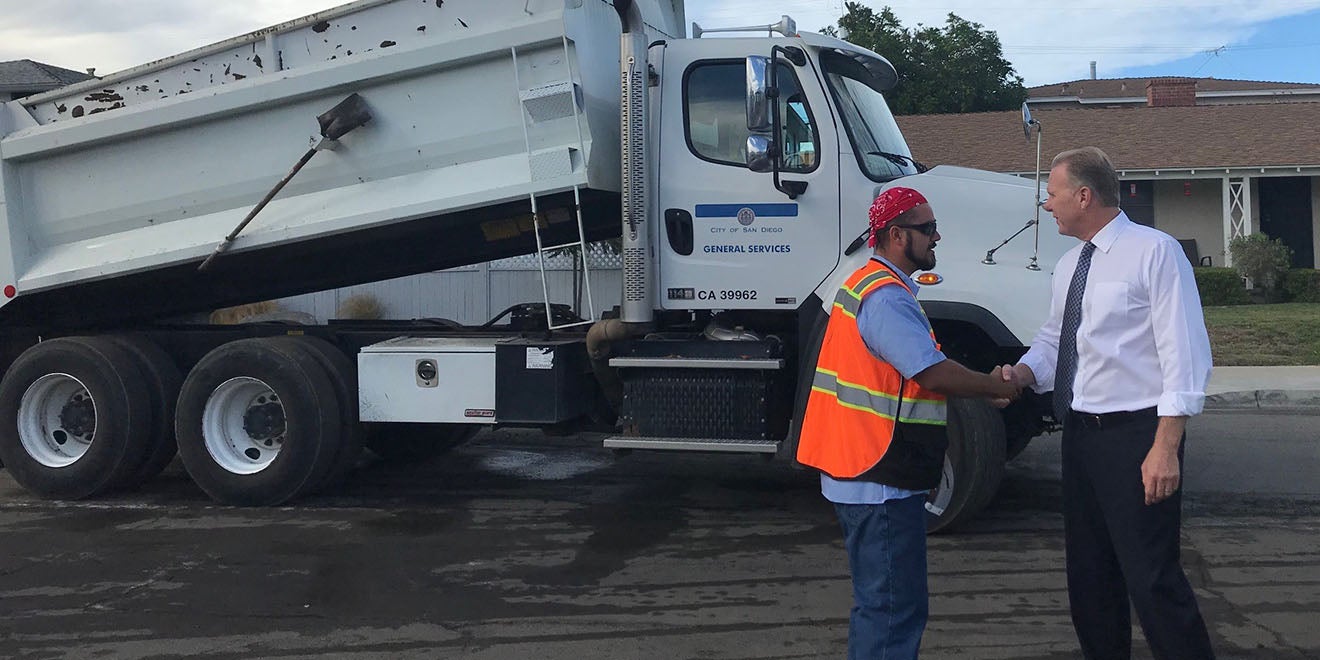 Monday, November 6, 2017 - NEWS RELEASE
San Diego – Following up on his pledge to fix 1,000 miles of streets over five years, Mayor Kevin L. Faulconer today announced the City has fixed 655 miles of streets in a little over two years -- nearly two-thirds of the way to reaching the Mayor's goal.
"The unprecedented investment we've made in road repair is showing results with more smooth streets in our neighborhoods," Mayor Faulconer said. "We made road repair the City's top infrastructure priority and the efforts to streamline and speed up paving projects are working. There's still a lot more work that needs to be done, but we're making significant progress on an issue that is a top concern for so many residents."
During his first State of the City speech in January 2015, Mayor Faulconer promised to fix 1,000 miles of streets over the next five fiscal years from July 1, 2015, to June 30, 2020. At the current pace of repairs, the City will complete nearly 1,500 miles of streets, or roughly half of the City's entire street network by 2020.
In the first two years of the pledge – Fiscal Years 2016 and 2017 – the City fixed 595 miles. In the first quarter of the current fiscal year, the City has already surpassed 60 miles of streets repaired for a total of 655 miles completed to date.
The street repair work includes 450 miles of slurry seal, 203 miles of asphalt overlay and two miles of concrete streets.
Residents can see the progress for themselves at the City's Streets SD website and report potholes and other road issues using the Get It Done application via smartphone or computer.
Last year, an independent assessment of City streets showed the overall condition index (OCI) of City streets had risen to 72 on a scale of 0 (lowest) to 100 (highest) – an improvement of more than 20 percent since the most recent assessment in 2011 rated the City streets at 59. A rating of between 70 and 100 OCI means the overall condition of streets is considered "good."
CONTACT: Greg Block at (619) 227-3752 or [email protected]