Colin Stowell Sworn In as Next San Diego Fire-Rescue Chief
Mayor Faulconer's Selection as City's 18th Fire-Rescue Chief Starts His Tenure Today at the Station Where He Began His Career 30 Years Ago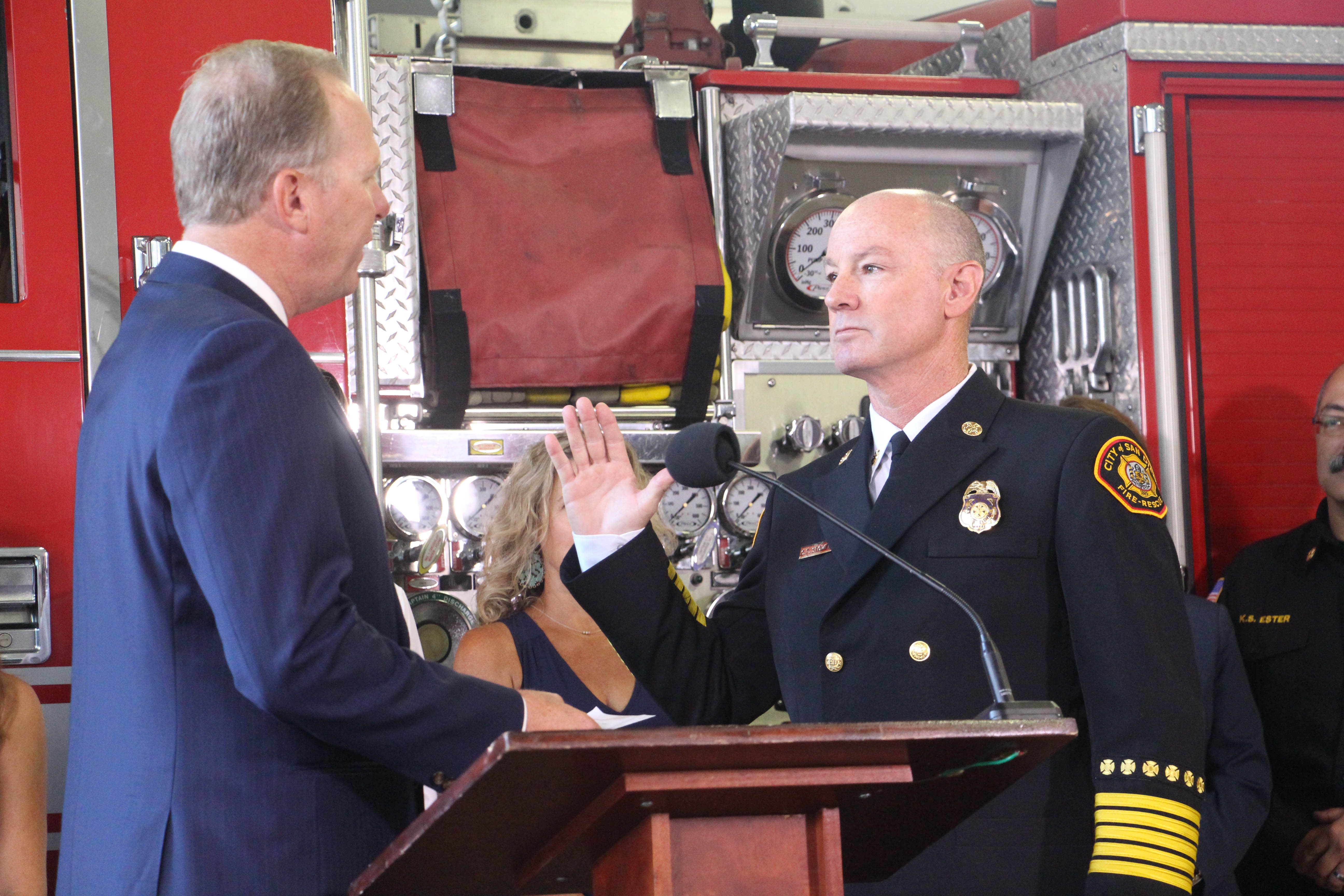 Monday, August 13, 2018 - NEWS RELEASE
San Diego – Standing in front of the fire station where he began his career in 1988, Colin Stowell was sworn in by Mayor Kevin L. Faulconer as the next Chief of the San Diego Fire-Rescue Department (SDFD) today. Surrounded by his family and colleagues from around the region, Stowell officially became the City's 18th Fire-Rescue Chief, responsible for more than 1,200 firefighters, lifeguards and support staff in 52 fire stations and nine permanent lifeguard stations.
"Chief Stowell is respected throughout the region as a great leader and collaborator," Mayor Faulconer said. "The types of issues our City and region confront now will be well served by his steady hand and strong relationships. He understands San Diego's unique challenges and I am confident in his ability to tackle them head-on."
Last month, Mayor Faulconer tapped Stowell for the job following a three-month national search. Stowell began his firefighting career at SDFD, rising through the ranks to Assistant Chief before leaving in 2016 to lead Heartland Fire & Rescue.
"My career in the fire service began as a member of this great organization. There is no higher honor, personally or professionally, than to have the opportunity to build on this history by leading this esteemed department and its dedicated members in the coming years," Stowell said. "I am humbled and honored to be named the 18th Fire Chief with San Diego Fire-Rescue Department, and do not take lightly the trust that city leaders, elected officials, and the members of this organization have in me to lead the way. As Fire Chief, I recognize the critical importance of continuing to provide compassionate and professional emergency services that distinguish this Department, and ones that citizens and visitors to our city both deserve and expect."
Chief Stowell takes over the department following recent significant investments made by Mayor Faulconer and the City Council, including a new firefighting helicopter and the construction or renovation of nine fire stations over the last three years.
As San Diego's Assistant Fire Chief, Chief Stowell oversaw the Emergency Operations division, which includes 48 fire stations, lifeguard services, the training division, emergency medical services, and special operations comprising hazardous materials, air operations, the bomb squad, and fire investigations. He led more than 845 sworn personnel and 240 full-time or seasonal lifeguards.
"With fire season a year-round reality now, I feel confident that under the leadership of Chief Stowell our fire rescue department will continue to deliver the very best services for San Diegans," said City Councilmember Lorie Zapf.
Chief Stowell previously held leadership roles in the SDFD's operations and emergency medical services divisions. As a Captain, he served as the department's Wellness Officer and developed the initial concept and procedures for SDFD's regional Wellness Program. As a Deputy Chief and Assistant Fire Chief, he served on the San Diego All-Hazards Incident Management team as Incident Commander and Operations Section Chief.
Chief Stowell spent the past couple years as chief of Heartland Fire & Rescue, which serves the cities of El Cajon, La Mesa and Lemon Grove.
Chief Stowell earned his bachelor's degree in Public Administration from San Diego State University, holds an associate degree in fire science from Miramar College and completed the Executive Fire Officer Program at the National Fire Academy. He is a native San Diegan who lives in San Diego with his wife and two teenage children.
CONTACT: Greg Block at 619-227-3752 or [email protected]