EPA Awards $614 Million Loan to Bolster San Diego's Innovative Pure Water Project
First Phase of Pure Water to Break Ground Next Year, Will Provide One-Third of City's Water Supply by 2035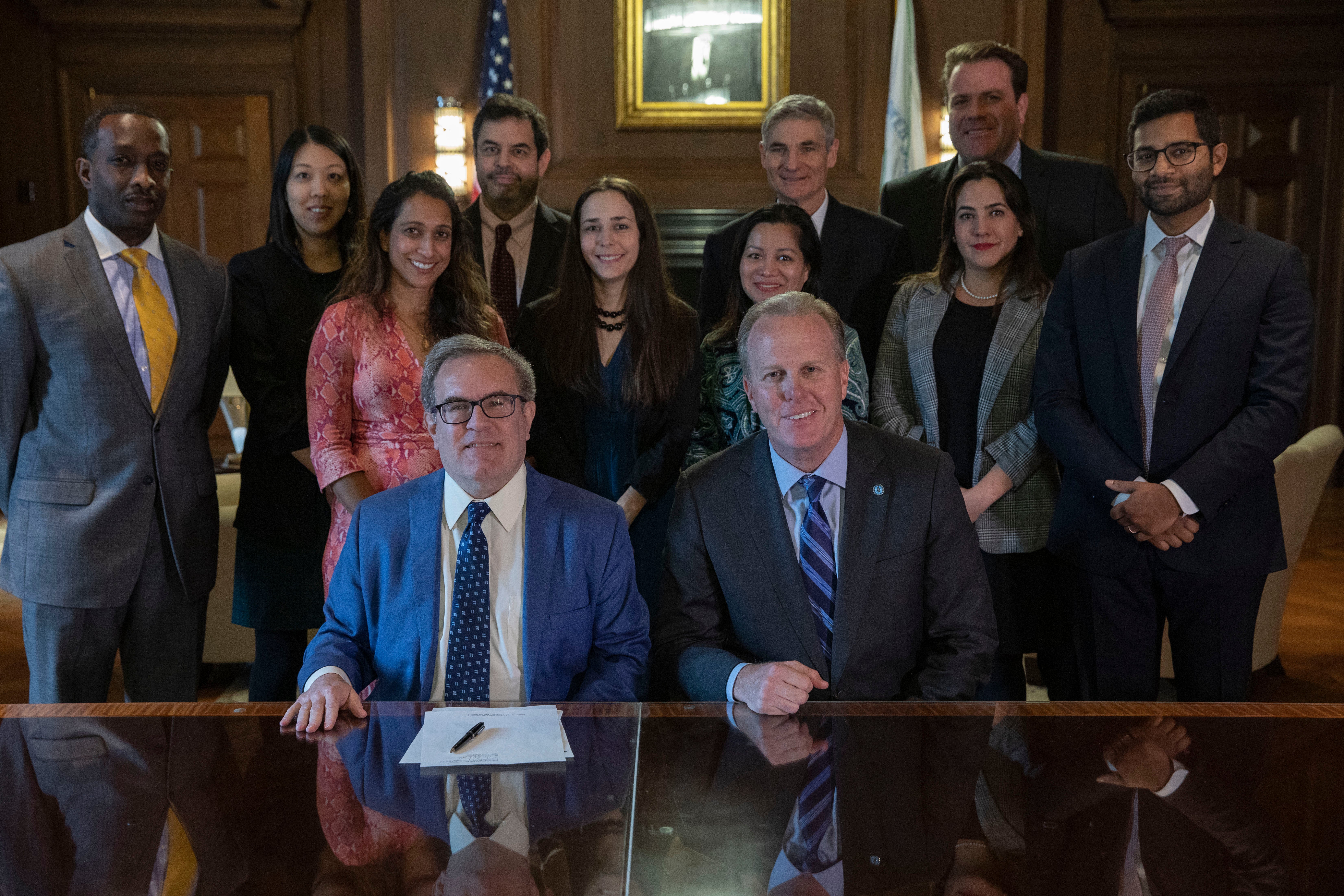 Tuesday, November 27, 2018 - NEWS RELEASE
Washington, D.C. – Today Mayor Kevin L. Faulconer joined the Acting Administrator of the U.S. Environmental Protection Agency (EPA) to officially accept a $614 million federal loan to help finance the first phase of Pure Water San Diego – an innovative water recycling program that will provide one-third of the City's drinking supply by 2035.
"This federal funding is validation that our Pure Water Program is cutting edge technology and a worthy investment for San Diego's future water independence," Mayor Faulconer said. "This is going to be one of the most significant infrastructure projects in San Diego history and will deliver clean, reliable water to our residents for decades to come."
With the EPA's Water Infrastructure Finance and Innovation Act (WIFIA) loan, the City will help fund the first phase of the Pure Water San Diego program which would expand the City's potable water production capacity to 30 million gallons per day to replace the use of imported water. This additional drinking water supply will save the city money through reduced imported water costs, benefit the environment through reduced discharges into the ocean, and provide a reliable, sustainable water supply for future generations.
"This WIFIA loan will help San Diego construct a state-of-the-art water purification facility that will produce 30 million gallons of clean drinking water each day," said EPA Acting Administrator Andrew Wheeler. "Through WIFIA, EPA is playing a leading role in President Trump's efforts to upgrade our nation's water infrastructure, create well-paying jobs, and ensure all Americans have access to clean drinking water."
The first phase of the Pure Water San Diego program is estimated to cost $1.4 billion. EPA's WIFIA loan will help finance nearly half that amount – up to $614 million. Because the WIFIA program offers loans with low interest rates, the City is expected to save an estimated $184 million compared to a typical bond issuance. Project construction and operations are expected to create 480 jobs, with construction beginning next year with completion expected in late 2023.
"EPA is pleased to invest in San Diego's water infrastructure, to serve the needs of residents for generations to come," said EPA Pacific Southwest Regional Administrator Mike Stoker. "We look forward to continuing our longstanding partnership with the City to support safe drinking water, and effective wastewater collection and treatment to protect beaches and the marine environment."
The first phase of Pure Water calls for new construction, upgrades to existing facilities and construction of new pump stations and pipelines. The new North City Pure Water Facility would be constructed on a city-owned parcel east of Interstate 805 and north of Eastgate Mall – across from the existing North City Water Reclamation Plant.
The second and third phases of Pure Water will build water facilities and pipelines in the Central Area and South Bay, respectively.
BACKGROUND
Established by the Water Infrastructure Finance and Innovation Act of 2014, the WIFIA program is a federal loan and guarantee program at EPA that aims to accelerate investment in the nation's water infrastructure by providing long-term, low-cost supplemental credit assistance for regionally and nationally significant projects. To date, President Trump's EPA has issued five loans totaling over $1.5 billion in WIFIA credit assistance. Combined, these five projects will create 6,000 jobs.
On Nov. 1, 2018, EPA invited 39 projects in 16 states and D.C. to apply for a WIFIA loan. Together, the selected borrowers will receive WIFIA loans totaling approximately $5 billion to help finance over $10 billion in water infrastructure investments and create up to 155,000 jobs.
According to EPA's estimate of national drinking water and wastewater needs, over $743 billion is needed for water infrastructure improvements. EPA's WIFIA program plays an important part in fulfilling this need and in the President's Infrastructure Plan, which calls for expanding project eligibility.
For more information about the WIFIA program, visit https://www.epa.gov/wifia.