Mayor Faulconer Breaks Ground on New Bayside Fire Station
Will be Second Fire Station Built Since Mayor Took Office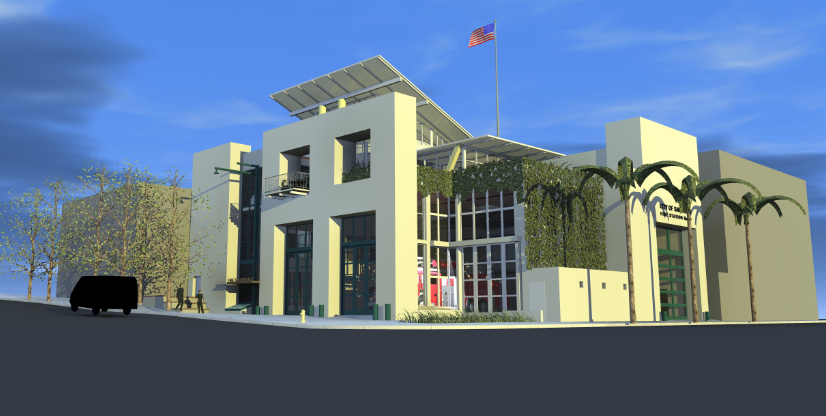 Wednesday, March 16, 2016 - NEWS RELEASE
San Diego – Marking the second fire station built as part of his commitment to improve neighborhood services throughout the city, Mayor Kevin L. Faulconer was joined today by City Councilmember Todd Gloria, Civic San Diego President Reese A. Jarrett and Fire-Rescue Chief Brian Fennessy to break ground on the new Bayside Fire Station to bolster emergency services for downtown San Diego's growing population. 
"Last year we opened San Diego's first new fire station in seven years, and now this will mark downtown's first new fire station in four decades," Mayor Faulconer said. "It's been a generation since a new fire station has been built downtown despite its transformation into a thriving community with a huge influx of residents, businesses and tourists since then. For every person who lives downtown or simply visits, this new fire station will get help to you faster." 
The fire station project is being overseen and managed by Civic San Diego, a City-owned nonprofit corporation that is the entrepreneurial development partner for San Diego's urban neighborhoods.
Located on Pacific Highway across from the San Diego County Administration Center, the new Bayside Fire Station will enhance the safety of neighborhood residents and nearby businesses by providing a key station on the west side of the railroad and trolley tracks that slice through downtown. The Fire-Rescue Department has long considered a station on the western waterfront a top priority because of emergency response delays resulting from rail activity. 
"The new Bayside Fire Station is an important commitment to the public safety of Downtown's growing residential population and thousands of visitors that frequent Little Italy's many restaurants, special events, and parks," said Councilmember Gloria, who represents the district. "Bayside will be a state-of-the-art fire station that improves response times and saves lives."
The 25,000-square-foot, three-floor station will include underground parking, apparatus bays, a kitchen, an exercise room, sleeping dormitories, outdoor benches and a small plaza. The building is designed to achieve an LEED Silver rating or higher with a green roof and solar panels.
To be built by Barnhart-Reese Construction, the Bayside Fire Station is scheduled to open in late 2017 and would join two other stations currently serving downtown. The new station replaces a former restaurant.
Chief Fennessy said, "Our downtown fire stations now are on the east side of the railroad and trolley tracks, and as more people move in to downtown, as more businesses locate here and more visitors come to the harbor, it's critically important that we have the ability to respond quickly; an ability we will have with an engine company that doesn't have to wait at the rail crossing."
Once completed, this will be the second new fire station to open since Mayor Faulconer took office following the November 2015 opening of Fire Station #45 in Mission Valley. Previously, the City hadn't built a new fire station since 2008.
Civic San Diego identified $14.6 million in excess redevelopment bond proceeds and development impact fees to finance the new station. The cost includes $1.5 million for a new fire engine and fire truck for the facility.
"This project displays the commitment by Mayor Faulconer, the City Council and Civic San Diego to facilitate the development of significant projects in our neighborhoods during this post-redevelopment era," Jarrett of Civic San Diego said. "Downtown's neighborhoods continue to grow in population, so as the city's entrepreneurial partner, we maintain our focus on quality-of-life improvements like the Bayside Fire Station to ensure community infrastructure accommodates that growth. After many years of hard work we are extremely pleased to see this project move to this final step in becoming a reality. This facility will be an excellent addition to the character of the neighborhood and provide increased safety for the community."
The City of San Diego's Arts and Culture Commission has commissioned the Southern California-based artist team of Ingram Ober, Marisól Rendón-Ober and Chuck Moffit to create site-specific artwork for the fire station's plaza through a partnership with Civic San Diego.