Mayor Faulconer Kicks Off Collaborative Campaign to House 1,000 Homeless Veterans
'Housing Our Heroes' is a $12.5 Million Partnership with S.D. Housing Commission, Regional Chamber of Commerce, Local Apartment Groups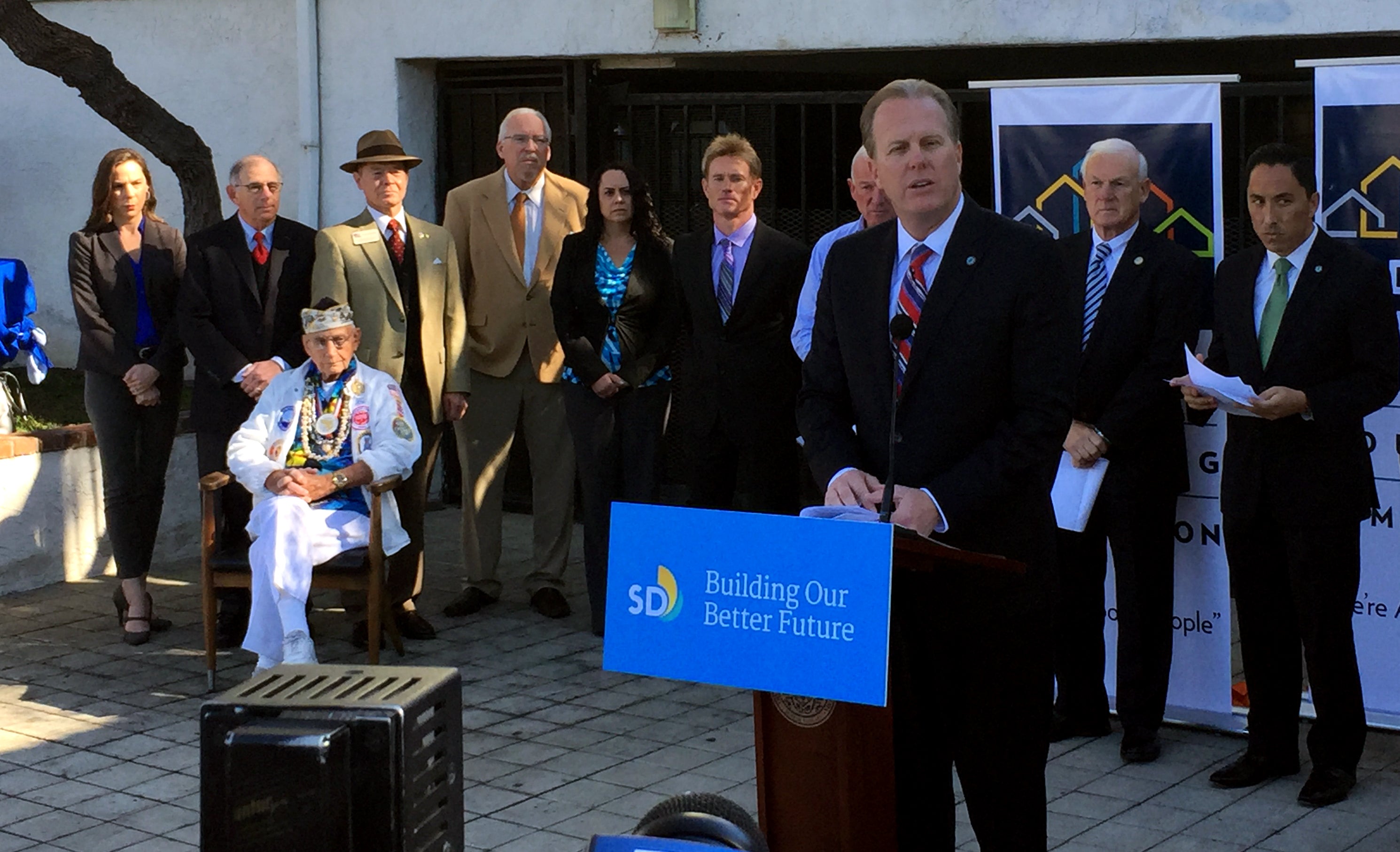 Wednesday, February 3, 2016 - NEWS RELEASE
San Diego – Standing in front of an apartment complex housing veterans in Sherman Heights, Mayor Kevin L. Faulconer, City Councilmember Todd Gloria and Chairman Ron Roberts of the San Diego County Board of Supervisors on Wednesday kicked off the "Housing Our Heroes" campaign – a call to action to help 1,000 homeless veterans transition off the streets over the next year.
"We have an opportunity – and an obligation – to dedicate ourselves to the men and women who dedicated their lives to our country," Mayor Faulconer said. "We're going to work with landlords to open doors to more homes, cover security deposits so veterans can move into those homes, provide hundreds of housing vouchers so disabled veterans can afford rent for their homes, and offer supportive services so veterans can stay in their homes – and not end up back on the street."
First announced at Mayor Faulconer's State of the City address last month, the "Housing Our Heroes" campaign is the fourth new initiative of HOUSING FIRST – SAN DIEGO: the San Diego Housing Commission's (SDHC) landmark three-year Homelessness Action Plan that launched in November 2014.
SDHC President & CEO Richard C. Gentry has identified close to $12.5 million in federal, City, and SDHC resources that will be invested to provide housing opportunities for homeless veterans in the city who are living on the streets or in shelters. The funding package includes $4 million in City funds that Mayor Faulconer committed to the campaign, pending City Council approval.
"As Chair of Regional of the Continuum of Care Council, we have been coordinating regional efforts to identify the most effective and efficient ways to spend our limited resources to end homelessness among San Diego's veterans," Councilmember Gloria said. "Veteran homelessness is a solvable challenge, and the plan to house 1,000 veterans will make a significant impact toward this regional goal. A collaborative approach between the City, the County, property owners, and service providers is the key to our success."
Additional partners in the "Housing Our Heroes" campaign include the San Diego Regional Chamber of Commerce, the California Apartment Association and the San Diego County Apartment Association. It calls for landlord outreach efforts, financial assistance and supportive services to get homeless veterans the help they need to turn their lives around.
"Building on the work we began back with Housing First, the San Diego Housing Commission was in a great position to provide homeless veterans with a path off the streets through this collaborative initiative with the City of San Diego and other partners," Gentry said.
The "Housing Our Heroes" campaign – administered through SDHC's programs – will fund four major components:
LANDLORD OUTREACH
Provides incentives for landlords who rent to homeless veterans.
Assistance with security deposits and utility bills.
Creates a contingency fund to help landlords cover certain expenses, such as move-out repairs.
Mayor Faulconer, SDHC, the Regional Chamber of Commerce and apartment associations will lead the outreach effort.
SDHC will provide dedicated housing specialists to answer landlords' questions.
RAPID RE-HOUSING ASSISTANCE
For individuals and families who become homeless because of an unexpected life experience, such as a job loss, domestic violence or medical crisis.
Provides funding to nonprofit or for-profit service providers to assist homeless veterans with rental payments, move-in costs and security deposits.
Service providers also may use the funding for supportive services, such as case management.
FEDERAL VASH HOUSING VOUCHERS
Distributes 300 rental housing vouchers from the federal Veterans Affairs Supportive Housing (VASH) program.
Vouchers provide rental assistance to honorably discharged veterans experiencing chronic homelessness with a disability.
VOUCHERS WITH SUPPORTIVE SERVICES
Combines housing for homeless veterans with supportive services, such as mental health counseling, substance abuse treatment, job training skills and health services.
Housing vouchers will be awarded to nonprofit or for-profit organizations – chosen through a competitive bidding process – to provide rental assistance to homeless veterans to help pay for their housing.
Supportive services would be paid for by the SDHC.
"I want to congratulate the Mayor and Housing Commission for this accelerated effort to house our homeless veterans," said County Board of Supervisors Chairman Ron Roberts. "Along with the county's just approved Project One for All for the seriously mentally ill homeless, we are in a new era of intense regional collaboration that will make meaningful inroads into addressing one of the region's most pressing issues."
Jerry Sanders, President & CEO of the San Diego Regional Chamber of Commerce, said: "The Mayor's 'Housing Our Heroes' campaign is important to our local economic development and the future of our city. It is also important because of what it says about us as San Diegans, as a larger community of individuals and businesses that deeply appreciate and respect our military. The Chamber is proud and ready to partner in this effort to house our heroes and to support them in the way they deserve."
Funding for the "Housing Our Heroes" campaign goes before the San Diego Housing Commission for approval Feb. 12 and then the City Council for final approval in March.
View the 

San Diego Housing Commission "Housing Our Heroes" Fact Sheet.