Mayor Faulconer Makes Seven Years of Budget Information Easily Available to Public Online
Interactive Online Tool Helps Public See How Tax Dollars are Budgeted Over Time, a First for San Diego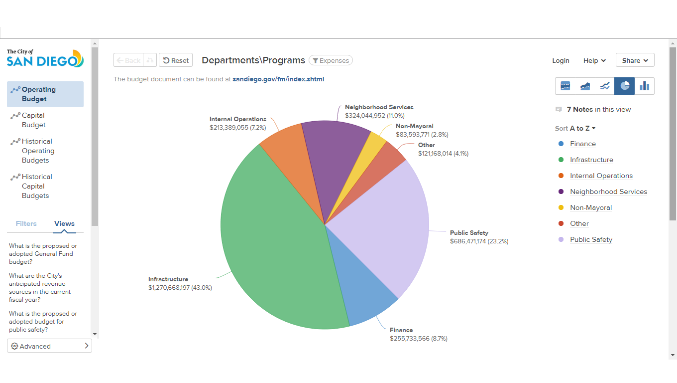 Tuesday, April 19, 2016- NEWS RELEASE
In a big step toward a more open and transparent city government, Mayor Kevin L. Faulconer today announced the release of more than half a decade of budget information to the public through an interactive online tool that makes it easier to see how tax dollars are budgeted. The release comes days after Mayor Faulconer announced his balanced budget proposal for Fiscal Year 2017, which calls for a doubling of infrastructure funding and near-tripling of streets funding since he took office. 
The
OpenGov Budget Too
l shows for the first time seven years' worth of budget data – including the latest budget proposal – making it simpler for San Diegans to see how the City has allocated billions of dollars in funds over the past several years. 
"A picture is worth a thousand words, and now it's easier than ever to see how the City budget works," Mayor Faulconer said. "This is the public's money so it should be simple for everyone to see it. As we invite the public to weigh in on the new budget proposal before it's adopted in June, the goal is to make transparency tangible so folks feel more inclined to get engaged."
The OpenGov Budget Tool –
budget.sandiego.gov
– uses one of the highest value data sets identified by the City's Open Data initiative to visually display financial information. 
Tapping into data from the City's financial management system, the tool makes an unprecedented amount of information available to the public by providing a snapshot of Mayor Faulconer's proposed budget for the fiscal year that begins July 1. 
New to the OpenGov Budget Tool this year is historical data for the previous six fiscal years – going back to Fiscal Year 2011 – allowing the public to compare budgets over time. The visualized information condenses thousands of pages of budget documents into a user-friendly tool.
"The enhancements to the budget visualization tool shows that the City is serious about using technology to empower our residents and employees," said Almis Udrys, the City's Director of Performance & Analytics. "Rather than just dropping a 1,500-page document on our residents and calling ourselves transparent, we're adding even more data to an online tool that makes understanding our City budget much more accessible and user-friendly."
Mayor Faulconer launched the tool as a pilot project in 2015. More than 3,000 unique users have visited the site since last year.
The proposed Fiscal Year 2017 budget will be formally presented to the City Council at today's 2 p.m. Council meeting. Over the next several weeks, the City Council and the public have opportunities to weigh in on the budget proposal before the final City Council vote in June.