Faulconer, Zapf Mark Completion of Reconstructed Mission Beach Boardwalk
Infrastructure Project Installed New Boardwalk and Seawall, Completed in Time for Summer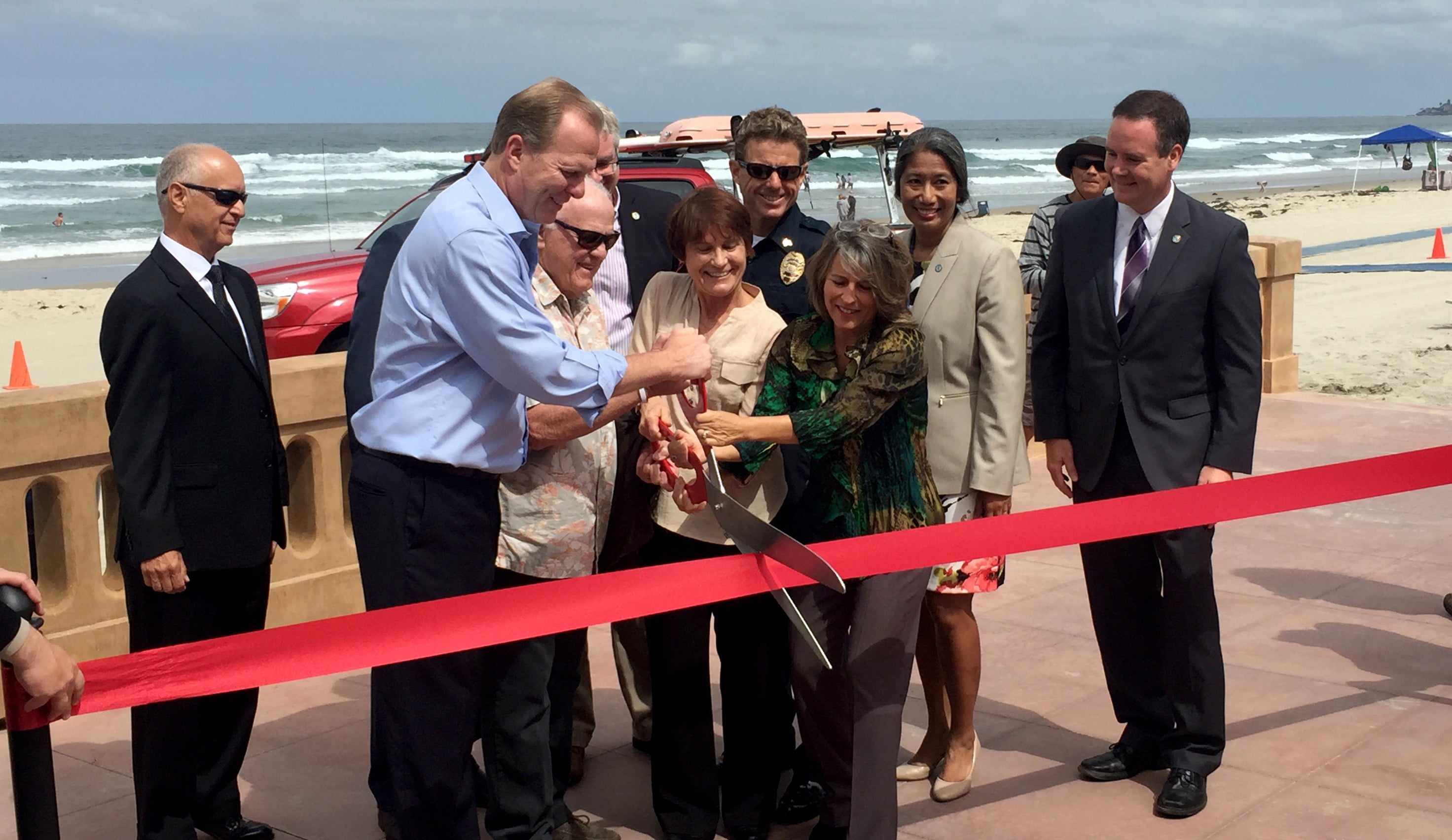 Thursday, May 26, 2016 - NEWS RELEASE
San Diego – Following through on his push to invest nearly half a billion dollars this year to rebuild and improve neighborhoods, Mayor Kevin L. Faulconer, City Councilmember Lorie Zapf and community leaders celebrated today the finished reconstruction of the historic Mission Beach Boardwalk – completed in time for Memorial Day weekend and the beach community's busy summer season.
"Thanks to the major investments we're making in neighborhood improvements, after 90 years the boardwalk looks better than ever," Mayor Faulconer said. "Open just in time for the busy summer season, this is great news for beach neighborhoods, great news for our tourism economy and great news for preserving a piece of San Diego history. It's a perfect example of how communities across the city are finally getting the attention they deserve."
Over the past year, the City replaced about 20,000 square feet of walkway and nearly 1,700 feet of the deteriorating, three-foot-high seawall along Mission Beach's Belmont Park to restore the coastal landmark to mimic how it looked when it was first constructed in the 1920s. The newly restored section spans from Ventura Place to San Fernando place.
"It's very exciting to see the restoration of the iconic seawall," said Councilmember Zapf, who represents the Mission Beach neighborhood. "This complements the revitalization of Belmont Park and provides an amazing gateway for visitors and residents to one of San Diego's top beach destinations."
Project features include:
Installation of a new concrete walkway, which includes a filter fabric beneath the walkway to minimize erosion and sand migration
Installation of 26 new energy efficient, light emitting diode (LED) light fixtures, replicating original streetlights installed along boardwalk decades ago
Replacing all seawall access points to add balustrade railing – small posts that support the upper level of a railing
Built with epoxy coated steel bars to extend the useful life
Reinforced the wall openings with stainless steel to make them stronger and prevent corrosion from ocean salt and the environment
Construction of three new curb ramps to facilitate access for persons with disabilities
Installation of two new wheelchair accessible picnic tables in the park area adjacent to the south parking lot
Restriping accessible parking spaces in the Belmont Park parking lot and raising the existing park benches by 1.5 inches to facilitate access for persons with disabilities
"On behalf of the Mission Beach Town Council, I want to thank Mayor Faulconer and Councilmember Zapf for bringing this phase of the project to completion," said Fred Day, Chair of the Mission Beach Town Council. "As I look at this seawall l am gladdened by how it now enhances our neighborhood rather than detracts from it. I look forward with great hope and anticipation to the continuation and ultimate completion of the new wall along the entire length of Mission Beach."
The reconstruction project, which cost $4.9 million, is part of a longer-term effort to improve the entire boardwalk and seawall along Mission Beach in future years. 
The Mission Beach Boardwalk first opened on May 28, 1925, and will celebrate its 91st anniversary on Saturday.