Mayor Faulconer's 'Clean SD' Initiative Continues with Annual Community Cleanup at SDCCU Stadium
Saturday's Free 'Spring Cleaning' Event Allows Residents to Drop Off Large Unwanted Items, Including Appliances, Furniture, TVs, Mattresses, Etc.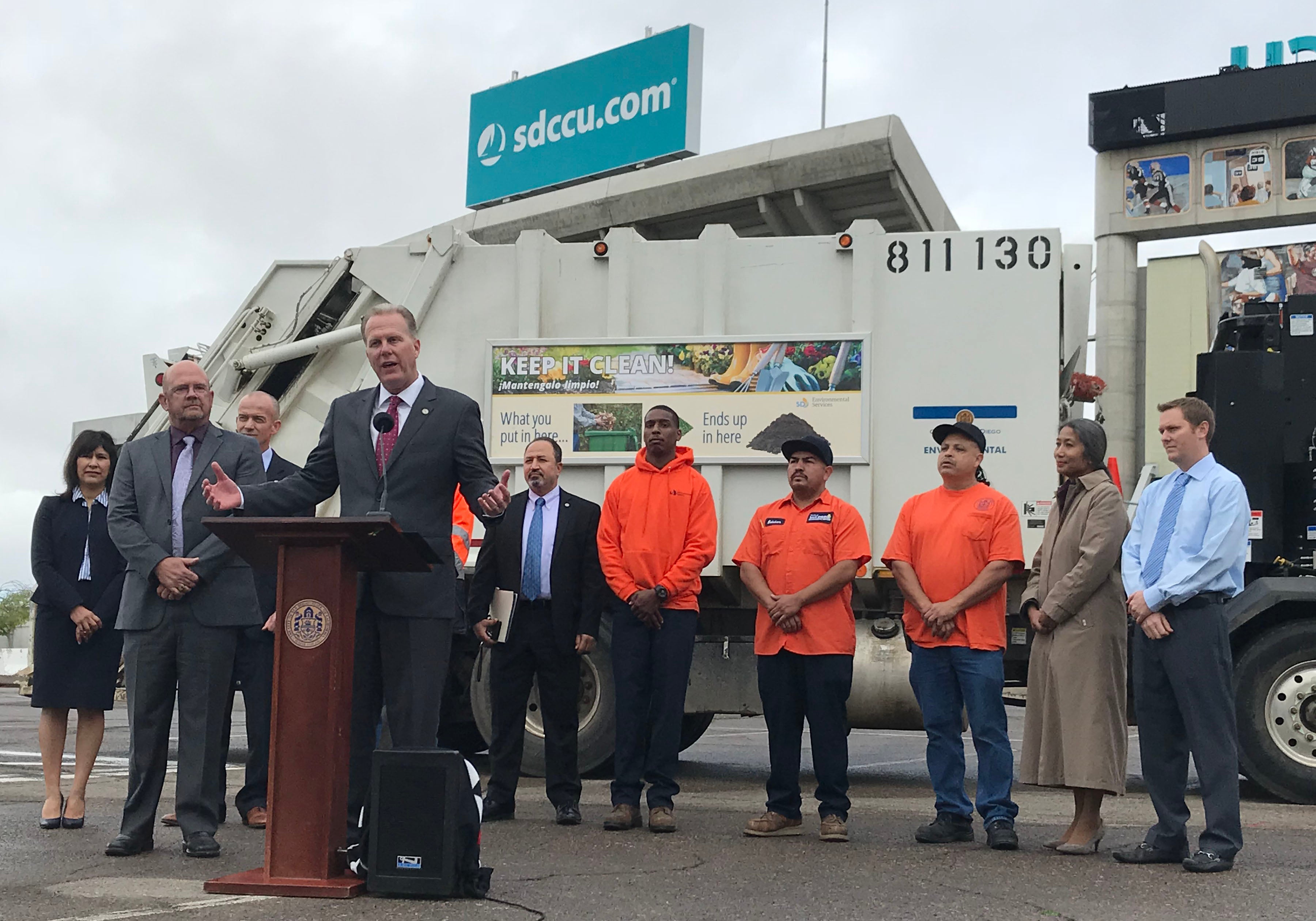 Wednesday, March 14, 2018 - NEWS RELEASE
SAN DIEGO – As part of his efforts to reduce the illegal dumping of trash in public areas and clean up San Diego's neighborhoods, Mayor Kevin L. Faulconer was joined today by City Councilmember Scott Sherman to encourage residents to drop off bulky items – such as old appliances, furniture, TVs, and mattresses – at the City's free annual Community Cleanup event at SDCCU Stadium on Saturday.
The event – hosted by the City's Environmental Services Department – also gives residents the opportunity to dispose of fluorescent light bulbs and household batteries as well as donate items to Goodwill Industries of San Diego County. The drop-off period will be from 8 a.m. to 1 p.m. Saturday.
"We're taking aggressive steps to clean up our communities, stop illegal dumping and restore a sense of pride in our neighborhoods," Mayor Faulconer said. "This is a great opportunity for San Diegans to properly dispose of large unwanted items they don't know what to do with and do their part to keep our neighborhoods clean and safe."
Launched as a pilot program in May 2017, the "Clean SD" initiative includes City and Urban Corps crews that remove litter in nine hotspots in Ocean Beach, City Heights, San Ysidro, Logan Heights, Paradise Hills, Webster & Mount Hope, Mission Beach, Point Loma and Pacific Beach – neighborhoods with a historically high level of illegal dumping activity as well as enhanced street cleaning and abatements downtown and the San Diego River. Crews have already removed more than 915 tons of debris, including tires, mattresses, shopping carts and appliances.
Since September, City, Urban Corps and Alpha Project crews have also removed more than 190 tons while performing waste abatements in the riverbeds and downtown areas. The program was recently expanded with more crews responding to requests to remove trash and debris through the City's "Get It Done" application.
"The community cleanup is an excellent opportunity for San Diego residents to get rid of clutter and junk at no cost, while at the same time, helping those in need by donating unwanted items to Goodwill Industries," Councilmember Sherman said.
In addition to the annual event this weekend at SDCCU stadium, several curbside cleanups are scheduled in neighborhoods across the City where residents can leave out large items for pickup:
Saturday, March 24: Logan Heights
Saturday, April 7: Mount Hope
Saturday, April 21: Linda Vista
Saturday, May 5: Clairemont East
Saturday, June 2: Mira Mesa
There are also events specific for recycling used oil, oil filters, batters, antifreeze and fluorescent bulbs/tubes:
March 17, 9 a.m. – 1 p.m. Mission Bay South Shores Park, Sea World Drive at South Shores Parkway, 92109
April 7, 9 a.m. – 1 p.m. San Diego Miramar College, Black Mountain Road at Miramar College Driveway, 92126
Household Hazardous Waste can be dropped off for free at the City's transfer facility with an appointment: Call 858-694-7000, Monday-Friday, 6:30 a.m. to 5 p.m. with a list of household hazardous wastes. For more info about what's accepted where, visit the website.
CONTACT: Greg Block at (619) 227-3752 or [email protected]