Mayor Faulconer, AMR Announce Partnership to Empower Firefighters, Paramedics to Help Stop Spread of Hepatitis A
New Program Bolsters Outreach Efforts to get At-Risk People Vaccinated More Quickly and Efficiently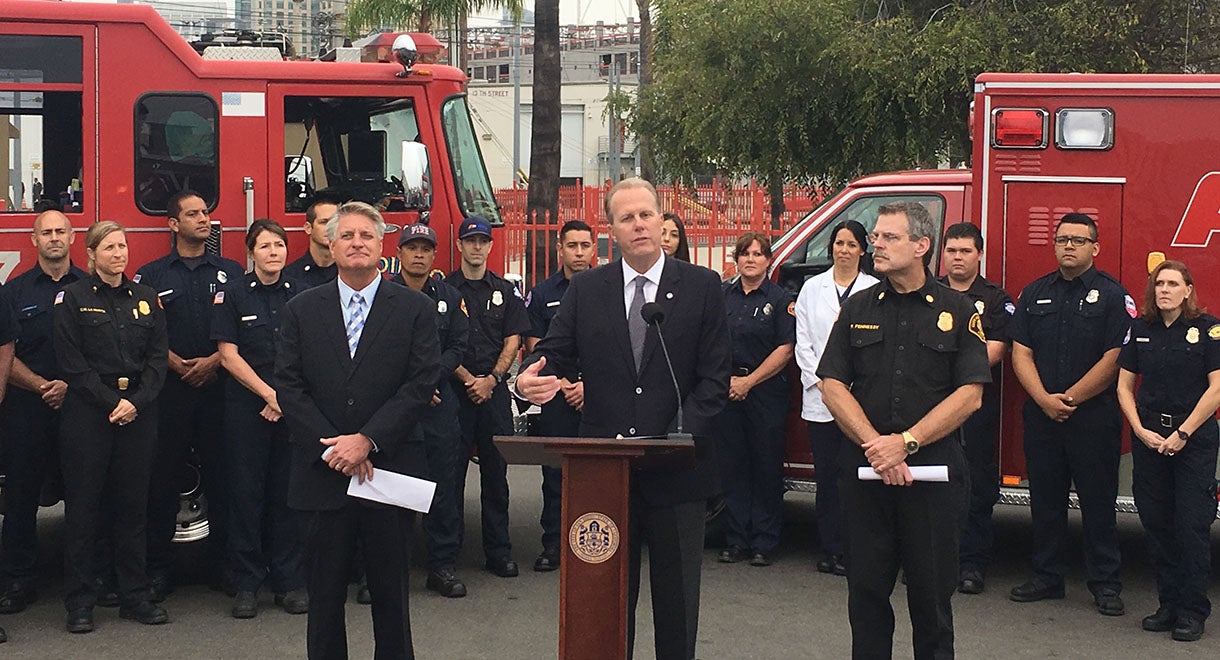 Friday, October 13, 2017 - NEWS RELEASE
San Diego – As part of an ongoing regional effort to stop the hepatitis A outbreak by immunizing at-risk individuals, Mayor Kevin L. Faulconer, San Diego Fire-Rescue Chief Brian Fennessy and American Medical Response today launched a new partnership that empowers firefighters and paramedics to administer vaccinations.
"We are pulling out all the stops in our continued push to get more at-risk folks vaccinated as efficiently and effectively as possible," Mayor Faulconer said. "While cleaning our streets and providing sanitary places for people to go are important, we need to continue delivering vaccinations to this hard-to-reach population to stop this virus in its tracks. Giving our firefighters and paramedics the ability to provide critical vaccinations will help ensure we get the job done much faster."
In partnership with the City's ambulance provider American Medical Response (AMR), the new pilot program allows firefighter paramedics under the supervision of a registered nurse to administer hepatitis A vaccines to at-risk populations. The Fire-Rescue Department will deploy three-person teams consisting of a firefighter paramedic, a captain and a registered nurse. The teams will focus on key hotspots within the city as determined by the County including downtown, beach communities and other public areas.
new partnership is made possible thanks to new protocols put in place by the state Emergency Medical Services Authority which has temporarily expanded state laws that govern paramedics. Under these emergency powers, the new protocols allow paramedics to vaccinate at-risk populations.
State Assemblymember Todd Gloria authored a letter in support of the new protocols, hoping to take pressure off public health officials and expand the reach of the vaccination campaign as quickly as possible.
Fire-Rescue personnel who volunteer for the assignment must complete a four-hour training session administered by the County Health and Human Services Agency prior to being deployed in the field. Trainings began Thursday and paramedics are set to begin vaccinating next week. Vaccines and supplies will be provided by AMR.
"AMR continues to be out in full force supporting the Mayor's efforts to combat the Hepatitis A outbreak," said Michael Murphy, Regional Director for AMR San Diego. "Offering vaccinations to the most at-risk populations is an important part of helping reduce the spread and just last week AMR paramedics were granted approval from the state to assist in this important effort."
This is the latest step in an aggressive effort by the City to battle the current hepatitis A outbreak through a "Vaccination, Sanitation and Education" campaign. Public health officials have said the most effective way to combat the virus is for at-risk people to get vaccinated. At-risk populations include homeless individuals, intravenous drug users, and professionals who have regular interactions with at-risk people, such as police officers, firefighters, paramedics, homeless service providers and health care providers.
The City has also significantly expanded 24-hour access to public restrooms, partnered with the County to install handwashing stations throughout the city, and hired a vendor to sanitize sidewalks and other public right-of-ways with a chlorine bleach solution three times a week.
"We are pleased that AMR has partnered with the City to offer hepatitis A vaccinations," Chief Fennessy said. "Making vaccinations more accessible to the public we serve will make a measurable impact and will help stop the outbreak."
CONTACT: Christina Chadwick (619) 727-9758 or [email protected]