Mayor Faulconer and Council President Pro Tem Bry Reopen Doyle Community Park Following Much-Need Equipment Upgrades and Park Enhancements
Community Rec Council and City Parks and Rec Department Collaboration Transforms Obsolete Children's Playground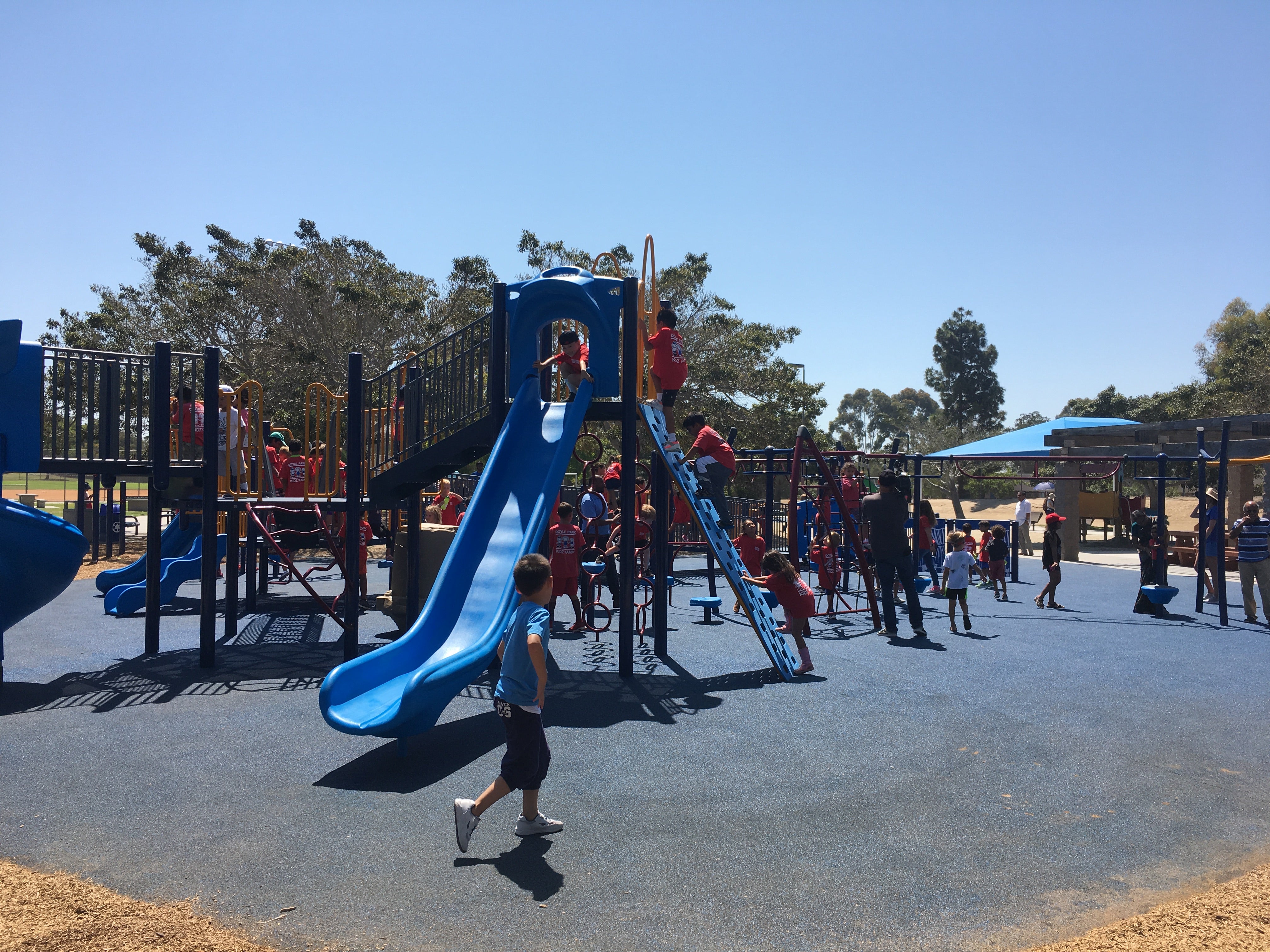 Monday, August 6, 2018 - NEWS RELEASE
San Diego – Continuing his commitment to put neighborhoods first, Mayor Kevin L. Faulconer was joined Monday by City Council President Pro Tem Barbara Bry and community leaders to reopen Doyle Community Park in University City following much-needed equipment upgrades and park enhancements.
"This project has been moved across the finish line because of the vision, collaboration and coordination between a community, it's leaders and our City," Mayor Faulconer said. "Doyle Community Park serves the children, families and residents who are coming to attend ball games, use the rec center, walk their dog at the park or pick their kids up from school. These upgrades are part of my commitment to improve services in every neighborhood."
For the first time since it opened in 1993, the park received improvements to replace obsolete children's playground equipment, rubberized surfacing, accessible play equipment and walkways to meet Americans with Disabilities Act standards, new picnic and tennis tables and a unique expression swing for parents and children to interact face to face. The total project cost is approximately $255,000.
"Doyle Recreation Center is a beacon of success for programmatic membership. Last year, over 7,000 residents took advantage of programs ranging from Kidz Love Soccer to Dance to Evolve," Councilmember Bry said. "This participation has allowed the Recreation Council to partially fund this much-anticipated update to the playground. I appreciate the City's Parks and Recreation Department as well as Public Works' direct involvement in working with the Doyle Recreation Council to see this project through to completion."
The ribbon cutting ceremony celebrates the culmination of the park's long-awaited transformation – upgrades the Doyle Park and Recreation Council and University City community sought for years. The park upgrades are funded in partnership with the Doyle Park and Recreation Council.
"As Chair of the Doyle Recreation Council, I want to thank and recognize the volunteers who spearheaded Doyle's campaign to replace the design of and equipment found in our aging and deteriorating playground. We couldn't have done this without all of their efforts," said Sue Evans, Chair of the Doyle Park and Recreation Council.
The City of San Diego has made significant investments in the park system since Mayor Faulconer took office in 2014. Mayor Faulconer has an ongoing commitment for 50 new or improved parks across the city over five years with more than a dozen other park projects currently in various stages of design or construction.
That commitment also includes a collaborative effort between the City and the San Diego Unified School District to expand recreational opportunities with the "Play All Day" parks initiative to build over 45 new joint-use parks.
CONTACT: Ashley Bailey at (619) 392-0686 or [email protected]