Mayor Faulconer Announces Changes in Fire Department Leadership
SD Fire-Rescue Assistant Chief Ester Named Interim Chief Following Chief Fennessy's Departure to Southern California Fire Agency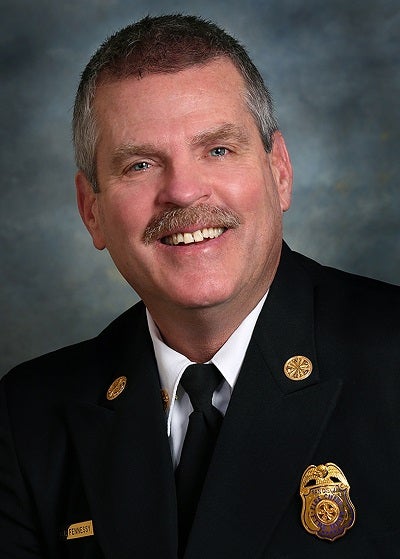 Thursday, March 8, 2018 - NEWS RELEASE
San Diego – Mayor Kevin L. Faulconer today announced San Diego Fire-Rescue Chief Brian Fennessy has accepted a position with a fire agency in Southern California, pending approval of the contract terms expected next week. He will be replaced, in the interim, by Kevin Ester, Assistant Chief of Business Operations.
Fennessy has been with the San Diego Fire-Rescue Department (SDFD) for 28 years, including the past two-and-a-half years as Chief.
"Chief Fennessy has been an outstanding leader of our Fire-Rescue Department and we wish him well as he takes on this great opportunity," Mayor Faulconer said. "One of the strengths of our department is its preparation of future leaders within the chain of command who can step up when needed. The department is in great hands with Assistant Chief Ester, who has decades of experience in all facets of San Diego Fire-Rescue."
Fennessy joined the San Diego Fire-Rescue Department in 1990 and completed his rise through the ranks when Mayor Faulconer appointed him to Chief in September 2015.
"I am exceptionally proud of the men and women of SDFD and feel confident in the future direction of the department under Chief Ester's leadership," Fennessy said. "I am blessed to have raised three children while proudly serving the residents of San Diego. My family and I view this next chapter in our lives as an outstanding opportunity for personal and professional growth."
One of Fennessy's most notable accomplishments is being the driving force in developing and implementing the City's helicopter program. The City now has two firefighting and rescue helicopters with night-flying capability that are available for water drops and rescues throughout the county. These helicopters are the only air resources in the region capable of providing night firefighting operations.
Ester has been with SDFD for nearly 33 years, climbing the ranks as a firefighter, engineer, captain, battalion chief and deputy chief. He has worked a wide range of assignments across the City and in several administrative positions, including the department's Logistics Division, responsible for the fleet, facilities and supply. In 2016, Ester became Assistant Chief of Business Operations where he oversaw Community Risk Reduction, the Emergency Command and Data Center, Logistics, Professional Standards and Human Resources.
"I am humbled and honored to be given this opportunity to lead the men and women of our Fire-Rescue Department," Ester said. "We have a workforce that gives their all in service to the citizens of our city, and have every day since 1989. I thank Chief Fennessy for his mentorship, and wish him and his family the best as he pursues new opportunities."
An open recruitment to replace Fennessy will begin next week.
CONTACT: Greg Block at (619) 227-3752 or [email protected]