Mayor Faulconer Announces Comic-Con Will Remain in San Diego Through 2021
World Renowned Convention Celebrating the Popular Arts Says Efforts Toward Convention Center Expansion Must Continue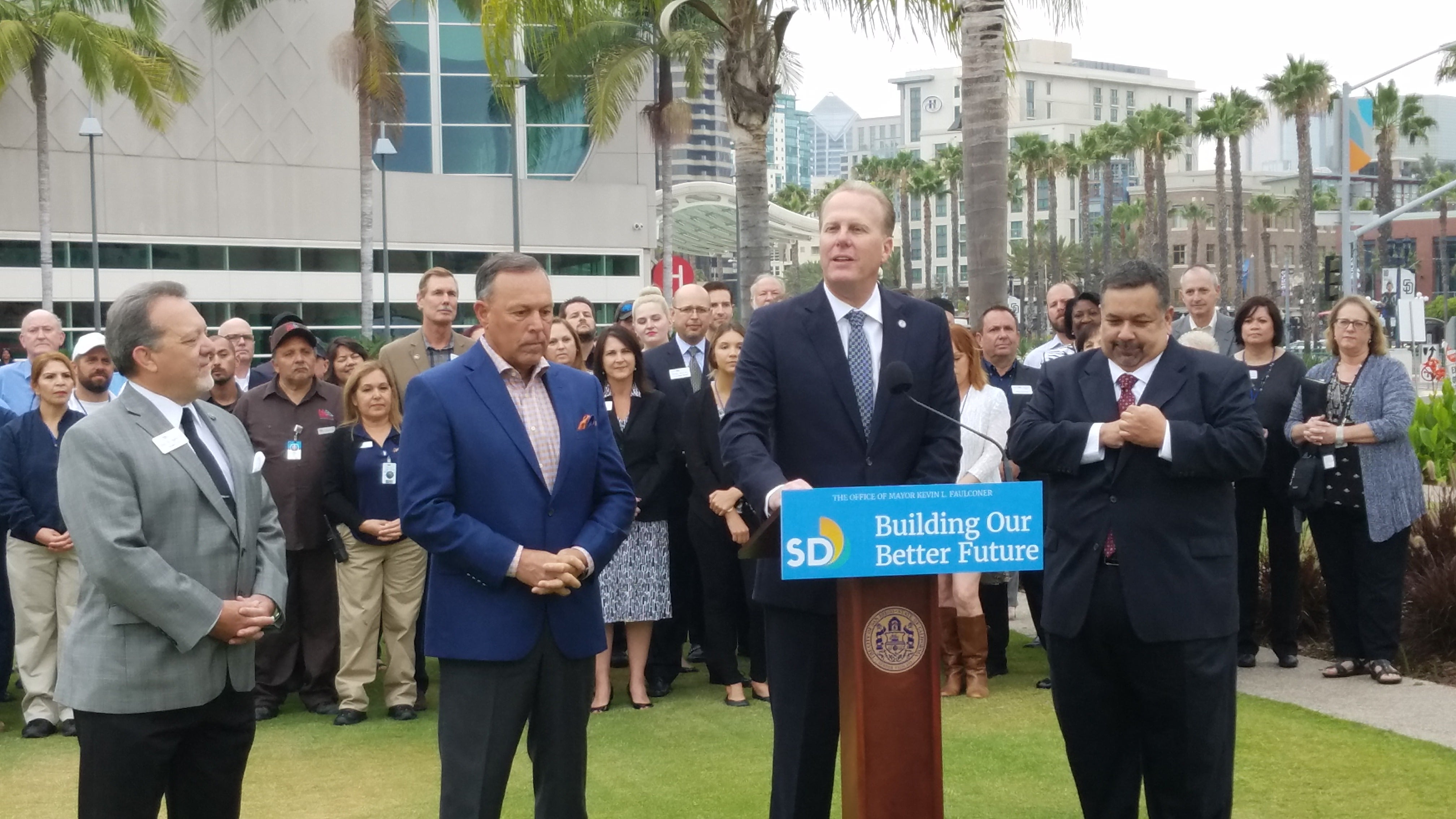 Friday, June 30, 2017 -- NEWS RELEASE
San Diego – In front of the San Diego Convention Center's Hall H where hundreds of pop culture icons have made international headlines over the years, Mayor Kevin L. Faulconer announced that Comic-Con International will remain in San Diego through 2021.
"San Diego has always been the proud home of Comic-Con and we are extremely pleased that we can carry on that tradition of being the destination for the world's premier celebration of the popular arts," Mayor Faulconer said. "San Diegans can be excited to know that Comic-Con will continue to pump millions of dollars into our economy to support local jobs, street repair and neighborhood services. It is more important than ever that we continue to push to expand the convention center so we can ensure Comic-Con and other large conventions continue to stay in San Diego for years to come."
"While it did take more than a year in negotiations, we are pleased with this outcome," Comic-Con spokesman David Glanzer said. "We are grateful for the leadership of Mayor Faulconer and the hard work of those at the San Diego Tourism Authority who were instrumental in securing this agreement."
Before today's announcement, Comic-Con had only agreed to stay in San Diego until 2018. Mayor Faulconer's office worked over the last several months to help facilitate the discussions between Comic-Con International, the San Diego Tourism Authority, the San Diego Convention Center and local hotels. The strong partnership is important in securing the amount of hotel rooms and convention space necessary to successfully host the more than 130,000 attendees in San Diego each year.
Comic-Con International is the convention center's largest event of the year and is conservatively estimated to generate $135 million regionally and $2.8 million in tax revenues for the city. The revenue directly benefits residents by funding city services, including street repair, parks and libraries. Comic-Con also showcases San Diego on an international stage through television and media coverage.
Since the 1970s, Comic-Con has been a main attraction among the City of San Diego's events. The first three-day Comic-Con was held at the U.S. Grant Hotel, where about 300 attendees packed the hotel's basement featuring programs, panels, film screenings and more to celebrate the historic and ongoing contribution of comics to art and culture.
This year's convention kicks off with a preview night on Wednesday, July 19 and continues through Sunday, July 23. This year marks the 48th year for the event, making it the country's longest continuously-run comics and popular arts convention.
CONTACT: Jen Lebron at (619) 384-5289 or [email protected]