Mayor Faulconer Announces the Latest Partner in Program to Help Youth Gain Skills for High-Tech Jobs
Raytheon Launches Robotics Program as Part of Mayor's Initiative to Bring Students Educational Opportunities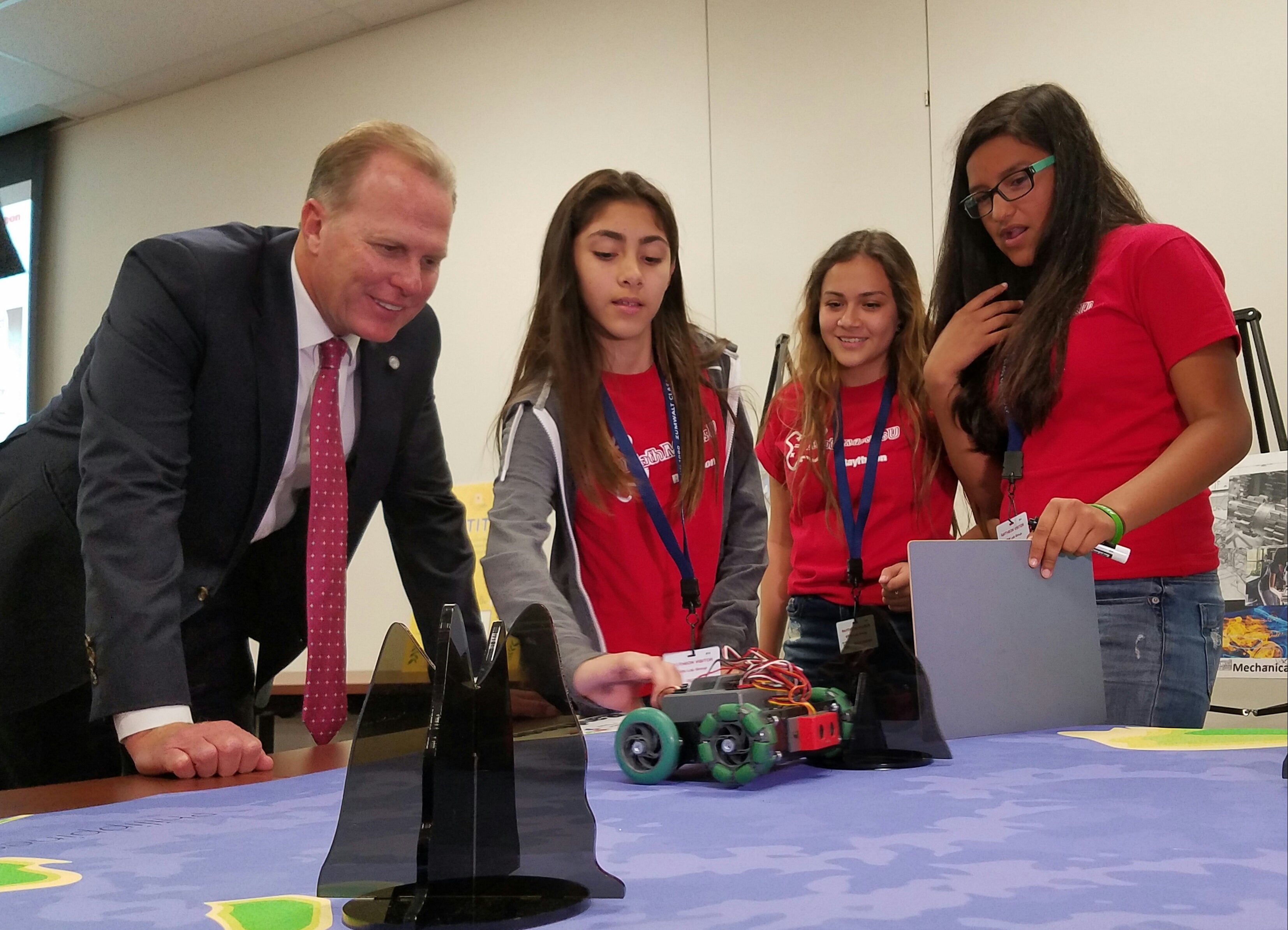 Thursday, Oct. 13, 2016 - NEWS RELEASE
San Diego – To fulfill his State of the City pledge to create science, technology, engineering and mathematics opportunities for youth throughout San Diego, Mayor Kevin L. Faulconer today celebrated the launch of Raytheon's new STEM robotics program as part of the One San Diego Learning Labs initiative.
The learning labs, inspired by the successful Qualcomm® Thinkabit Lab™ program, were identified by Mayor Faulconer's OpportunityWORKS task force as a key way to inspire young people to explore science and technology while teaching them skills to pursue careers in these fields.
"San Diego is home to some of the most innovative companies, research institutions and universities in the world so children growing up here should be the first in line for those jobs," Mayor Faulconer said. "Creating strong partnerships with companies like Raytheon to introduce students to science and technology gives San Diego youth the opportunity to learn the skills they need to pursue rewarding careers."
Raytheon is a technology and innovation leader that specializes in defense, civil government and cybersecurity. Its STEM robotics program will provide an engaging and interactive learning curriculum focused on exposing middle school students to engineering and hands-on experiences with science and technology.
The program will host 30 students every-other Friday for a five-hour workshop that will include lectures, team activities, lab tours and robotics coding to complete mock missions inspired by the U.S. Navy.
"The objective of the Raytheon program is to expose students with the STEM skills, motivation, curiosity and resilience to succeed in their choice of college and career," said Pat Speake, Raytheon Site Director, San Diego.
As San Diego continues to lead the world in innovation and technology, there is tremendous opportunity for local youth to pursue good-paying careers locally. However, as high-tech businesses continue to grow and thousands of high-paying jobs become available, there are not enough qualified applicants to fill these positions.
Mayor Faulconer's OpportunityWORKS task force goal developed solutions for youth to improve access to affordable education, increase opportunities in the fields of science and technology, and connect San Diegans to successful careers that command a higher wage.
In March, the group recommended several ways to grow the middle class and close the skills gap for San Diegans, including partnering with local businesses to create One San Diego Learning Labs programs.
"Providing students with just one day of hands-on learning can positively impact their future career choices," said Mark Cafferty, San Diego Regional Economic Development Corporation President and CEO & OpportunityWORKS Task Force Chair. "Like Qualcomm, Raytheon is an example of how the business community can develop innovative programs and collaborate with the public sector to create interest in careers that grow our economy."
The task force brought together for the first time some of the city's brightest minds in innovation, technology, workforce development, education and business, including San Diego Unified School District Superintendent, Cindy Marten.
"San Diego is fortunate to have all our leaders focused on a single mission – giving our children the skills they will need to be full participants in the workplaces of tomorrow," Marten said. "We understand the best way for our students to understand the world of work is to experience firsthand the excitement of environments like Raytheon and exposure to their STEM Robotics program. We are so grateful for this wonderful partnership that will allow so many of our students to get involved and get excited about technology and innovation."
CONTACT: Jen Lebron at (619) 384-5289 or [email protected]