Mayor Faulconer Appoints SDPD Assistant Chief David Nisleit as Next Police Chief
30-Year SDPD Veteran was the Consensus Choice of Community and Professional Panels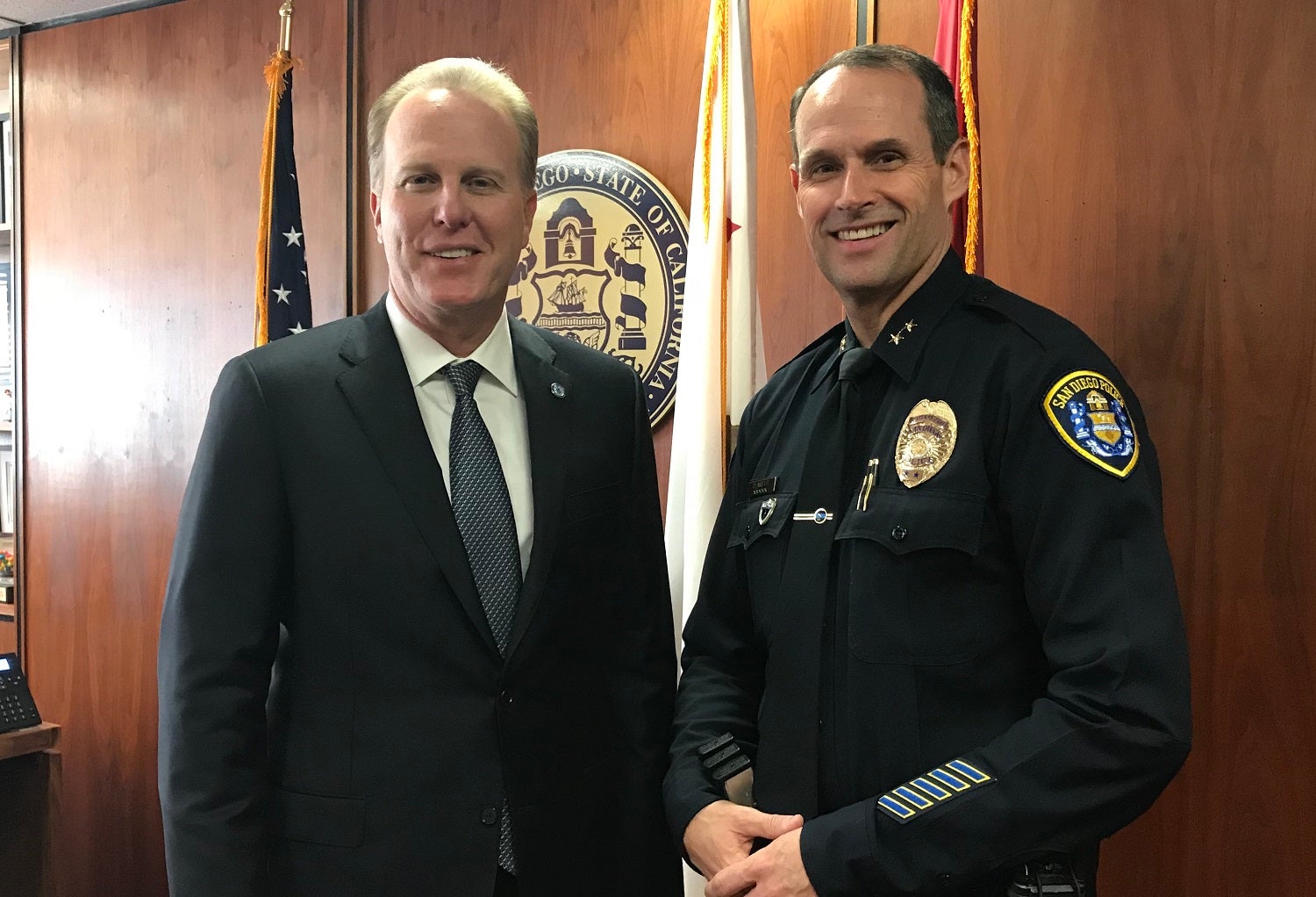 Thursday, February 1, 2018 - NEWS RELEASE
San Diego – Following a national search that included candidates from major cities across the country, Mayor Kevin L. Faulconer today announced the appointment of San Diego Police Department Assistant Chief David Nisleit as the City's next Chief of Police.
Nisleit, who was the overwhelming recommendation of the community and professional interview panels following a months-long selection process, has been with SDPD for 30 years, the last two as Assistant Chief overseeing Patrol Operations.
Once confirmed by the City Council, Nisleit will replace Chief Shelley Zimmerman, who is retiring on March 1 after a 35-year career.
"The selection of Chief Nisleit is the culmination of a community-driven selection process and he was the clear choice of community leaders and professional staff, including law enforcement officials," Mayor Faulconer said. "The interview panels saw what I already knew about Chief Nisleit: that he is a man of character who cares deeply about San Diego, our residents and our officers. Chief Nisleit will build on SDPD's strong reputation for community policing and make sure San Diego continues to be one of the safest big cities in the country. And he will lead our national recruiting efforts to hire more officers and have the department fully staffed for the first time in over a decade."
Assistant Chief Nisleit has led a distinguished career, with leadership roles in the Western, Northern and Mid-City Patrol divisions; SWAT; the Gang Unit; and the Centralized Investigations unit. He currently has responsibility for nine patrol commands, the Homeless Outreach Team and the Watch Commander's Office.
"As a native San Diegan and someone who has dedicated the last 30 years of his life to this City and department, it is both a privilege and an honor to become the next San Diego Police Chief," Nisleit said. "Keeping San Diego one of the safest large cities in America will be one of my top priorities. This will be achieved through strong partnerships with our community and the great work of our San Diego Police Department personnel."
In addition to overseeing hundreds of investigations throughout his career, Assistant Chief Nisleit spearheaded the department's "violence reduction plan" aimed at decreasing violent crime and gun related offenses. He also led the department's involvement in the formation of the Community Action Support Team, working with the community to address gang violence.
He has been responsible for the planning and operational safety of more than 1,000 special events, including Comic-Con, professional sporting events, San Diego LGBT Pride and the Women's March. He has a reputation of working closely with community members by hosting monthly problem-solving meetings and neighborhood crime briefings.
Among his top priorities as Chief of Police will be to oversee a national recruitment campaign to help attract and hire more police officers and fully staff the San Diego Police Department by 2020, as Mayor Faulconer laid out in his State of the City address. There are currently more than 200 vacant positions in the department.
Increased staffing will allow the SDPD to address more quality-of-life issues, such as responding faster to non-emergency calls, engaging in proactive policing and establishing stronger ties with the communities they serve.
"After a nationwide search for San Diego's next Police Chief, I commend Mayor Faulconer for nominating San Diego's Assistant Police Chief, David Nisleit, to take the helm of our San Diego Police Department," said Chris Cate, Chair of the Council's Public Safety and Livable Neighborhoods committee. "Mr. Nisleit's steadfast community policing and unwavering commitment to the safety of all San Diegans, makes him the ideal candidate to represent America's Finest City."
The search for a new police chief began in September with more than 2,000 people participating in six community forums and an online survey.
Interviews were conducted in January by panels made up of community members and professional staff. Each member of the community and professional panels ranked each candidate in order of preference. Assistant Chief Nisleit was overwhelmingly the highest ranked candidate.
Feedback from the community forums, online survey and panel rankings were all factors in Mayor Faulconer's ultimate decision to appoint Assistant Chief Nisleit.
Community and professional officials who participated in the interview process were:
Laura Baeza, Mid-City Community Advocacy Network

Jaymie Bradford, San Diego Regional Chamber of Commerce

Josie Calderon, Mexican American Business and Professional Association

Peter Callstrom, San Diego Workforce Partnership

Ronald Cho, Park and Recreation Board, Asian Pacific Islander Association

Taura Gentry, Community Review Board on Police Practices

Tammy Gillies, Anti-Defamation League

San Diego Sheriff Bill Gore

Stephen Groce, Human Relations Commission

Andy Hanshaw, San Diego County Bicycle Coalition

Rodney Hood, Gang Prevention and Intervention Commission

Susan Jester, Citizens Equal Opportunity Commission

Mitz Lee, Asian Pacific American Coalition

Fernando Lopez, San Diego LGBT Pride

Cindy Marten, San Diego Unified School District

Nicole Murray Ramirez, LGBTQ Latino Coalition of San Diego County

Barry Pollard, Community Advisory Board on Police/Community Relations

Robert Pope, United African American Ministerial Action Council

Jack Schaeffer, San Diego Police Officers Association

Andrea St. Julian, Earl B. Gilliam Bar Association

Joe Terzi, San Diego Tourism Authority

La Mesa Police Chief Walt Vasquez

Alonso Vivas, Downtown San Diego Partnership

Phoenix Police Chief Jeri Williams

Michael Zucchet, Municipal Employees Association
"Chief Nisleit was my top pick to be the next Police Chief because he's a native San Diegan who understands our community issues," said Taura Gentry, a member of the Community Review Board on Police Practices. "He has spent his career being involved in the community, professionally and in his personal life. And he has the right demeanor and professionalism that is required of this position."
Assistant Chief Nisleit earned his Master's degree in Business Administration and Management from University of Redlands. He was a member of the FBI's National Academy Class 258. He is a member of the International Association of Chiefs of Police, President of the San Diego SWAT Officers Association and sits on the Regional Task Force on the Homeless.
He lives in San Diego with his wife Darlene. He has three children Derek, Gabriella and Ryan, who is an SDPD officer.
See the scores from the

community interview panel and the 

professional law enforcement interview panel.
CONTACT: Greg Block at 619-227-3752 or [email protected]