Mayor Faulconer Bolsters Public Safety, Invests in Balboa Park & Advances Fiscal Reform in Budget Proposal Update
Budget Revision Includes $4.7M to Address Recruitment and Retention Issues With Police Officers and 911 Dispatchers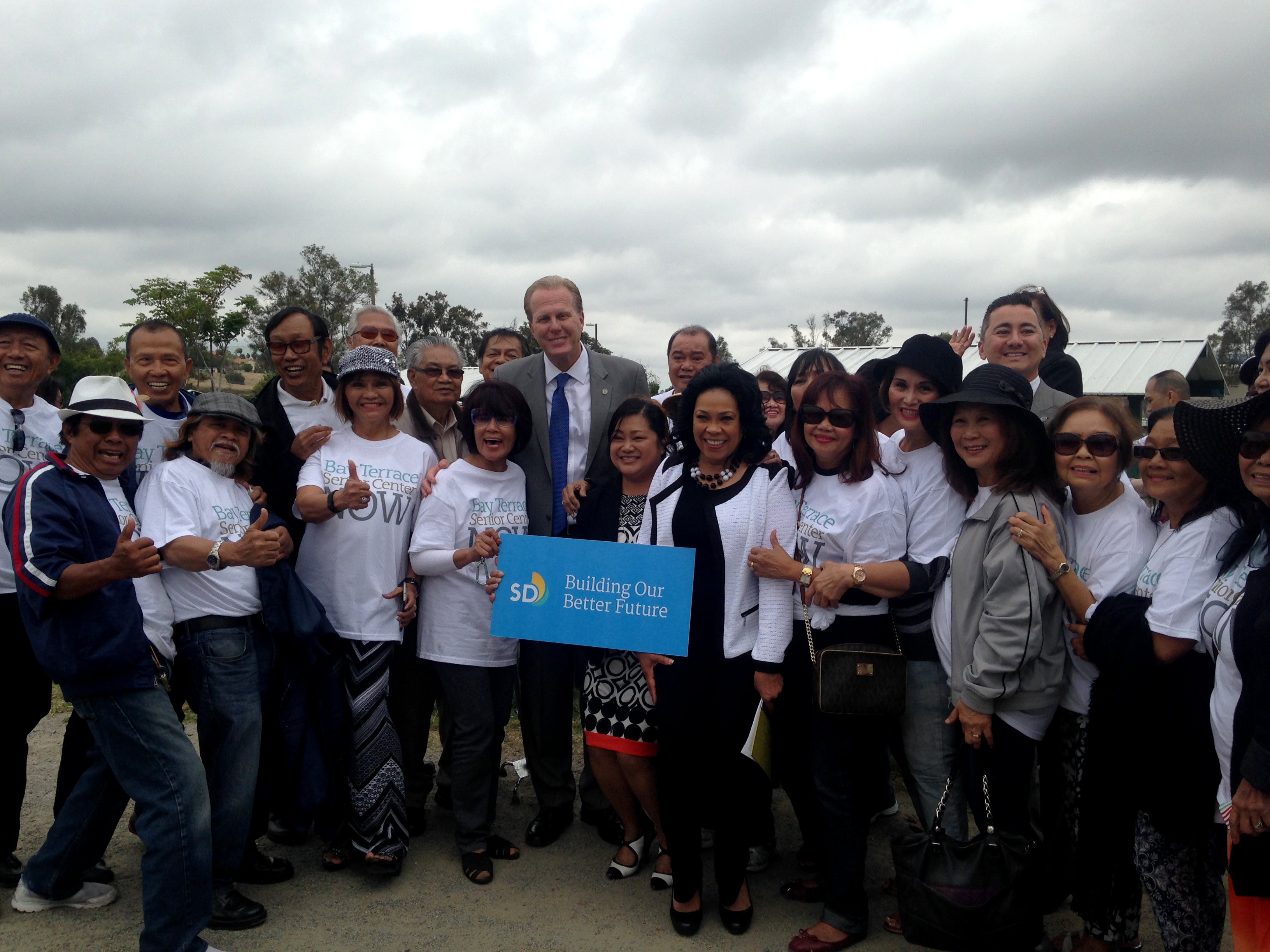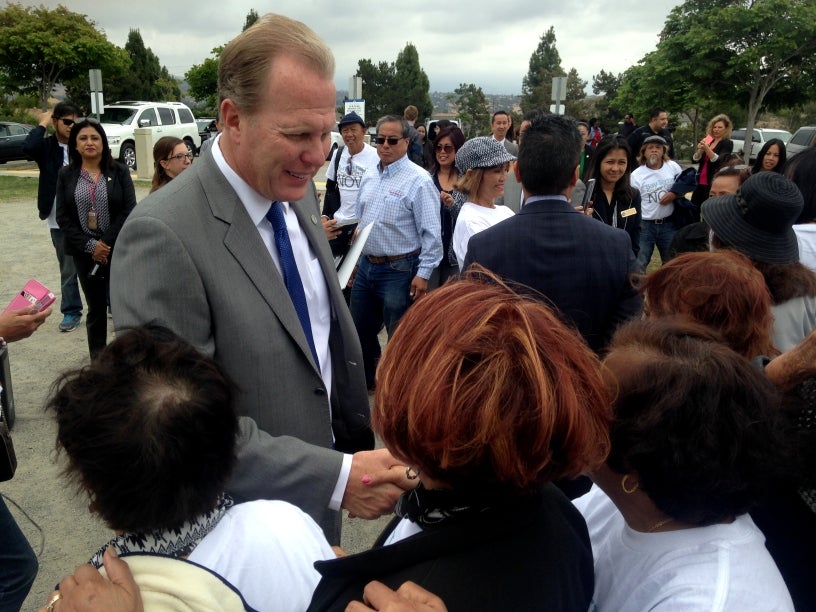 Tuesday, May 17, 2016 - NEWS RELEASE
San Diego – Standing at the proposed site of the long-awaited Tooma Senior Center for southeastern San Diego, Mayor Kevin L. Faulconer today announced an

updated "One San Diego" budget proposal that adds investments in public safety, funds the new pension reserve for the first time, brings upgrades to Balboa Park and Mission Bay Park, and funds several other neighborhood improvements.
Mayor Faulconer's budget revisions increase funding to address recruitment and retention issues in the Police Department, repair infrastructure in historic Balboa Park, improve Fire Station No. 6 serving Otay Mesa, provide services to seniors and boost reserve funding.
"Years ago a thin foundation of gravel was laid in southeastern San Diego in preparation for a senior center that was never constructed. With this budget update we are laying a stronger foundation upon which our city's financial security, public safety, and neighborhood projects like the Tooma senior center can finally be built," Mayor Faulconer said. "I'm recommending additional investments to bolster police officer and dispatcher staffing, repair infrastructure in historic Balboa Park, and advance fiscal reform by funding for the first time San Diego's new pension stabilization reserve. This revised budget plan strikes the balance between continuing to invest in communities while building reserves to protect neighborhood services in the future."
Mayor Faulconer is recommending an additional $4.7 million to address recruitment and retention issues for police officers and 911 dispatchers. More funding to keep critical dispatchers is one of five steps Mayor Faulconer outlined earlier this month to improve services at the 911 dispatch call center.
"Mayor Faulconer continues to look for ways to improve public safety and we thank him for all the steps he's made to address the recruitment and retention issues within the Police Department," said Brian Marvel, President of the Police Officers Association. "He's provided additional resources and now he's committed even more funding to make sure we keep experienced police officers and 911 dispatchers so San Diego can remain one of the safest big cities in America."
Michael Zucchet, General Manager of the Municipal Employees Association, which represents dispatchers, said: "This is a major step forward to rebuilding our dispatch call center. We look forward to working with Mayor Faulconer to continue to improve operations, apply these resources toward dispatchers, and provide the highest quality service to San Diegans in their times of need."
The additions are based on increased revenue projections and adjustments to various department budgets that have arisen since Mayor Faulconer released the Fiscal Year 2017 Proposed Budget on April 14. Funds are available due to property tax projections coming in higher than anticipated, a new lease agreement that brought in additional revenue and surplus remaining from the current fiscal year's budget.
Mayor Faulconer is proposing to use $34 million of the surplus to continue building up the City's reserves and fund a variety of one-time expenses.
About $27.2 million will go toward various reserve funds, including $16 million for the newly created Pension Stabilization Reserve Fund. The fund would act as a safety net for the operating budget (which funds neighborhood services) when pension costs go up, such as when investment returns are low.
The remaining surplus will be used to fund several one-time neighborhood investments, including $500,000 for design work to build the Tooma Senior Center in the Bay Terrace Community Park. Neighborhood residents have been waiting for years for the project to move forward after gravel was laid more than a decade ago where the new center is to be built.
"I'd like to thank all of the residents and supporters who have joined me in this fight for the Tooma Park Senior Center," said City Councilmember Myrtle Cole, who represents the Bay Terraces neighborhood. "We will continue to advocate until we see this project through."
In regards to increased public safety funding, Councilmember Cole said, "Every community deserves adequate fire-rescue and community-oriented police services, and expanding these essential resources will continue to be a priority, especially in neighborhoods that have historically been underserved."
Other neighborhood projects include the rehabilitation of the Thompson Medical Library/Eddy Auditorium in Balboa Park, replacement of synthetic turf at Pershing Middle School, asbestos abatement at Fire Station No. 6 in Otay Mesa and staffing to keep the senior center located in North Clairemont open.
"I applaud Mayor Faulconer for making Clairemont seniors a priority, and not an afterthought," said Councilmember Chris Cate, who represents the neighborhood. "The Clairemont Senior Center serves as a bedrock for some of the most vulnerable members of our community."
In total, Mayor Faulconer recommends $39 million in city investments and reserve funding. The City will continue Mayor Faulconer's commitment under the revised budget proposal to dedicate at least half of major General Fund revenue growth toward neighborhood investments.
The recommendations are contained in two reports released today: the

Fiscal Year 2017 Proposed Budget May Revise and the

Fiscal Year 2016 Year-End Budget Monitoring Report. Highlights include:
Fiscal Responsibility
Pension Stabilization Reserve Fund, $16 million
Stability Reserve, $5.7 million
Public Liability Reserve, $3 million
Workers' Compensation Reserve, $2.5 million
Safe Neighborhoods
Police recruitment and retention, $4 million
Recruitment and retention of 911 dispatchers, $652,000
Expand two firefighter academies from 36 to 48 recruits, $487,000
Asbestos abatement at Fire Station No. 6 in Otay Mesa, $100,000
Opportunity in Every Community
Design work for the Tooma Senior Center in southeastern San Diego, $500,000
Staff to keep the senior center in North Clairemont open, $105,000
Operational support for the Skyline Hills Branch Library set to open in the fall, $100,000
Parks & Neighborhood Investments
Replace synthetic turf at Pershing Middle School, $700,000
Install historic light posts in Balboa Park's Central Mesa, $350,000
Keep Mission Bay Park's restrooms open year-round, $117,000
Restore a grounds maintenance supervisor position in Balboa Park, $95,000
Repairing Infrastructure
Rehabilitate the Thompson Medical Library/Eddy Auditorium in Balboa Park, $1.5 million
Maintenance projects at City facilities, $758,000