Mayor Faulconer Calls on City to Say 'Yes' to More Homeless Solutions, New Housing and Community Choice Energy
Mayor Urges San Diego to Rise Above National Political Division and Join Together in 2019 State of the City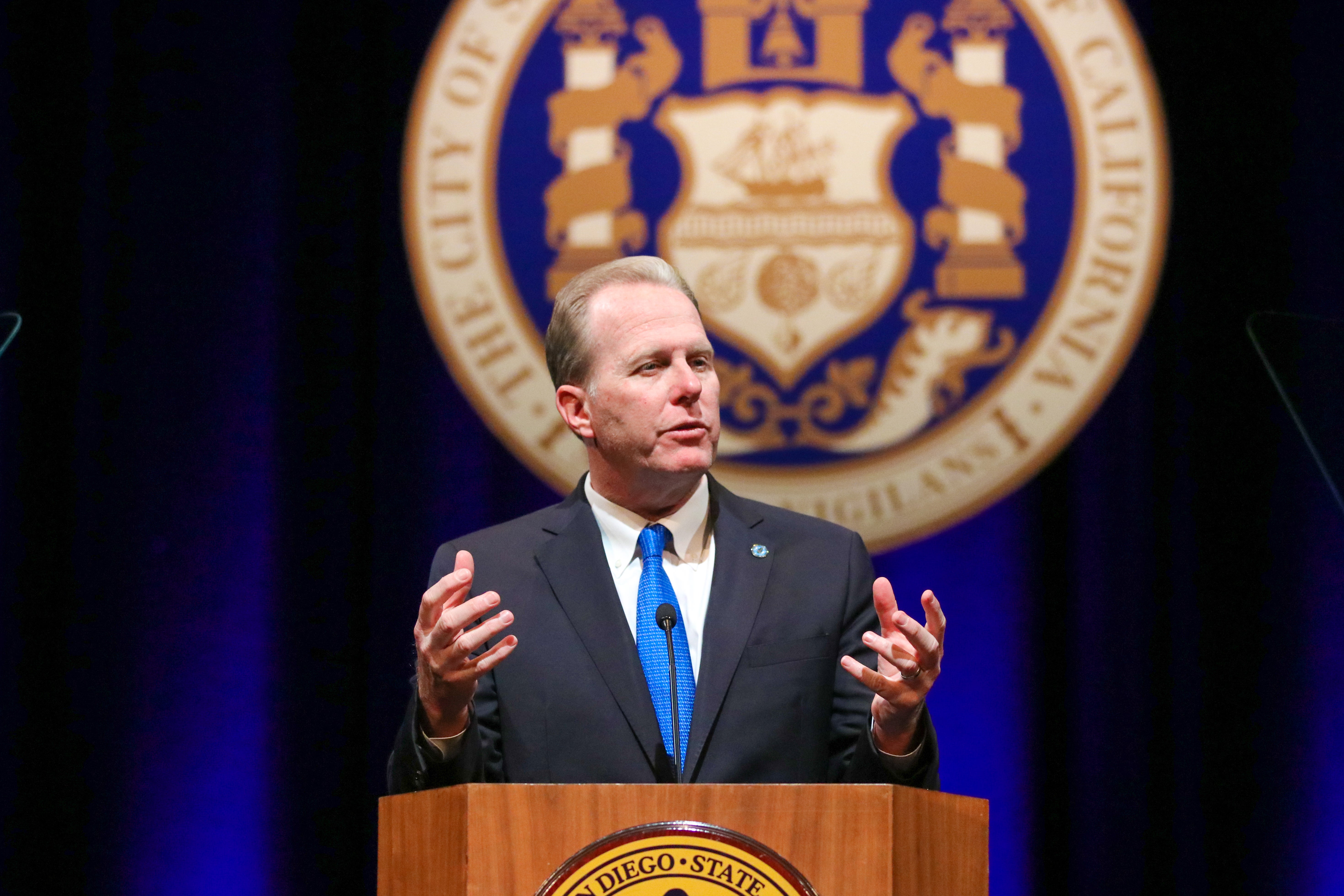 Tuesday, January 15, 2019 - NEWS RELEASE
San Diego – Delivering his 2019 State of the City address, Mayor Kevin L. Faulconer today called on San Diego to say "Yes" to new approaches to tackle the city's biggest challenges, from homelessness to housing to climate change.
Mayor Faulconer outlined new plans for removing the anti-housing bias that stops new housing; establishing services that reduce homelessness throughout the city; addressing the region's mental health crisis; continuing to invest in neighborhood infrastructure and programs; and creating a community choice energy program to provide green power to the entire region.
"In our 250th year we will build on the foundation that made San Diego what it is today," Mayor Faulconer said. "We have a thriving tourism economy that welcomes millions of people each year. Now we must welcome even more housing and homeless solutions. We take great pride in being a melting pot of diversity. Now we must take new steps to ensure every neighborhood gets their fair share. We treasure our beaches, bays and a healthy environment. Now we must lead the climate revolution to protect them."
The Mayor began the evening by stressing the importance of putting political divisiveness aside and working as one city.
"Our national landscape has become one that seeks to divide us. But let us never allow our differences to blind us to the common humanity we all share. We cannot achieve the goal of inclusion using the tools of division," Mayor Faulconer said. "San Diego, we are stronger than the national political division. We are smarter than the partisan rhetoric. And we are better together than we are apart. The state of our city is strong, and united, we will make it even stronger."
Saying 'Yes' to More Housing Solutions
Mayor Faulconer called for transforming San Diego into a "YIMBY" city that welcomes new housing with a "Yes in my backyard" attitude. With the goal of making homes more affordable, he introduced radical housing reforms that eliminate many of the obstacles that lead to higher costs and delays in construction. Building on early successes from his "Housing SD" plan, this year the Mayor will bring forward policies that will:
Create more housing by removing height limits outside the coastal zone
Eliminate barriers to building by allowing affordable housing and units intended for the homeless to be built "by-right," reducing the number of hearings and appeals that slow things down
Lower costs by eliminating expensive parking requirements for multi-family projects in Transit Priority Areas
"We need to think about homes how we think about water and streets. These aren't 'nice-to-haves.' They are essentials," Mayor Faulconer said. "The bureaucracy has been set up to empower anti-housing forces that delay or deny projects at every turn. We need to get government out of the way, so constructing homes becomes easier, less expensive and faster. We need to radically overhaul the system."
Addressing the housing crisis is one of the most important steps in reducing homelessness. At the same time, the Mayor will also build on recent successes in helping homeless individuals on their paths to long-term housing by expanding programs and services this year, including:
More Housing Connections: Helping more people transition from the City's three bridge shelters to long-term housing with more highly skilled case managers and housing specialists; the bridge shelters have so far helped more than 500 people transition into long-term housing
More Outreach: Deploying more outreach workers into neighborhoods outside downtown to build relationships with homeless individuals and better help them start to turn their lives around
Centralizing Services: Opening the new Housing Navigation Center to centralize services and make it easier for an individual to access the help they need to find permanent housing
"Our approach is housing first, but not housing only," Mayor Faulconer said. "Safe parking programs, storage centers and bridge shelters are lifelines that homeless individuals need to reconnect to a better life."
One San Diego Working in our Communities
The Mayor announced he will commission a citywide review to determine whether the companies that do business with the City reflect San Diego's diverse communities. The disparity study will show where the City needs to focus its efforts to ensure that every qualified business, including women- and minority-owned businesses, has equal opportunity to bid on and win a City contract.
Last year, the Mayor grew the "Clean SD" initiative to go beyond litter removal in neighborhood "hot spots" and expanded cleanups to more public spaces and natural environments. Crews have removed more than 2,700 tons of trash from the San Diego River and Chollas Creek as well as canyons, streets and sidewalks across the city. This year the Mayor plans to add crews and extend hours of cleanup operations to take it to the next level.
"One San Diego means every part of our city is a place residents are proud to call home," Mayor Faulconer said. "In my upcoming budget, I'll renew my commitment to clean up our city and protect our natural environment. You will see more crews removing garbage and graffiti. More community cleanups. And even faster responses when you use the Get It Done app."
The City continues to make historic neighborhood investments under Mayor Faulconer, with over half-billion dollars for infrastructure projects in the Fiscal Year 2019 budget. New fire stations, parks and libraries are opening a record pace and, in October, road repair crews made good on the Mayor's pledge to fix 1,000 miles of streets by hitting that mark nearly two years ahead of schedule.
Mayor Faulconer is also investing in how San Diegans get around. A new Downtown Mobility Plan is underway to make it safer and easier for bicyclists and scooter riders to get from point A to point B. In addition, the City made significant safety improvements to its 15 most dangerous intersections and, thanks to federal grants, will soon begin work on nearly 300 more intersections.
Making San Diego the Greenest City in America
Mayor Faulconer outlined three bold projects that will reshape the region for future generations:
Community Choice Energy: Mayor Faulconer will introduce next month a resolution to create a regional joint-powers entity, separate from the City, to supply renewable power to residents and businesses, and push San Diego forward toward its goal of 100 percent renewable energy. The Mayor will invite the County and local cities to join.
Pure Water San Diego: The City will break ground this spring on the largest infrastructure project in the City's history – a water recycling program that delivers one-third of San Diego's water supply by 2035.
Connecting the Trolley to the Airport: The Mayor is working with a coalition of regional leaders to plan and design a regional transportation hub with the goal of connecting the trolley system to the San Diego International Airport.
"Community choice energy will inject healthy competition into the marketplace, allowing customers to benefit from lower energy costs and pick greener energy sources to power their home or business," said Mayor Faulconer. "Next month I will ask the City Council to say "Yes" to community choice with a resolution to create a joint-powers entity, separate from the City, to supply renewable power to the entire region."