Mayor Faulconer: City to Open Temporary 'Bridge' Shelters to Help the Homeless
City Will Open Three New Facilities That Will Accommodate Hundreds Of Homeless Individuals & Provide Supportive Services as People Transition to Permanent Housing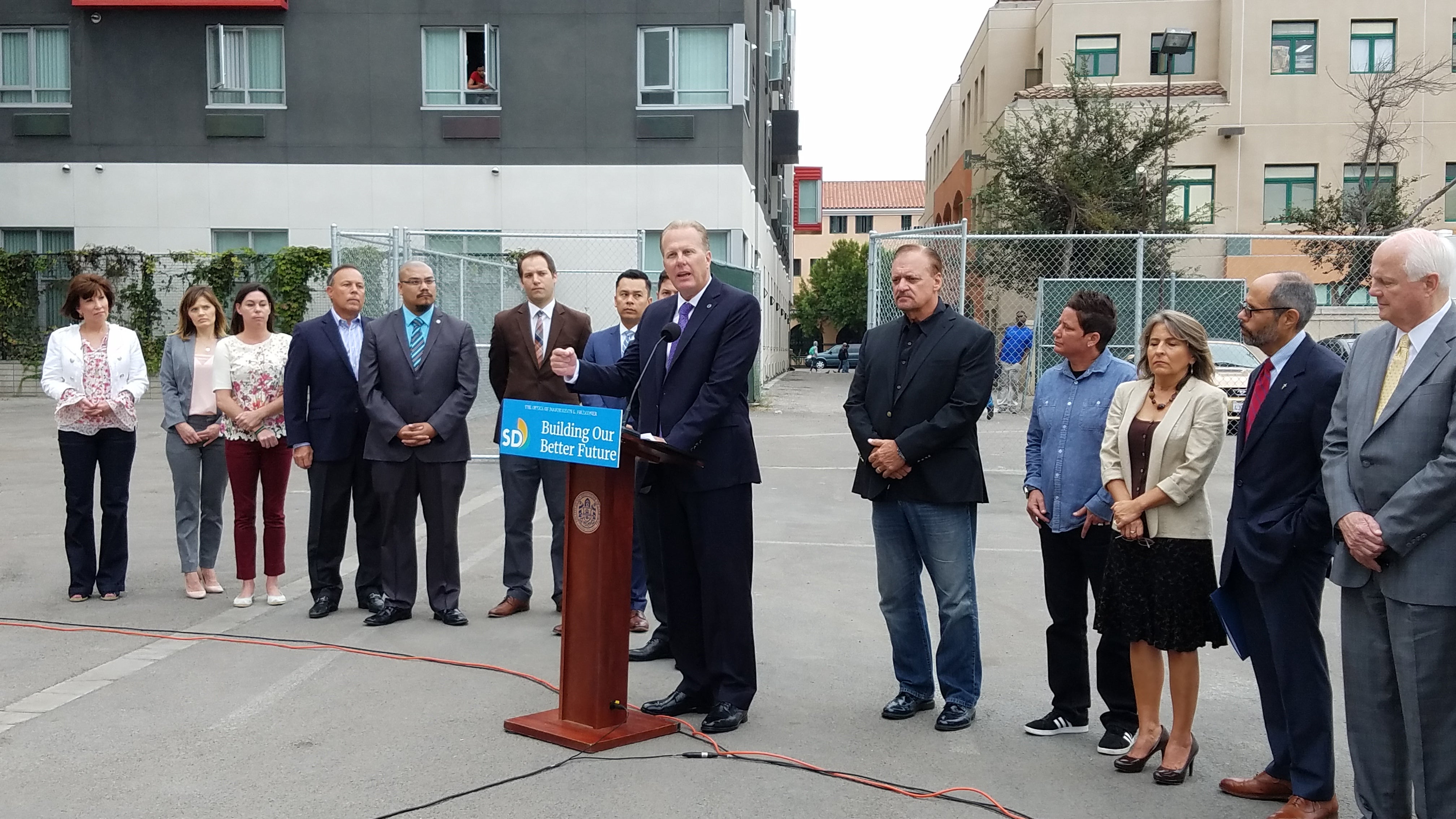 Wednesday, Sept. 13, 2017 - NEWS RELEASE
San Diego – With the goals of reducing homelessness across the San Diego region and combating the regional hepatitis A outbreak, Mayor Kevin L. Faulconer was joined today by elected officials and community leaders as he announced the creation of three new temporary "bridge-to-housing" shelters as part of a new public-private partnership to help homeless individuals get off the street for good.
"San Diegans are compassionate people who want to help solve this crisis. Their government must channel that compassion into action," Mayor Faulconer said. "Offering more clean and safe spaces that transition the homeless from living on the streets to living in a permanent home is exactly what San Diego needs right now. This represents a significant expansion of our homeless service network and is one of the most immediate and effective actions we can take to provide relief to unsheltered people who are suffering and want help."
Working with homeless service providers, Mayor Faulconer has identified three locations for the temporary bridge shelters with the goal of opening one or more of them by the end of December. The locations are:
The parking lot on Father Joe's Villages campus at 14th and Commercial Streets in the East Village.

A vacant lot in the 2700 block of Sports Arena Boulevard (behind the Goodwill store) in the Midway District to be run by the Veterans Village of San Diego.

A vacated street at 16th Street and Newton Avenue with a shelter operated by Alpha Project.
Bridge shelters are an innovative approach that reflect best practices in serving the most vulnerable members of the homeless population. They serve as a crucial transition point where housing navigators will work with men and women without shelter to find them a permanent housing placement.
Each facility will consist of a large, industrial tent with more than 100 beds with restrooms, showers, meals and 24-hour security. The service providers will offer supportive services and connections to health care, alcohol and substance abuse counseling and job search training at all three locations.
Businessmen Peter Seidler and Dan Shea have generously offered to donate $1.5 million toward the purchase of the large tents to help expedite the opening of the bridge shelters.
The total cost of operating the bridge shelters will be finalized in the coming weeks following further discussions with service providers and then Mayor Faulconer will seek City Council approval for funds to operate the shelters. The City is also exploring adding more bridge shelters in the future at other locations.
These new bridge shelters will operate alongside the City's current interim housing program at Father Joe's Villages – an indoor facility with 350 beds and supportive services for homeless individuals and veterans that is open every single night of the year.
The parking lot being used for the temporary bridge shelter at Father Joe's Villages is where the nonprofit plans to build a 16-story, 448-unit facility for veterans, families and chronic homeless individuals. Father Joe's Villages has agreed to operate a temporary bridge shelter at the site until September 2018, while the organization continues to prepare for the future development.
Joining Mayor Faulconer for today's announcement were City Councilmembers Chris Ward and Lorie Zapf, Alpha Project CEO Bob McElroy, Father Joe's Villages President & CEO Jim Vargas, Veterans Village of San Diego President & CEO Kimberly Mitchell and San Diego Housing Commission President & CEO Richard C. Gentry, Regional Task Force on the Homeless CEO Gordon Walker, the City's Senior Advisor on Homelessness Coordination Jonathan Herrera as well as representatives of the San Diego Regional Chamber of Commerce, the Downtown San Diego Partnership, the East Village Association and the San Diego Tourism Authority.
Here's what civic leaders are saying about the temporary bridge shelters:
City Councilmember Chris Ward, Chair of the Select Committee on Homelessness: "Temporary bridge structures are critical to our response to the Hepatitis A outbreak and will provide homeless San Diegans a safe and sanitary place of refuge as we address this health emergency. I'm grateful that our work to build strong collaboration has allowed so many community partners to quickly identify appropriate locations, programming, and operations that address immediate safety concerns while remaining focused on pathways to permanent housing."
City Councilmember Lorie Zapf: "I wholeheartedly support and applaud Mayor Faulconer for his leadership to sanitize our streets and shelter those individuals who live on the streets, parks, beaches and riverbeds."
County Supervisor Ron Roberts, Board Chair of the Regional Task Force on the Homeless: "I support Mayor Faulconer's work with the private sector and service providers to install and operate temporary homeless structures. It is critical that these shelters serve as linkages to support services and permanent housing, which remains the ultimate solution."
Richard C. Gentry, President & CEO of the San Diego Housing Commission: "These shelters complement the 'housing first' model by providing the additional capacity that is needed up-front to help homeless San Diegans leave the streets behind and start on the path toward permanent housing. This City collaboration with private-sector partners will create more opportunities within the current continuum of services, which already have helped thousands of homeless San Diegans begin to rebuild their lives."
Deacon Jim Vargas, President & CEO of Father Joe's Villages: "These are unprecedented times, and the public health emergency coupled with the increasing number of those who are homeless demands immediate action. We believe it is the right thing to set up this temporary shelter on our lot, while we prepare to construct permanent housing to address the shortage of affordable housing for those who are homeless. We look forward to working with the City, the County and our provider colleagues to help our brothers and sisters off the streets."
Kimberly Mitchell, President & CEO of Veterans Village of San Diego: "Veterans Village of San Diego is proud to partner with the City of San Diego to address the critical issue of homelessness in our community. Particularly troubling are the veterans who have served our country over the course of the last 50 years, but now find themselves struggling with homelessness on our streets. We appreciate Mayor Faulconer's leadership on this issue and the City of San Diego's partnership with VVSD to be part of the solution."
Bob McElroy, CEO of Alpha Project: "This is the best day of my year. We are going to bring hope to hundreds of folks who may not have any today, but tomorrow is going to be bright."
Businessmen Peter Seidler and Dan Shea: "Homelessness in San Diego is not something any of us can ignore and that's why we have raised a significant amount of private donations to contribute to this solution. It's going to take all of us, from the city to the county to the business community, coming together to collaborate on real fact-based, tangible and measurable action steps. We thank the Mayor for his leadership because these temporary bridge shelters are the start of a regional effort to turn this crisis around."
 
CONTACT: Craig Gustafson at (619) 453-9880 or [email protected]