Mayor Faulconer, Comic-Con, Pride Showcase Economic & Cultural Impacts of San Diego's Biggest Tourism Month
Events Provide Major Boost for San Diego Economy, Neighborhood Services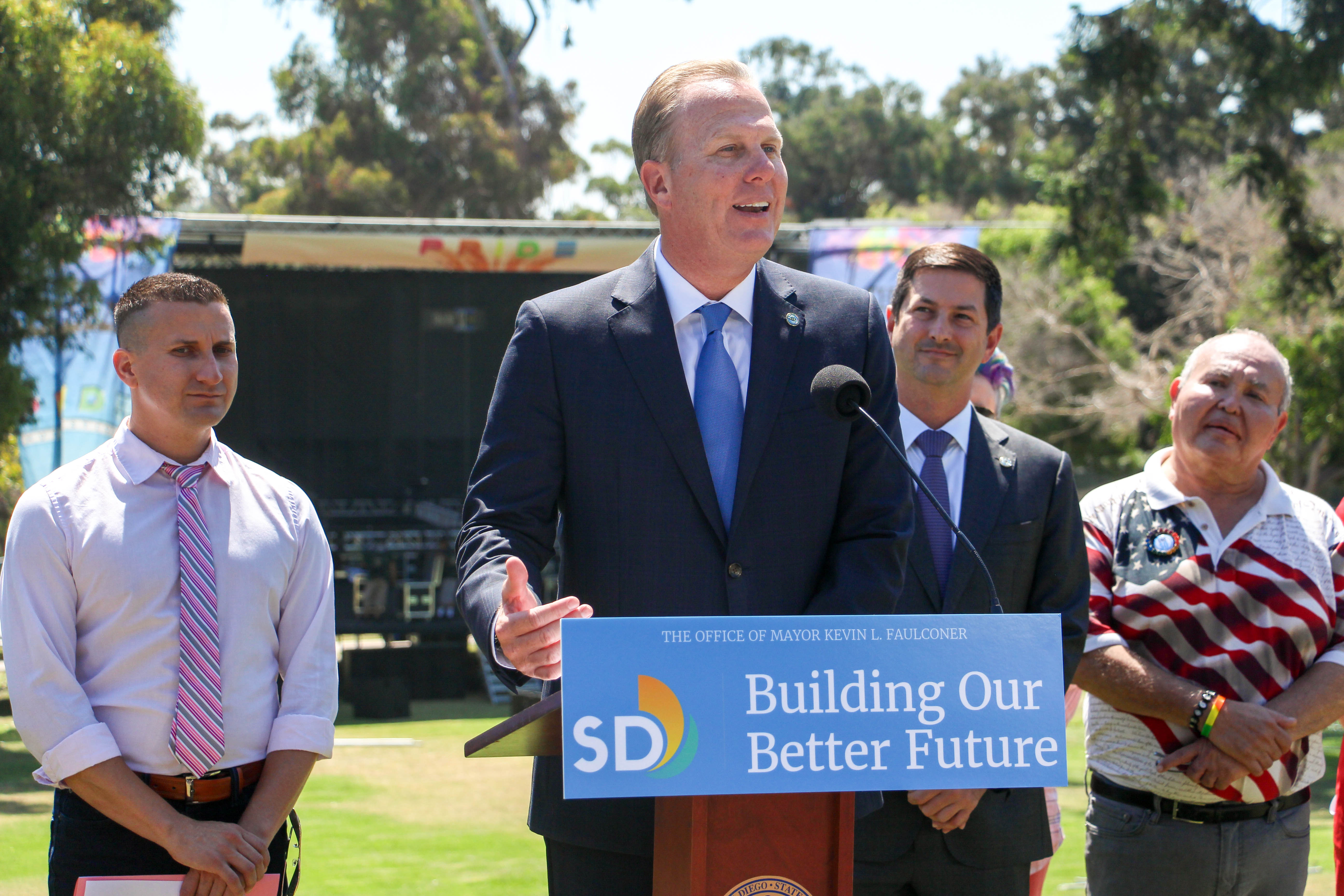 Thursday, July 13, 2017 - NEWS RELEASE
San Diego – Alongside representatives from two of San Diego's largest annual events, Mayor Kevin L. Faulconer, Councilmember Chris Ward and the San Diego Tourism Authority discussed the major economic impact of Comic-Con International, San Diego LGBT Pride and other major events in San Diego.
 "San Diego is coming off its best tourism year ever and these two events showcase some of the best our city has to offer to visitors and residents alike," Mayor Faulconer said.  "Aside from having an enormous cultural impact on our city and visitors, Pride and Comic-Con pump millions of dollars into our local economy to support local businesses, job growth, road repair and public safety."
"Every year, San Diego Pride brings millions of dollars to support and showcase the local businesses that make Hillcrest such an important and inclusive community, and the whole city comes to downtown for a week-long party celebrating Comic-Con," Councilmember Ward said. "These events are not only a wonderful opportunity to welcome thousands of visitors to San Diego, but a time for two of our most dynamic communities to host two of our city's iconic annual events."
Comic-Con is San Diego's largest convention with more than 135,000 attendees and attracts thousands of other visitors who want to be in the middle of the world's premiere celebration of the popular arts. It has an estimated economic impact of $135 million.
"Over the last 47 years, our little local annual convention has grown into a worldwide celebration of the popular arts," said Comic-Con Chief Communications and Strategy Officer David Glanzer. "It not only creates jobs for additional Comic-Con staff, but local businesses and organizations from outside our city hire San Diegans to meet the needs of the thousands of people who attend our convention."
The San Diego LGBT Pride Parade and Festival is one of the city's largest civic events with an estimated 200,000 people who watch the parade each year. The three-day event contributes more than $11 million to the local economy.
"What started as a small march with a few dozen people is now a week of celebration, education and protest that allows San Diego LGBT Pride to serve the full spectrum of our community all year," said Fernando Lopez, Director of Operations for San Diego Pride. "Of course San Diego Pride throws the biggest and best party in town, and the funds raised from this weekend's Pride Festival go to toward providing Community Grants to LGBT-serving nonprofits as well as our year-round organizing, advocacy and education programs."
San Diego is consistently given a perfect score on the Human Rights Campaign's annual Municipal Equality Index, which helps draw in LGBT visitors throughout the year, according to Barbra Blake, the CEO of the Greater San Diego Business Association.
"The LGBT community's economic impact on San Diego expands far beyond Pride weekend," Blake said. "Each year San Diego's LGBT consumers contributes over $10 billion to the regional economy and, as a popular LGBT vacation destination city, we host thousands of LGBT vacationers year round, adding an additional few million to our economy." 
In 2016, San Diego attracted a record 34.9 million visitors who spent a record $10.4 billion at local attractions, restaurants and shops. As San Diego heads into its busiest tourism season, July and August are on pace to outperform the same moths as last year.
"With a number of signature events like San Diego Pride and Comic-Con International, summer will be big for San Diego's tourism economy," said Kerri Kapich, Chief Operating Officer of the San Diego Tourism Authority. "These great events draw hundreds of thousands of visitors from around the world who spend millions of dollars at our local businesses. The tax revenue generated by visitors to San Diego is vital for the economic stability of our region."
"Events like Comic-Con and Pride showcase San Diego as a diverse and inclusive community, which are important aspects of economic development and the type of environment and workforce that makes San Diego a world-class place to run a business," said Jerry Sanders, President and CEO of the San Diego Regional Chamber of Commerce. "The thousands of people who come to our city for these events give a major boost to local businesses and help create jobs for San Diegans."
The San Diego LGBT Pride Parade and Festival kicks off with the Spirit of Stonewall Rally on Friday, July 14 and runs through Sunday, July 16. Comic-Con begins with Preview Night on Wednesday, July 19 and runs until Sunday, July 23.