Mayor Faulconer, Council President Cole & School District Superintendent Marten Break Ground on New Joint-Use Park at Horton Elementary
'Play All Day' Partnership to Create More Parks and Recreational Opportunities Brings New Playing Field to Students and Residents in Encanto Neighborhood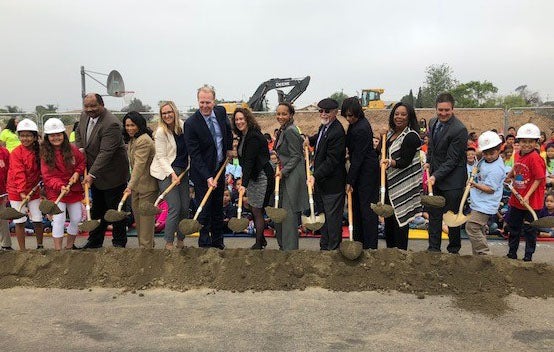 Tuesday, April 24, 2018 - NEWS RELEASE
San Diego – As part of his ongoing commitment to bring quality parks to every neighborhood, Mayor Kevin L. Faulconer, City Council President Myrtle Cole and San Diego Unified School District Superintendent Cindy Marten were joined today by nearly 500 students from Horton Elementary to break ground on a new joint-use park to be enjoyed by Encanto neighborhood residents.
"The new Horton Elementary field will continue our push for the largest expansion of city parks in modern history," Mayor Faulconer said. "It's a great example of what's possible when we work together for the betterment of the community. We're creating more parks and recreational opportunities in neighborhoods throughout the city and this partnership helps us do it faster and share costs."
The new field will feature natural turf, a walking and running path, drinking fountain, security gates and fencing. Existing basketball courts and play structures are included as joint-use features.
"These shared green spaces are for students to exercise and to learn. More than that, they are places for families and neighbors to come together and build community," Superintendent Cindy Marten said. "By providing district land and construction funding to the Play All Day Program we are not only strengthening our schools, we are also helping the city meet its goal of providing recreation spaces in all neighborhoods. That is a worthy goal that I am proud to support."
Horton Elementary field is one in a series of parks to be built since 2016 when Mayor Faulconer pledged to break ground on or upgrade 50 parks over the next five years. As part of the "Play All Day Initiative," many of those parks are to be joint-use facilities shared with city schools that remain open for residents after the school day ends and during school breaks. Horton Elementary students will have exclusive access during school hours.
"Projects like these show us the importance of joint-use partnerships with schools to fill an essential gap in addressing the City of San Diego's need for more park land and additional recreational opportunities for all of our communities," Council President Cole said. "I know that the kids in the community will get a lot of use of the park for many generations to come."
The partnership allows parks to be built much faster and less expensive than usual because the biggest challenges to creating new parks are finding available land and funding.
"Today's groundbreaking marks another important step in providing more recreational opportunities to parents and children in highly urbanized areas that need green spaces where people can come together and enjoy the outdoors," said Herman Parker, Director of the City's Parks and Recreation Department. "Working in concert with San Diego Unified through the Play All Day initiative has been instrumental in finding creative solutions for the health and well-being of our children both during and after school."
Under the terms of the agreement, San Diego Unified is obligated to build the park and the City is responsible for ongoing maintenance. The District's capital projects are funded by Propositions S and Z, which are local bond measures approved by voters to repair, renovate and revitalize neighborhood schools.
CONTACT: Christina Chadwick (619) 727-9758 or [email protected]