Mayor Faulconer, Councilmember Alvarez Break Ground on First San Diego Park Named After Filipino-American
Cesar Solis Park to Bring New Recreation Space to Growing South Bay Community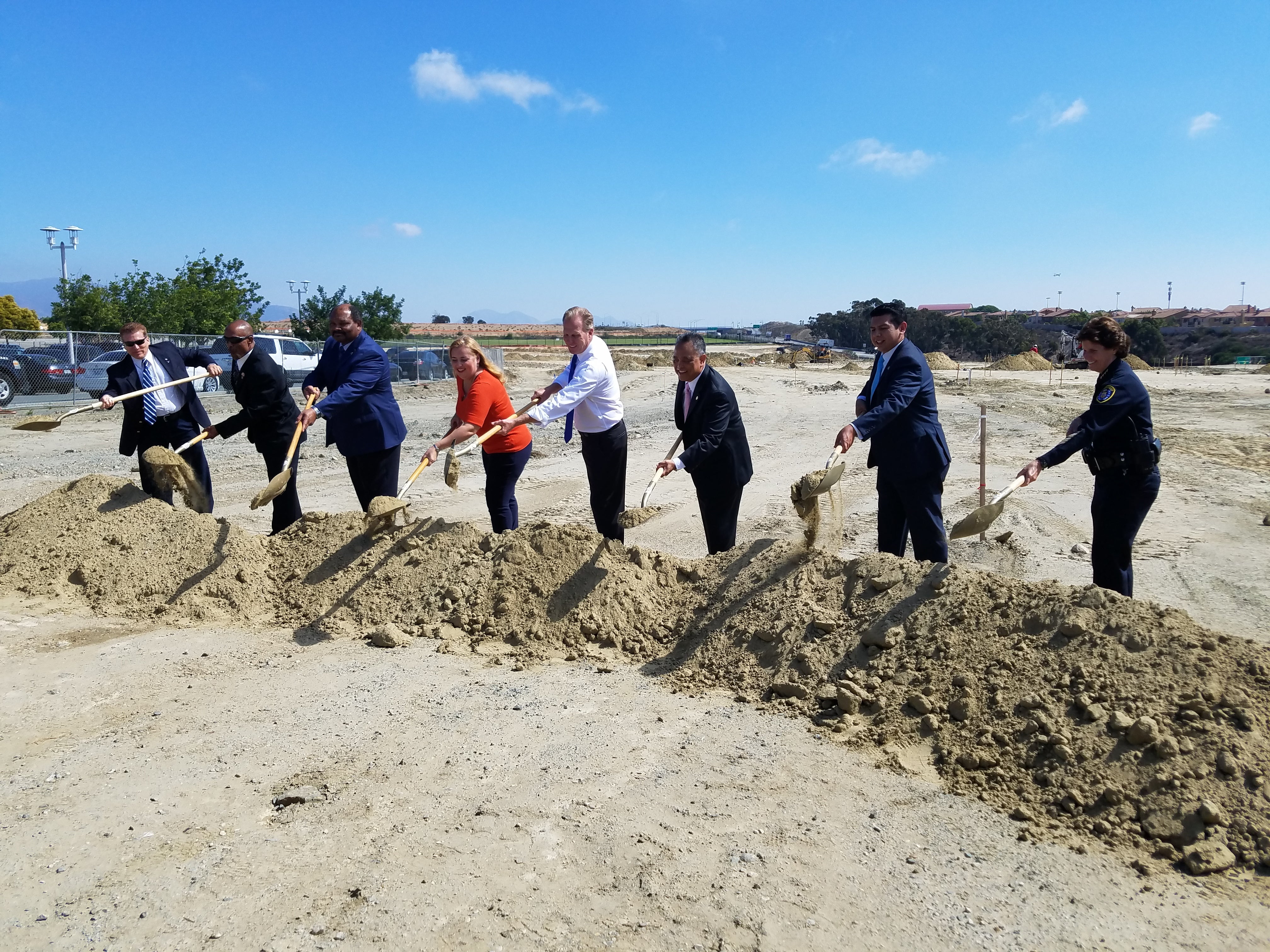 Tuesday, Oct. 11, 2016 - NEWS RELEASE
San Diego – As part of his commitment to break ground on or upgrade 50 parks in five years, Mayor Kevin L. Faulconer was joined by Councilmember David Alvarez, community members and retired Assistant Police Chief Cesar Solis to break ground on a community park named in his honor. It will be the first park in the City of San Diego to be named after a Filipino-American.
The park is named after the former assistant police chief who spent 32 years with the department and retired in 2014 as the highest-ranking Filipino-American in its history. Chief Solis grew up in the South Bay and still resides in the area.
"By naming this park after Cesar Solis, we are honoring the South Bay's rich history, but it is also a testament to City Hall's investment in this community's future," Mayor Faulconer said. "Cesar Solis is a neighborhood son but it is his commitment to our entire city that shows the next generation of San Diegans the type of selflessness that moves our city forward."
Mayor Faulconer funded the park's construction in this year's budget, which was approved in a rare unanimous vote by the City Council in June.
"Today is a historic day for the South Bay. Cesar Solis Park will be the first new City park built in the South Bay in decades," Councilmember Alvarez said. "The community struggled for years to make this park a reality, and I am so proud that I was able to join them and achieve success."
"Retired Assistant Police Chief Cesar Solis dedicated his life to community service and helping others," said Police Chief Shelley Zimmerman.  "That is why it is so fitting to have a place that inspires a sense of community, a neighborhood park, named after him."
"This is a great day for the families of Ocean View Hills," retired Chief Solis said. "Their dream of a neighborhood park is about to be fulfilled.  My wife Doris and I are deeply honored to be a part of this community project."
The park is located between Ocean View Hills Middle and Elementary School and Vista Del Mar Elementary. It is a multi-phased project that will eventually include a new recreation center and aquatic center. The 15-acre park will have an adjacent five-acre joint-use field shared with the San Ysidro School District. Proposed features include:
A new multi-purpose athletic field with lighting and backstops
Open recreation areas, walking paths and parking
A service building with restrooms and a snack bar
Picnic areas with shade structures
Playgrounds
A skate park
"Our dedicated Public Works design and construction team is excited about completing this very meaningful project and delivering the new recreational facilities to the residents of Otay Mesa," said Mark Nassar, Deputy Director for the City's Public Works Department.
"We are very excited for the Cesar Solis Community Park to begin construction," said Herman Parker, Director of the City's Park and Recreation Department.  "As the Ocean View Hills community continues to grow we must ensure that high quality, state of the art recreational facilities are available to the public.   We look forward to the completion of the park that turns this space into a vibrant, 15-acre park that will eventually be home to a skate plaza, playground, athletic fields and other amenities that will benefit the community for years to come."
"Cesar Solis Park represents unity, diversity and well-being for the community," said Luciana Corrales, the Ocean View Hills Recreation Council Chair.
The $15.5 million project is expected to be completed in late 2017.
CONTACT: Jen Lebron at (619) 384-5289 or [email protected]