Mayor Faulconer, Councilmember Alvarez Break Ground on New San Ysidro Branch Library
Long-Awaited Library Brings Technology, Modern Amenities to Historically Underserved Community After More Than Two Decades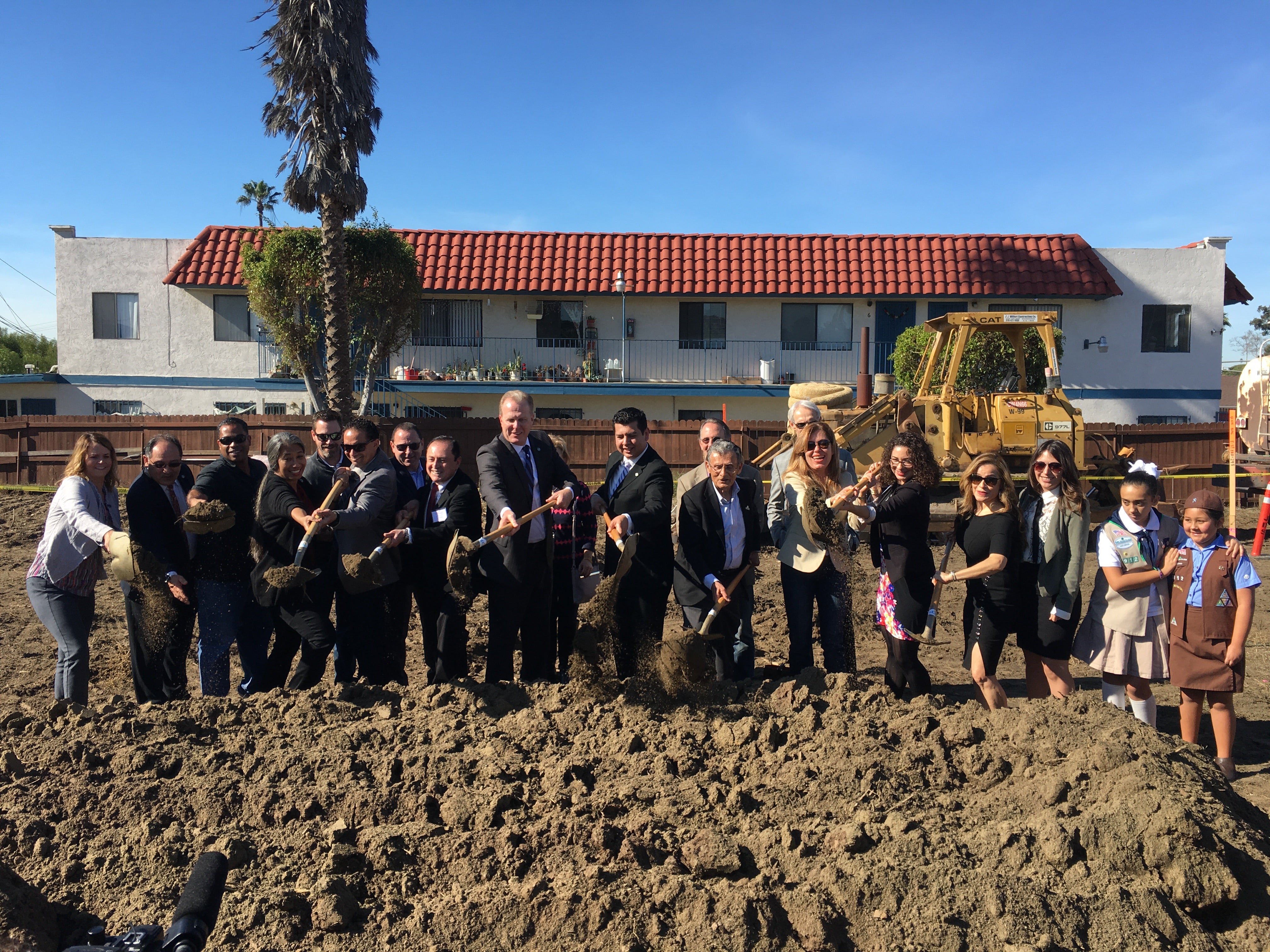 Friday, January 12, 2018 - NEWS RELEASE
San Diego – Continuing his pledge to bring opportunity to every neighborhood, Mayor Kevin L. Faulconer was joined Friday by City Councilmember David Alvarez and community leaders to break ground on a brand new branch library for the San Ysidro community – a project that's been more than two decades in the making.
"This is all about opening doors to opportunity and a brighter future," Mayor Faulconer said. "This new branch library has been a long time coming for the San Ysidro community and represents One San Diego in action. It's going to be more than just a place to check out a book. It's going to be a place where the community gathers and where neighborhood children can learn and grow."
Located at Seaward Avenue and Beyer Boulevard, the new 15,000 square-foot, LEED Silver certified San Ysidro Branch Library will feature modern amenities – including an outdoor reading patio and movie screen, public art, a teen center, study areas, computer lab, multi-purpose room and accommodations for persons with disabilities.
"When I was elected, building a library for the growing San Ysidro community became a top priority of mine," said Councilmember Alvarez, who spearheaded fundraising efforts. "I was proud to work with the community to secure the site and funding for this long awaited project."
Recognizing an immediate need for new and upgraded libraries, Mayor Faulconer initiated a new streamlined construction process to get infrastructure projects like this built faster and more efficiently. The $13.5 million San Ysidro library will mark the third new branch library – after a decade without any – to undergo construction since Mayor Faulconer took office.
The San Diego Library Foundation's Campaign for the New San Ysidro Library is raising an additional $250,000 for the library, which is slated for completion in 2019. The new library will replace the old branch library built in 1924 – the oldest library in the City system -- and is expected to serve more than 55,000 San Diegans per year.
The library is made possible thanks to a public-private partnership between local philanthropists and the City of San Diego. The City of San Diego purchased land for the library site in September 2015 and will contribute $12 million to the project. Philanthropists Lloyd and Caroline de Llamas generously contributed $1.5 million.
"When raising my own children, I realized the important role the San Ysidro Library had on my own life and on the life of my brother," Lloyd de Llamas said. "I wanted to give back so that others could have the same opportunities I had as a child growing up. My wife Caroline and I felt it was so important to donate to this cause and look forward to celebrating the completion of this great community asset."
CONTACT: Christina Chadwick at 619-727-9758 or [email protected]