Mayor Faulconer, Councilmember Cole & Hundreds of Students Open First New Branch Library in a Decade
Skyline Hills Branch Library Built Using New Streamlined Construction Process, Sets Standard for Future Libraries Throughout the City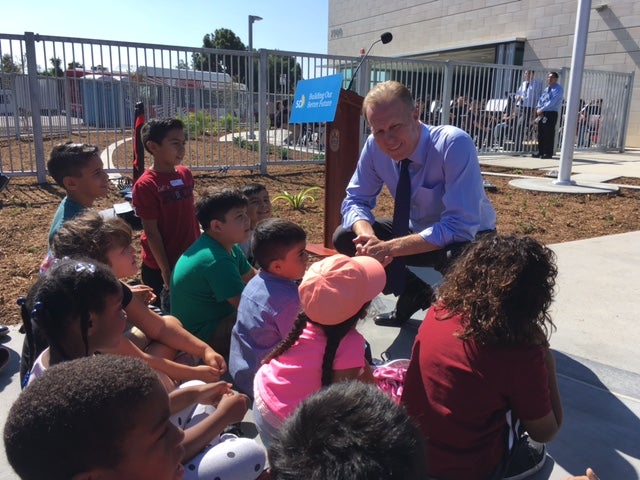 Friday, Oct. 14, 2016 - NEWS RELEASE
San Diego – Hundreds of students from local schools joined Mayor Kevin L. Faulconer, Councilmember Myrtle Cole and community leaders to celebrate the grand opening of San Diego's first new branch library in more than a decade. The project was finished on time and under budget.
The 15,000 square-foot, LEED Silver-certified Skyline Hills Branch Library was the first to be built using the City's new streamlined construction process. The City conducted unprecedented outreach on the design of the building. It will be a model for future branch libraries throughout the city.
"The Skyline Hills Branch Library is the result of One San Diego in action," Mayor Faulconer said. "Today we're opening more than doors to this library, we're opening doors to a better future for all of Skyline."
"The new Skyline Hills Branch Library is a community-centered facility that provides opportunities for free classes, free tutoring and homework help programs. It is going to be a vibrant community space for families and residents of all ages to gather," Councilmember Cole said.
It features modern library amenities such as a computer lab, children and teen areas, and study areas. Other features of the library include:
Seven metal sculptures created specifically for the library by Actual Size Artworks called "Bright"
A 30-foot by 10-foot retractable glass door that mechanically opens to connect an outdoor courtyard to the building's multipurpose room, a first of its kind for San Diego branch libraries
Access for persons with disabilities
An outdoor reading patio
Sustainable, drought-tolerant landscaping
"Our vision for libraries is to be the place for opportunity, discovery and inspiration and the new Skyline Hills Branch Library is the embodiment of that," said Library Department Director Misty Jones. "This new library is the perfect space for the community to come together to learn and grow."
The former Skyline Hills Branch Library opened in 1969. Construction on the new library began in 2014.
Photos, fact sheets and renderings of the library can be viewed in the digital media kit.
CONTACT: Jen Lebron at (619) 384-5289 or [email protected]