Mayor Faulconer, Councilmember Kersey Open New Torrey Meadows Neighborhood Park
Project Marks 13th Park to Open as Part of Mayor's Pledge to Break Ground or Improve 50 Parks Over Five Years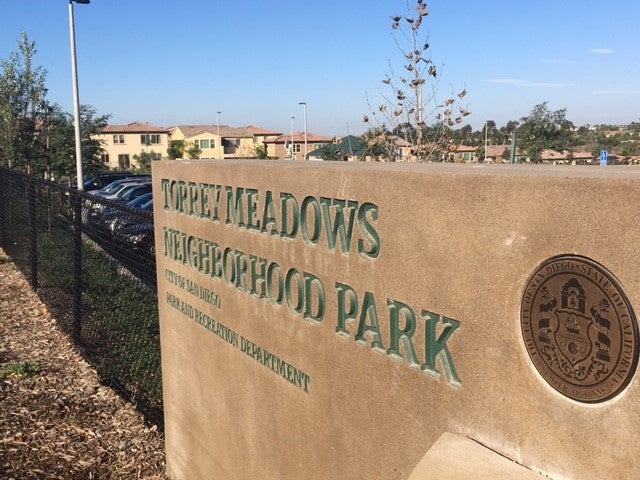 Thursday, December 14, 2017 - NEWS RELEASE
San Diego – Continuing his pledge to break ground or improve 50 parks in five years, Mayor Kevin L. Faulconer was joined Thursday by City Councilmember Mark Kersey for a ribbon-cutting ceremony welcoming residents to a new state-of-the-art neighborhood park and gathering space for San Diegans young and old to enjoy.
"Every neighborhood deserves a great place for the community to gather for family barbecues, take an evening stroll or play ball," Mayor Faulconer said. "That's why I've prioritized community upgrades to streets, infrastructure and parks in the City budget. The new Torrey Meadows Neighborhood Park is just the latest example of how we're putting neighborhoods first and investing in communities across San Diego."
The 5.3-acre Torrey Meadows Neighborhood Park includes a basketball court, two children's play areas, drought-tolerant landscaping, restrooms, shade structures and a parking lot. It will serve the Torrey Highlands, Black Mountain Ranch and Rancho Peñasquitos neighborhoods.
"A once overgrown and underutilized plot of land has been transformed into the spacious, family-friendly park this community deserves," said Councilmember Mark Kersey, who represents Torrey Highlands. "The Torrey Meadows Neighborhood Park is a welcomed addition to the neighborhood, with open space and features that people of all ages can enjoy."
The $8 million project marks the 13th park to open since Mayor Faulconer pledged in 2016 to break ground or improve 50 parks in five years – the largest park expansion effort in modern city history. More than a dozen other park projects are currently in various stages of construction.
Other parks completed this past year include Wightman Street Neighborhood Park in City Heights, Old San Ysidro Fire Station Mini Park in San Ysidro and Civita Central Park in Mission Valley.
CONTACT: Christina Chadwick at (619) 727-9758 or [email protected]