Mayor Faulconer, Councilmember Ward Announce Planting of 500 Trees in Balboa Park
New Partnership to Help Bolster Urban Tree Canopy in San Diego's Crown Jewel & Support Climate Action Plan Goals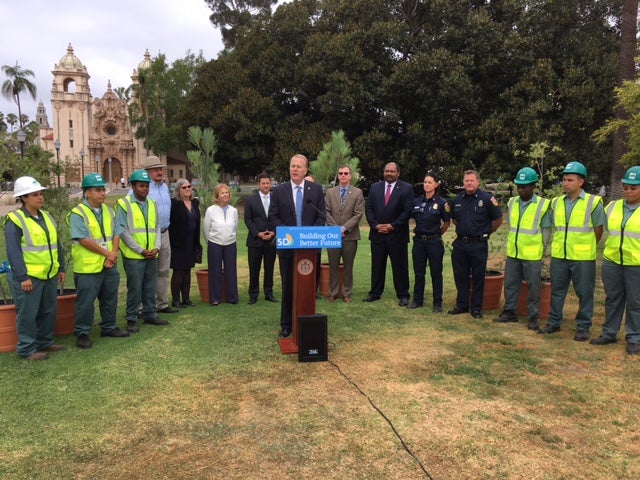 Thursday, June 29, 2017 -- NEWS RELEASE
San Diego – With the goal of creating a greener San Diego and a more sustainable future, Mayor Kevin L. Faulconer was joined today by Councilmember Chris Ward and the Balboa Park Conservancy to announce a new partnership to restore Balboa Park's depleted tree canopy and plant 500 new trees throughout the park over the next two years.
"With each new tree we plant, we are making Balboa Park greener and our air cleaner," said Mayor Kevin L. Faulconer. "This partnership is another example of San Diego's strong commitment to addressing climate change by taking action at the local level."
The trees were funded through a $378,000 state grant from the California Department of Forestry and Fire Protection (CAL Fire) as part of its urban forest expansion and improvement initiative. The Balboa Park Conservancy received the grant and the City of San Diego Park and Recreation Department will contribute $337,000 to the project. The overall cost is about $715,000.
The new program called "Tree Balboa Park" will:
Plant 500 trees in Balboa Park
Install energy-efficient irrigation
Create a Tree Stewards volunteer program to better manage Balboa Park's tree assets
Conduct extensive outreach activities to educate youth and visitors about urban forestry
A 2016 analysis found that the citywide tree canopy coverage is 13 percent – nearly double the previous estimate of 6.8 percent. Planting more trees in Balboa Park helps the City get closer to reaching its Climate Action Plan goal of 15 percent coverage by 2020.
CONTACT: Christina Chadwick (619) 727-9758 or [email protected]