Mayor Faulconer, Councilmember Zapf Open City's Third New Fire Station This Year
Point Loma Facility Marks Eighth New or Improved Fire Station to Open Since Mayor Faulconer Took Office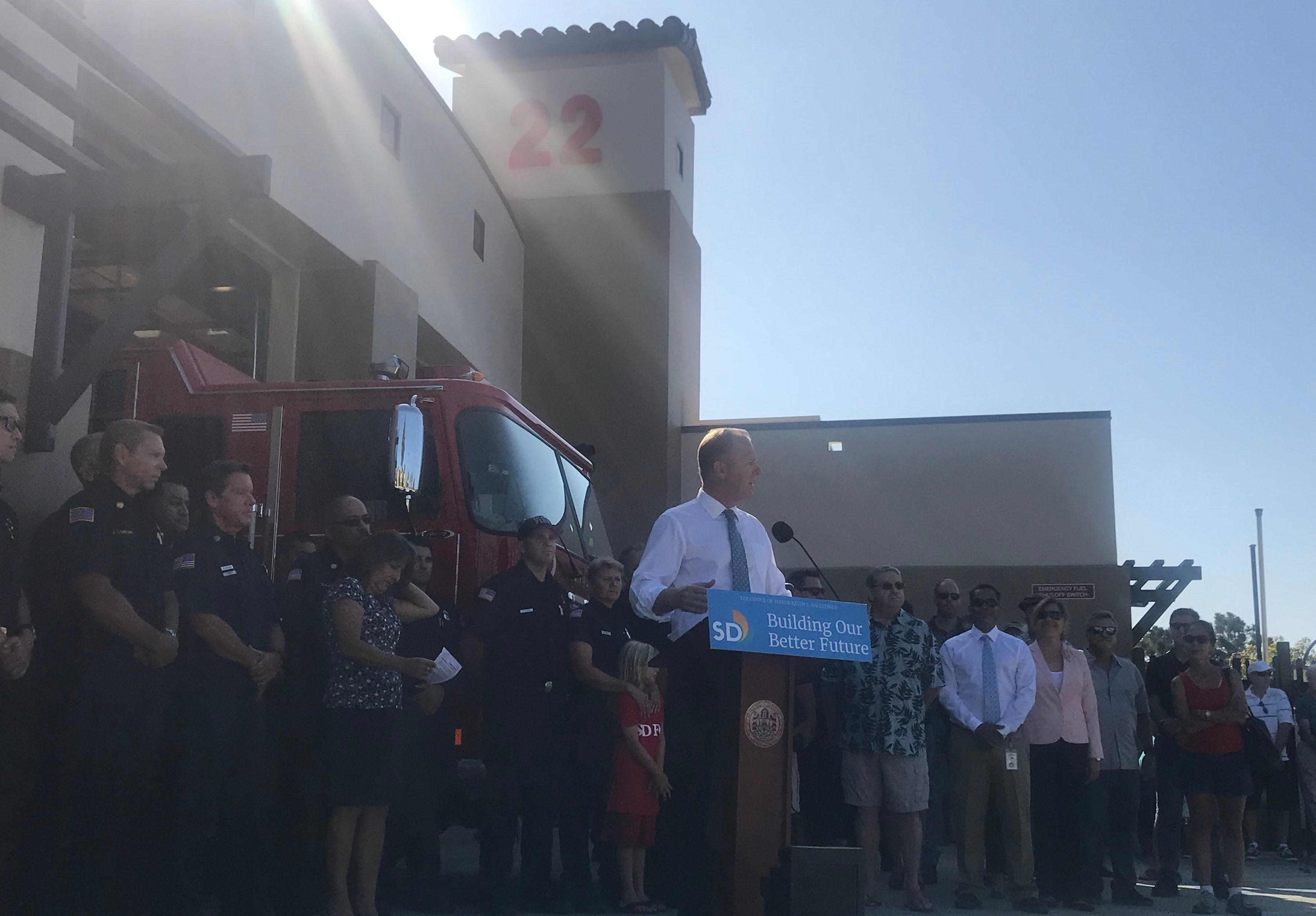 Tuesday, July 24, 2018 - NEWS RELEASE
San Diego – Marking the eighth new or improved fire station to open since he took office, Mayor Kevin L. Faulconer was joined Tuesday by City Councilmember Lorie Zapf, interim Fire-Rescue Chief Kevin Ester and community leaders to officially open the new Fire Station No. 22 to better serve Point Loma and its surrounding communities.
"We're building our better future when we make major investments to improve our public safety infrastructure," Mayor Faulconer said. "We've replaced an aging 76-year-old facility with a brand-new, modernized fire station that will serve the community for decades to come. This year we're making the largest infrastructure investment in City history to continue delivering projects like this to neighborhoods across the city."
Originally built in 1942, Fire Station No. 22 is located at 1055 Catalina Boulevard on the western edge of Point Loma Community Park. The new 6,180-square-foot facility includes two vehicle bays with a redesigned driveway that will reduce traffic disruptions on Catalina Boulevard when the engines respond to emergency calls.
The station has six dormitory rooms, a commercial grade kitchen and a new photovoltaic solar array to help power the facility. It also incorporates best practices from the City's Cancer Awareness and Prevention Program by including a locker room to keep gear away from living quarters and separate washing machines for gear exposed to carcinogens.
"This new fire station has been a long time coming and I couldn't be more thrilled for the Point Loma community," said Councilmember Zapf, who represents the Point Loma neighborhood. "Public safety is my top priority, and I know this new station will help improve emergency response times and protect our residents."
The public artwork on the north face of the building was created by artist Roberto Delgado. The artwork, titled "Firefighters," consists of a four-part mural installation covering the vertical columns on the building's façade.
"Point Loma Station 22 is a beautiful addition to the community," Chief Ester said. "We made every effort to get the most efficient and effective use of this property and feel strongly that this new fire station will help our firefighters better serve and protect the surrounding community."
Since Mayor Faulconer took office, the City has opened new fire stations in four neighborhoods – City Heights, Little Italy, Mission Valley and Point Loma – and renovated four others that serve the communities of La Jolla, Mira Mesa, North Park and Southcrest. A ninth station in Hillcrest is scheduled to open later this year.
CONTACT: Greg Block at 619-227-3752 or [email protected]