Mayor Faulconer Details Major Investments in San Diego's Future in Proposed Budget
Largest Infrastructure Investment in City History Plus New Financing Program Results in $633M for Streets, Parks & Other Neighborhood Projects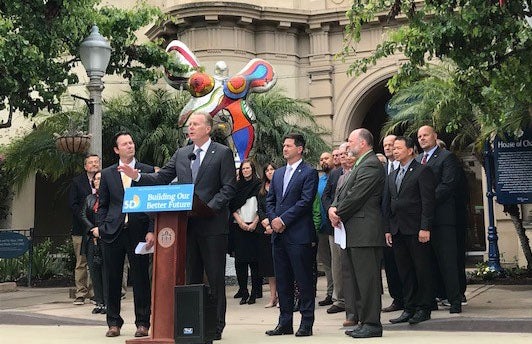 Tuesday, May 1, 2018 - NEWS RELEASE
San Diego – As part of a fiscally responsible budget that focuses on neighborhoods and quality-of-life issues, Mayor Kevin L. Faulconer today highlighted the largest infrastructure investment in City history -- $633 million in a single fiscal year – that will fund construction of streets, parks, libraries, water system upgrades and much more.
Standing in front of Mingei International Museum, Mayor Faulconer was joined by City Councilmembers Mark Kersey and Chris Ward to tout several improvements being made in San Diego's crown jewel, Balboa Park, including new roofs at the Mingei and the Air & Space Museum.
"We're continuing to make significant investments in San Diego's future with the largest infrastructure budget in city history," Mayor Faulconer said. "After decades of neglect, we have a lot more to do, which is why I'm focused on fixing more streets, building more parks and making more neighborhood upgrades than ever before. We also need to invest in aging buildings like those in Balboa Park so they stand the test of time and that's exactly what this budget will do."
The Mayor's proposed budget consists of $553 million for Capital Improvements Program (CIP), which includes about $16 million from Proposition H – an initiative approved by voters in 2016 that calls for half of new major revenue in the General Fund go toward infrastructure. The annual CIP budget, which funds infrastructure projects throughout the city, has more than tripled since Fiscal Year 2014 – Mayor Faulconer's first year in office.
"Proposition H created an Infrastructure Fund that is flexible in addressing priority needs, while ensuring that City leaders do not repeat the mistakes of the past," said Councilmember Mark Kersey, author of Prop H, the RebuildSD initiative. "This fiscal year, over $16 million in Prop H funds will be spent in communities in every District on projects including street resurfacing, sidewalk repairs, new street lights, and upgrades to libraries and recreation facilities. Prop H ensures sustained investment in our neighborhoods, even in lean budget years like this one."
In addition, the City plans to put another $80 million toward infrastructure projects through a new financing program known as Commercial Paper – one of 20 reforms Mayor Faulconer

introduced in 2015 to improve the City's repair program. This financial tool guarantees a cash commitment without having cash sit unused in an account and without having to issue a large bond.
The City Council's Budget Review Committee will discuss infrastructure funding at its 9 a.m. Thursday meeting.
"The Mingei Museum has put together a bold vision for making Balboa Park more inviting and accessible, and this targeted investment by the City in this proposed budget will be instrumental in unlocking this tremendous opportunity," said Councilmember Ward. "This is an excellent example of how the City can get the most out of our capital investments and, looking forward, a model for how San Diegans can work together to achieve transformational change."
One of the largest projects to receive funding is Pure Water San Diego with $121 million. The program will create an independent, drought-proof local water supply for San Diego residents and is expected to break ground in early 2019.
Other FY2019 infrastructure investments include:
$101 million for repairs and improvements to buildings, including libraries, fire stations, recreation centers, lifeguard stations, water/wastewater and operations buildings. Highlights include:

New roofing for the Mingei International Museum and the Air & Space Museum in Balboa Park
Expanding the Tierrasanta Branch Library
Moisture intrusion maintenance at the Martin Luther King Jr. Recreation Center in Skyline
Design work for the Ocean Beach Lifeguard Station

$108 million for transportation projects, including road paving, traffic signals, sidewalks, bridges and bicycle facilities. Highlights include:

Funding to fix the equivalent of 390 miles of streets and meet Mayor Faulconer's pledge to repair 1,000 miles over five years ahead of schedule
Repair and replacement of sidewalks citywide
Mobility improvements for University Avenue and Streamview Drive
Upgrades to the following interchanges: State Route 163/Friars Road and Miramar Road/Interstate 805 Easterly Ramps

$16.5 million for park upgrades, including Americans with Disabilities Act improvements, new lighting, trail realignments and facility enhancements. Locations include:

Chollas Lake
Hickman Field Athletic Area
Mission Bay Park
Skyline Hills Community Park

$17.6 million for stormwater upgrades to channels, pump stations, storm drain pipes and watersheds throughout the city.
The Mayor's $3.8 billion budget proposal recommends spending levels for City operations and capital projects for Fiscal Year 2019, which runs from July 1, 2018, through June 30, 2019. The balanced budget was made possible in large part by the prudent financial decisions, including pre-funding reserves, in last year's budget and the Mayor's directive this year for department directors to hold the line on spending.
Following several weeks of review by the public and the City Council, the final budget will be adopted at the June 11 City Council meeting.
For more information, the entire proposed budget can be viewed online here along with a Fact Sheet that provides a summary of notable changes and a set of budget infographics.
CONTACT: Greg Block at 619-227-3752 or [email protected]