Mayor Faulconer Kicks Off Women Drive Innovation San Diego Initiative on American Business Women's Day
Collaboration Between Businesses, Local Universities Showcases How Women Fuel Innovation Economy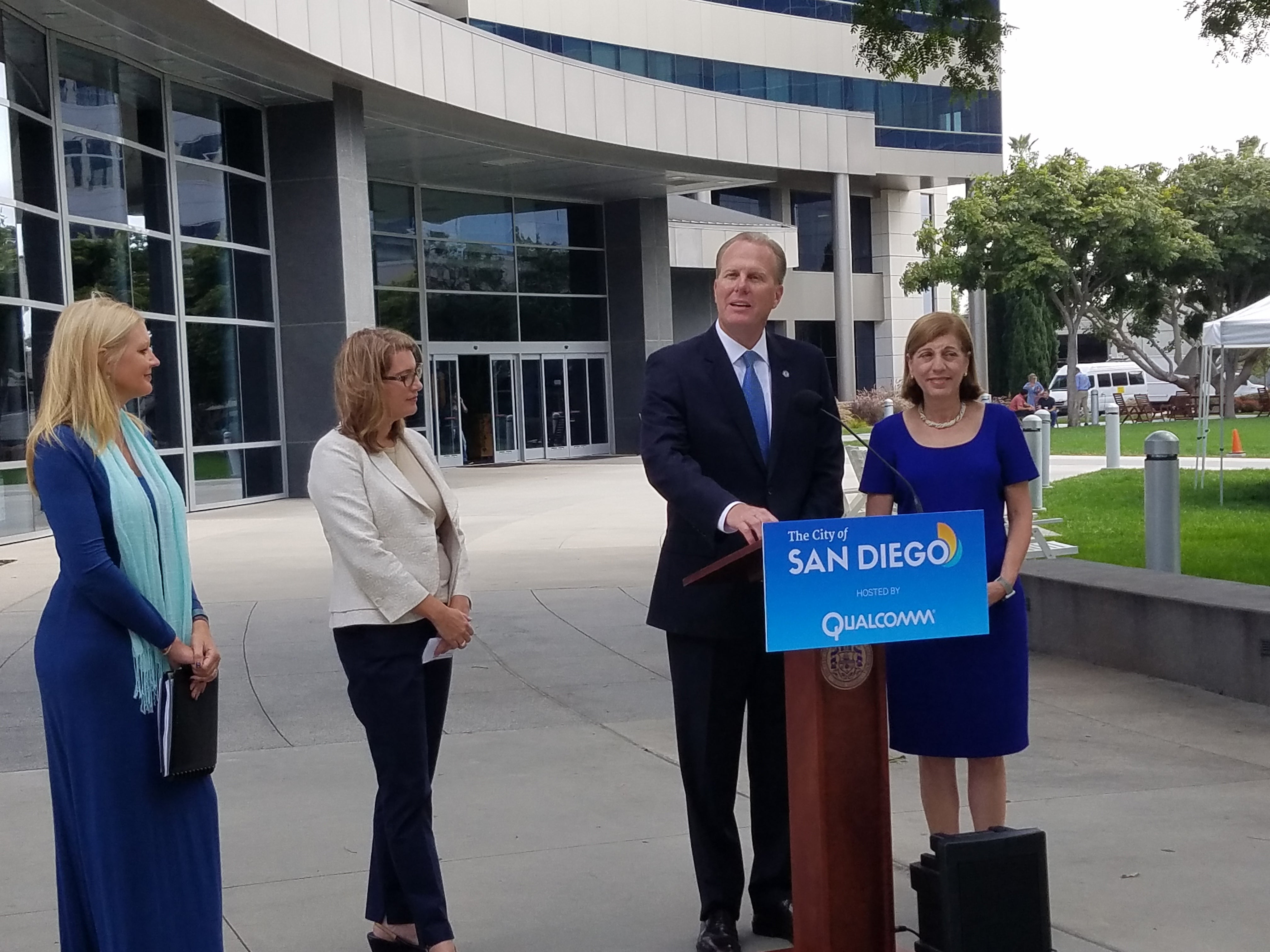 Thursday, Sept. 22, 2016 - NEWS RELEASE
San Diego – To highlight the accomplishments of women that are driving San Diego's innovation economy forward and celebrate American Business Women's Day, Mayor Kevin L. Faulconer today joined local business leaders in support of a new initiative – Women Drive Innovation San Diego.
Women Drive Innovation San Diego is an initiative composed of female leaders from local companies including Intuit, Qualcomm, SDG&E, HP and Illumina, who have come together with several local universities and female entrepreneurs to highlight the amazing accomplishments of women in San Diego.
"San Diego's economy is strongest and most dynamic when we have diversity at every level of our workforce," Mayor Faulconer said. "Though more and more women are pursuing careers in science, technology, engineering and math, there is still more work to do. Initiatives like this encourage young women to purse these good-paying jobs and take leadership roles in growing our local innovation economy."                                                  
According to the

U.S. Department of Commerce, female employees fill fewer than 25 percent of STEM (science, technology, engineering and math) jobs — even though they make up nearly half of the overall workforce. Only 5 percent of startups are led by women. The goal with the Women Drive Innovation campaign is to inspire more women to pursue careers and start STEM-related businesses.
Intuit, whose TurboTax business is based in San Diego, was recently named as one of Fortune's 100 Best Workplaces for Women.
"At Intuit, we have a long history of attracting, developing and promoting women across our company, which is reflected in our leadership ranks, where women hold 33 percent of all leadership roles," said Whitney MacDougall, Vice President, Corporate Affairs in San Diego. "We are proud to be part of this initiative and to help San Diego companies cultivate a talented, engaged and diverse workforce that drives innovation."
In addition to the discoveries and initiatives being led by women at large technology, biotech and life sciences organizations in San Diego, our innovation economy is also fueled by female entrepreneurs who are often supported by business accelerators such as Hera Hub & Hera Labs.
Felena Hanson, founder of Hera Hub, was thrilled to put together this program, along with the leadership of long-time public relations professional Kristin Deuber.  
"We started this initiative to help build bridges between corporate women and female entrepreneurs in the region," Hanson said. "We see too many groups working in silos.  More collaboration will allow us to accelerate the pace of innovation, which brings new jobs and new opportunities."
High tech entrepreneur and City Council candidate Barbara Bry also spoke at the event about the need for encouraging and sustaining female leadership at technology and life sciences companies in San Diego, which is one of the reasons she founded her company.
"Over the last decade I've seen tremendous growth for women in leadership roles and as founders of life sciences and technology companies in San Diego," Bry said. "We need to ensure that these companies succeed and that opportunities are available for women to participate at all levels of the innovation economy."
The Women Drive Innovation San Diego campaign features the stories of women who are paving the way for new ideas and technology in San Diego, which can be found at the Hera Hub website.
CONTACT: Jen Lebron at (619) 384-5289 or [email protected]
###