Mayor Faulconer, Local Dignitaries Open Doors to New Uptown Library
$20M Mission Hills-Hillcrest Library is First of Two Libraries Slated to Open This Year, Project Underscores Mayor's Commitment to Neighborhood Investments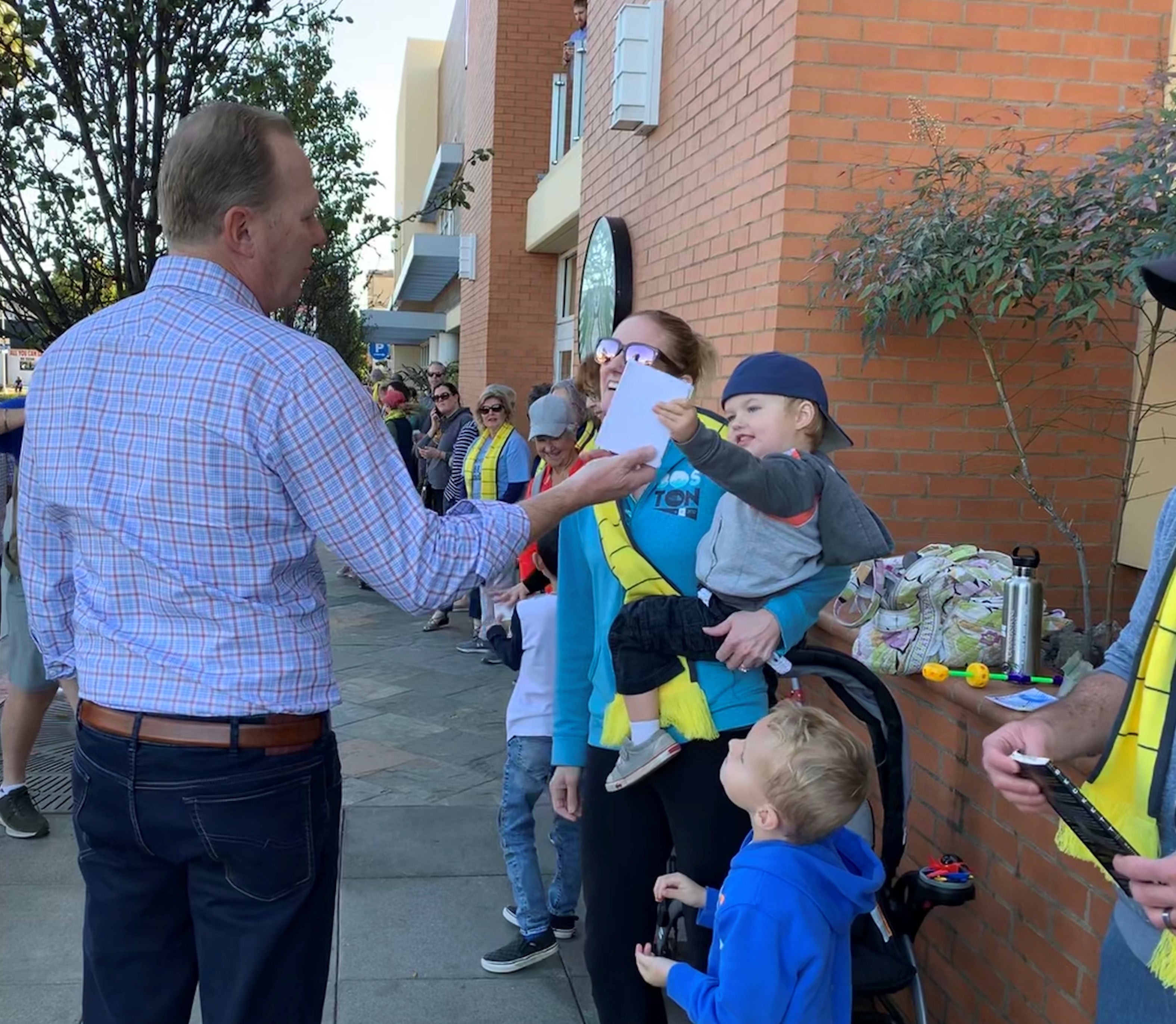 Saturday, January 26, 2019 - NEWS RELEASE
San Diego – Continuing historic investments in neighborhood improvements across the city, Mayor Kevin L. Faulconer was joined today by fellow elected officials, community leaders and more than 1,800 volunteers to celebrate the grand opening of a new state-of-the-art branch library that will serve Hillcrest, Mission Hills and surrounding neighborhoods for decades to come.
"Libraries are places where San Diegans learn and explore, and that's why we are working so hard to bring more of them to neighborhoods across the city," said Mayor Faulconer. "This is the second new library to open its doors in a decade, and more is on the way. From Skyline to Uptown to San Ysidro, we're working to provide more access to opportunity for all San Diegans and build a brighter future in every neighborhood."
Joining Mayor Faulconer at the community celebration were the area's elected representatives – U.S. Rep. Susan Davis, state Assemblymember Todd Gloria and City Councilmember Chris Ward. As part of the celebration, volunteers lined the sidewalk to pass books from the old branch location to the new facility.
The new 14,000-square-foot library – located at 215 W. Washington St. – is more than triple the size of the community's previous library that was built in 1961. It features modern amenities, including designated areas for teens and young children, a community meeting space, study rooms, computer labs, drought-tolerant landscaping, an underground parking garage and a design expected to achieve LEED Gold certification.
"This new, beautiful Mission Hills-Hillcrest public library is the product of years of visionary leadership and activism from the Uptown community. I am honored to have been able to get this project underway during my service as Interim Mayor and continue its forward progress as the District Three City Councilmember," Gloria said. "We know this library will transform and enrich lives for Uptown, but that's why we can't stop here. Every community deserves a functional and accessible public library and I believe we should continue to prioritize the expansion of this crucial neighborhood service."
Recognizing the need for more neighborhood upgrades citywide, Mayor Faulconer directed an overhaul of the City's infrastructure program several years ago to speed up projects and then tripled the investment in capital projects to more than half a billion dollars annually. Those changes have resulted in dozens of new public facilities across the city, from new and upgraded parks to modernized fire stations.
"After more than a decade of community fundraising, support and input the new Mission Hills-Hillcrest Library is open and ready to serve the Uptown community," Ward said. "Every addition to our library system should be celebrated as an investment in our neighborhoods, providing access to knowledge and opportunity without conditions or hurdles."
This marks the second new branch library constructed under Mayor Kevin L. Faulconer following the opening of the new Skyline Hills library in 2016 – the first to open in the city in a decade. A third new library is slated to open this summer in San Ysidro.
"All of us at the San Diego Public Library are eager to roll out our expanded programming and services for the Hillcrest and Mission Hills communities in this new, larger building," said San Diego Public Library Director Misty Jones. "Public libraries make communities stronger and I look forward to seeing how our staff and patrons will work together to make the Mission Hills-Hillcrest/Knox Library a vibrant part of these neighborhoods."
Named in honor of the late philanthropists who helped fund it, the new Mission Hills-Hillcrest/Harley & Bessie Knox Branch Library will serve residents in Bankers Hill, Hillcrest, Middletown, Mission Hills and University Heights. More than 350,000 visits are expected each year.
"The opening of this new community resource is a testament to the effective public-private partnership among the Library Foundation, Friends of the Library and the City of San Diego. The community has demonstrated its commitment to libraries and stepped forward with support for Library resources, programs and the technology. We are close to meeting our $13 million campaign goal but additional opportunities to support this library remain," said San Diego Public Library Foundation CEO Jay Hill. "We are very grateful to the Hervey and Sefton families and Deborah Szekely for so generously supporting this project."
The $20 million project received a $10 million grant from the Hervey Family Fund and the Harley and Bessie Knox Memorial Fund at The San Diego Foundation while the City covered the remaining costs.
"Through their generous gifts, the Hervey family and Donna Knox Sefton family have helped fund a vibrant new library and community space where Mission Hills and Hillcrest families can gather, learn and engage with one another," said San Diego Foundation Interim CEO Connie Matsui. "The new library is an example of what's possible when leaders from both public and private sectors join together to make a positive impact in the community."
CONTACT: Christina Chadwick at (619) 865-3622 or [email protected]