Mayor Faulconer Makes Dozens of Public Data Sets Available Online to Increase Transparency
San Diego's New Open Data Portal Automatically Provides Up-To-Date Data for the Public, Software Developers to Utilize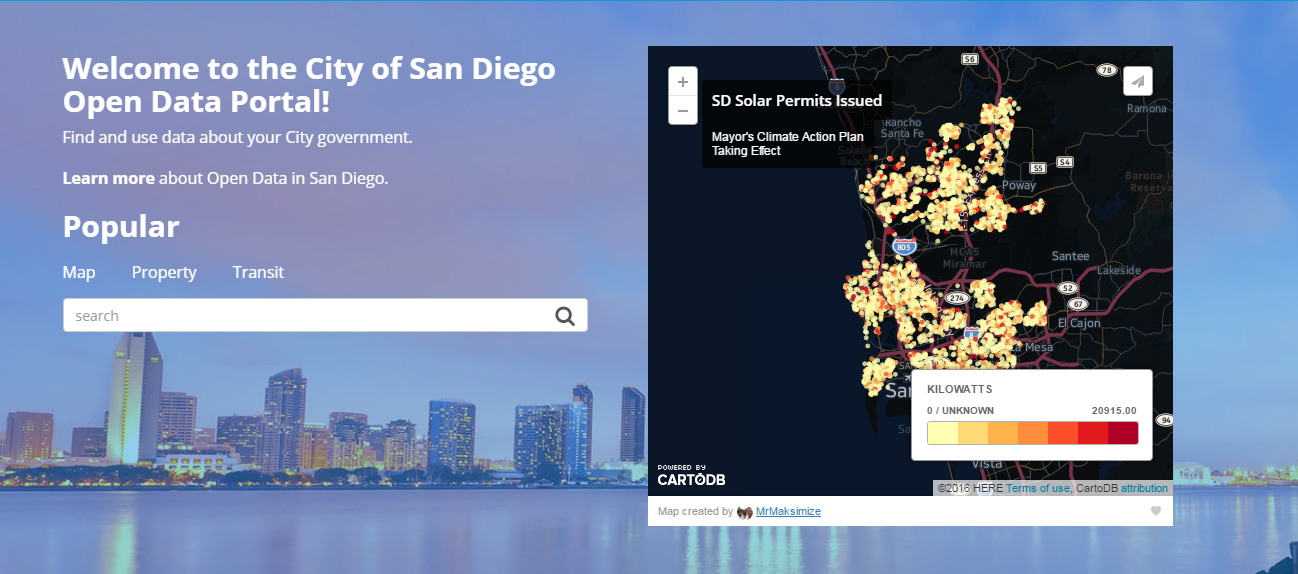 Wednesday, July 6, 2016 - NEWS RELEASE
San Diego
– In a major step to creating a more open and transparent city government, Mayor Kevin L. Faulconer today announced a new
open data portal
that will give the public and software developers easy access to frequently-requested information such as solar panel permits issued, water quality or parking meter statistics.
Data from the portal could be used to develop apps or visualize thousands of pieces of spreadsheet information in an easy to understand format, providing new insight about how the City functions. 
"Transparency and efficiency should be a part of every local government's DNA, which is why we've put such an emphasis on that here in San Diego with our open data portal," Mayor Faulconer said. "The portal will give app developers, software engineers and the public the opportunity to use this data in innovative ways that we haven't even dreamed of yet."
The 44 datasets are the first to be released after the City asked the public to vote on which of the City's datasets should be prioritized. Unlike other cities, San Diego will automatically update the majority of the datasets resulting in the public receiving reliable, up-to-date information in an easy-to-use format.
San Diego Chief Data Officer Maksim Pecherskiy worked with departments across the City to provide the information and create several examples of what can be done with data.
"The launch of the City's Open Data Portal has been something I've been looking forward to for a long time," Council President Lightner said. "The working group created and the council reviewed and adopted our open data policy in 2013.  After the hiring of the Chief Data Officer, staff worked collaboratively with City departments and the public to assure seamless operation from raw dataset collection to its availability on the portal. I am extremely pleased with how functional the portal is and how quickly this milestone was achieved.  I look forward to its continued implementation."
"The quality of San Diego's open data portal is unmatched. Not only will software developers and the general public have access to unique datasets and formats, but our own city employees will be able to use it to make our government smarter and more efficient," Councilmember Mark Kersey said.
Some of the key features of the portal include:
The data you want. Public input was a significant factor in deciding which datasets should be prioritized and released first.
Not just for nerds. The City provides context using visualizations and "data dictionaries" that act as a key for datasets to make it easier for everyone to understand what they are looking at.
Open by default. Automated updates mean that datasets are refreshed monthly, weekly or daily depending on the kind of information they provide. 
Quality is a priority. Each dataset in the portal has undergone a lengthy process to ensure that values are accurate, naming conventions are consistent and that plain-speak is used in place of bureaucratic jargon.
Easy to use. Datasets are broken up into smaller files and can be downloaded in common digital file formats that are easy to work with and analyze such as CSV, XML and JSON.
Supports customer service. City employees can use these data as a new tool to serve San Diego residents, helping them to respond to questions and provide solutions faster than ever before.
Open source. The City of San Diego is one of the first cities in the nation to build its data portal using an open source platform, which means it can consistently incorporate feedback to continuously make the portal more user friendly.
"San Diego's new open data portal goes above and beyond what software developers and visualization experts expect from governments," Pecherskiy said. "Typically, agencies toss up a bunch of data on a portal and call it a day but transparency means a lot more to us than that.  Our team took the time to understand the data, explain the data and simplify the data available in this portal so that you don't need to be a computer programmer to view it, analyze it or build with it.  The City's data belongs to all San Diegans, and we will continue to make sure that all San Diegans can use it."
More datasets will be made available in the coming months and users can sign up to receive updates when new data become available at
data.sandiego.gov
. Developers are encouraged to share their apps or visualizations so the City can highlight their work.