Mayor Faulconer Opens to Public $1.7M Overhaul of San Ysidro Park
Nationally-Recognized Upgrades Part of Faulconer's Commitment to Improving All San Diego Communities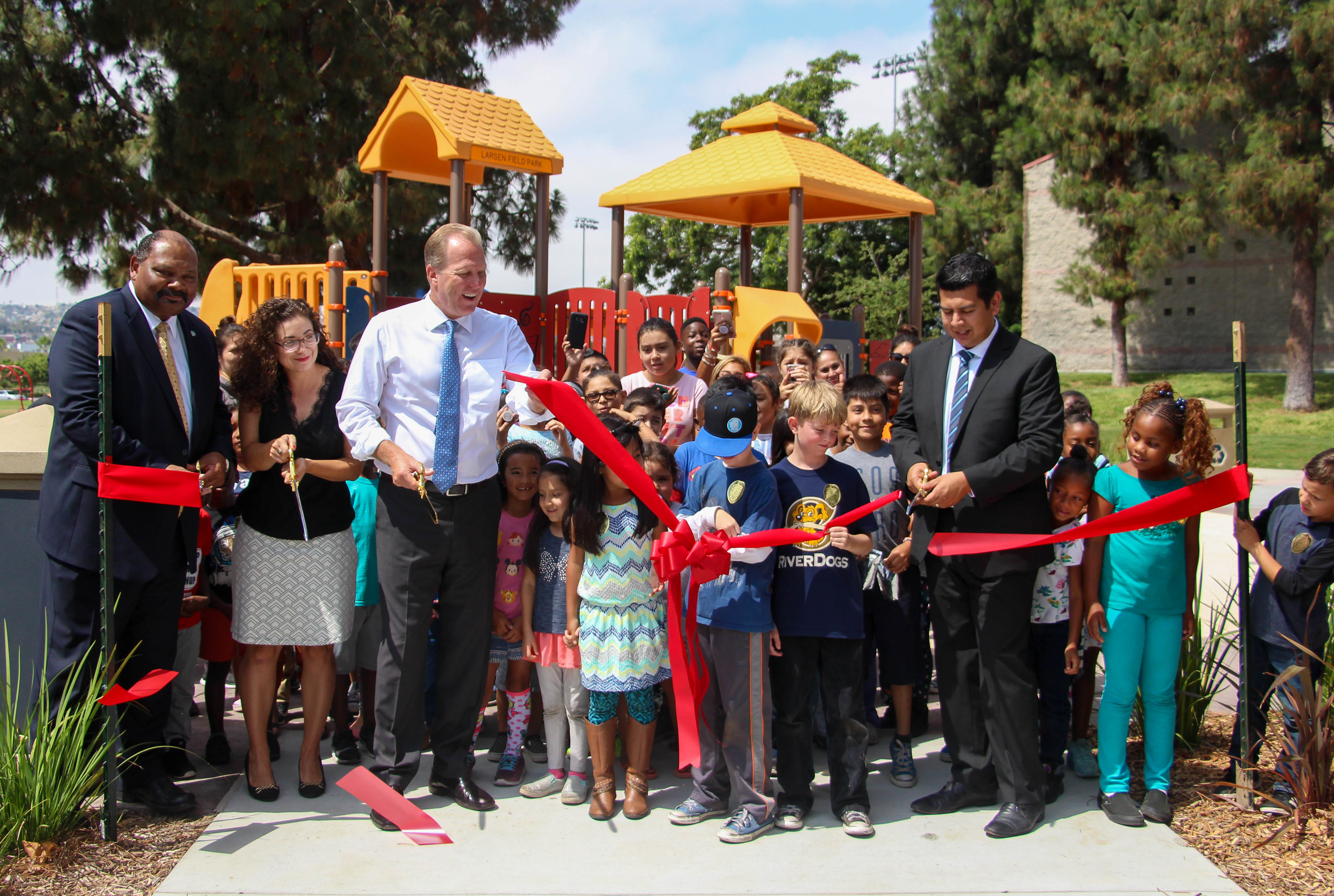 Wednesday, July 26, 2017 - NEWS RELEASE
San Diego – Making continued progress in the push to improve every San Diego neighborhood, Mayor Kevin L. Faulconer was joined by City Councilmember David Alvarez and members of the San Ysidro community today to celebrate the completion of a nearly $1.7 million overhaul and improvement project at Larsen Athletic Field.
"When we invest in our parks, we breathe new life into our communities. This beautiful park will go a long way toward creating a fun, accessible and safe environment for everyone in San Ysidro," Mayor Faulconer said. "We're improving parks across San Diego, and this project shows that communities that have waited a long time for infrastructure investments are getting the attention they deserve."
Larsen Athletic Field improvements include new play equipment, drought-tolerant landscaping, picnic tables and benches. The area also features additional parking and travel path upgrades to meet Americans with Disabilities Act (ADA) standards.
"We are so pleased to be able to provide these new park improvements to the San Ysidro community. We are grateful for the CDBG grant funding that has allowed us to improve the play structures and enhance the ADA accessibility to this wonderful neighborhood park," said Herman D. Parker, Park and Recreation Director for the City of San Diego. "We know the community will enjoy their new and improved Larsen Athletic Field park for years to come."  
The ribbon-cutting ceremony memorializes the completion of the second phase of improvements to the park. The upgrades were funded by a $1 million federal grant awarded to the City of San Diego through the Department of Housing and Urban Development's Community Development Block Grant (CDBG) program. The City contributed more than $680,000 to the project. The overall cost is about $1,689,000.
The project follows major lighting improvements to Larsen Field that Mayor Faulconer and Councilmember Alvarez introduced in 2015. Eight new sports field lights now allow multipurpose and baseball fields to be open at night for youth soccer, flag football and baseball programs.
Improvements at Larsen Athletic Field have earned the City of San Diego national recognition as a "Park Champion" by the National Recreation and Park Association. The NRPA's "Park Champion" program recognizes governments, park and recreation professionals and individuals across the country that are dedicated to investing in local parks and recreational programs. The recognition creates national awareness for the tangible benefits of CDBG funding on local parks and communities.
"We are thrilled to declare today's ribbon cutting of Larsen Athletic Field an NRPA Park Champions Event," said Barbara Tulipane, CAE, NRPA president and CEO. "Today's event demonstrates the importance of federal programs, such as the Community Development Block Grant program, in supporting local parks and recreation."
CONTACT: Christina Chadwick at (619) 727-9758 or [email protected]