Mayor Faulconer Re-Opens San Vicente Reservoir Marina
Anglers and Boaters Welcomed Back To San Diego's Largest Reservoir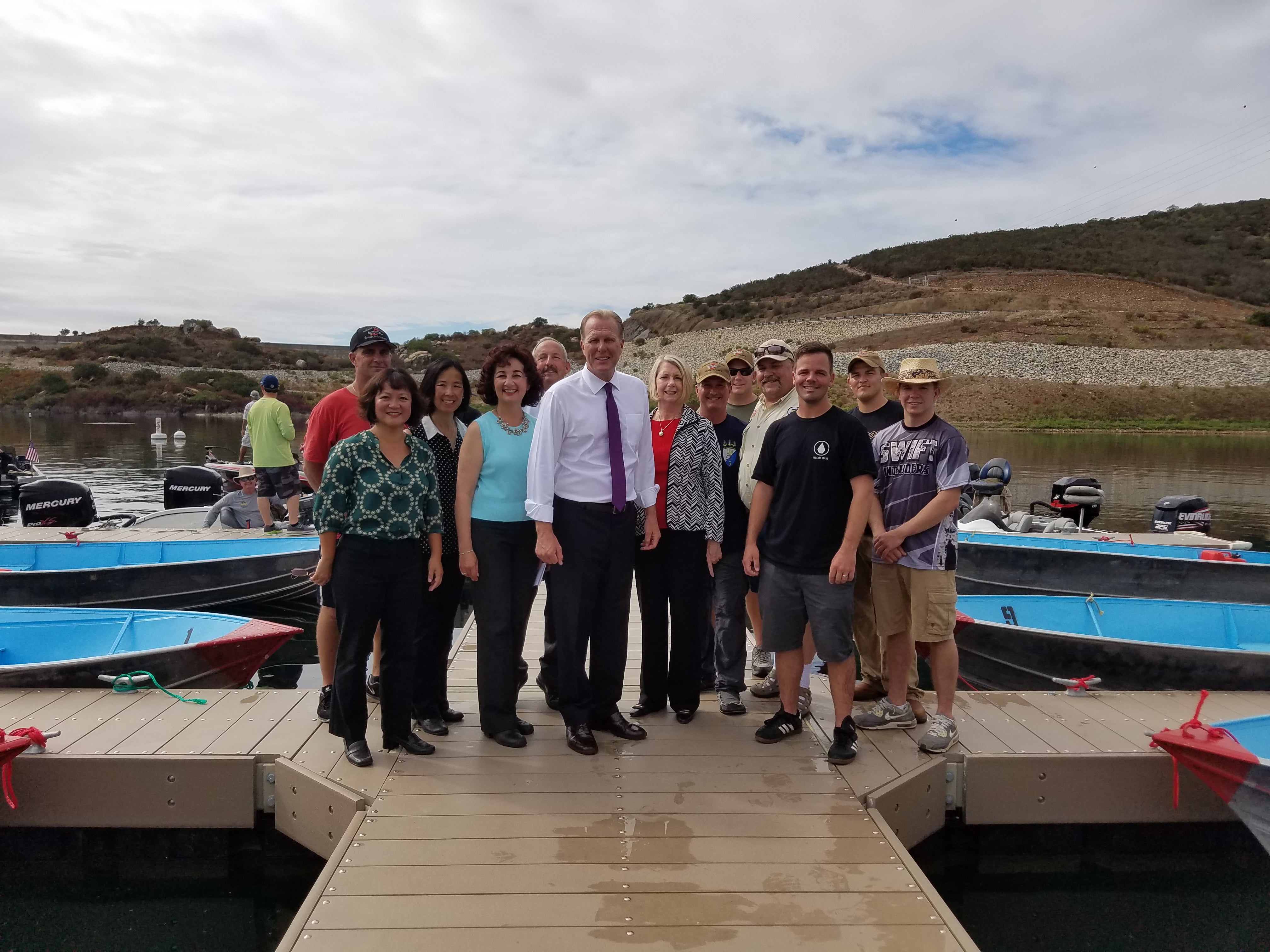 Wednesday, Sept. 21, 2016 - NEWS RELEASE
San Diego – Mayor Kevin L. Faulconer celebrated the grand re-opening of San Diego County's largest reservoir today.
The San Vicente Reservoir first opened to the public in 1947 but has been closed to the since 2008 while the San Diego County Water Authority and the City of San Diego increased the reservoir's capacity and made significant improvements to the site.
"This is an exciting day for anglers, water sport enthusiasts, boaters and San Diego families," Mayor Faulconer said. "This new marina and recreational area will help a new generation enjoy all the reservoir has to offer. But it is important to remember that this reservoir is about more than recreation – it is a critical source for our region's water supply."
Some of the new features in the upgraded marina and recreational area that include:
An expanded six-lane boat ramp.
Docks that are accessible for people with disabilities.
An improved access road.
A parking lot that can accommodate more than 300 vehicles.
A new, expanded concessions building where people can rent pontoons, fishing boats and kayaks as well as purchase bait, fishing supplies, snacks and boating equipment.
Picnic areas.
A new first-aid station that will be home to EMT-trained ranger divers, who are first responders on the water.
"Not only has the reservoir brought us one step closer to water independence, it is also an important site to the fishing community. Fishing should be good, and I am looking forward to getting on the water," said Councilmember Scott Sherman. "I am glad the reopening of the San Vincente Reservoir was made a top priority by the Mayor's office."
The re-opened reservoir underwent the largest dam raise of its kind in U.S. history. This doubled the capacity of the reservoir and added 152,000 acre-feet of water in storage, which is enough to serve more than 300,000 homes for a year. About a third of the reservoir's new capacity will be for emergency use only.
The reservoir now creates the ability to transfer water from San Vicente to Lake Hodges and back, which can help the City meet water demands across the region.
"Combined, these enhancements to the region's water storage system will help protect our quality of life during future droughts and water supply emergencies, and provide operational flexibility to meet daily demands," said Halla Razak, the City's Public Utilities Department Director. "This beneficial partnership with the San Diego County Authority is an excellent example of the City's commitment to doing what it takes to maintain a reliable supply of water for generations to come."
There are a limited number of permits for boaters each day. Permits can be purchased here.
B-roll of the reservoir can be downloaded here.
CONTACT: Jen Lebron at (619) 384-5289 or [email protected]