Mayor Faulconer Signs New Agreement to Revitalize Underserved Community
Memorandum of Understanding Creates Partnership to Improve Infrastructure, Housing Opportunities, Education & Skills Training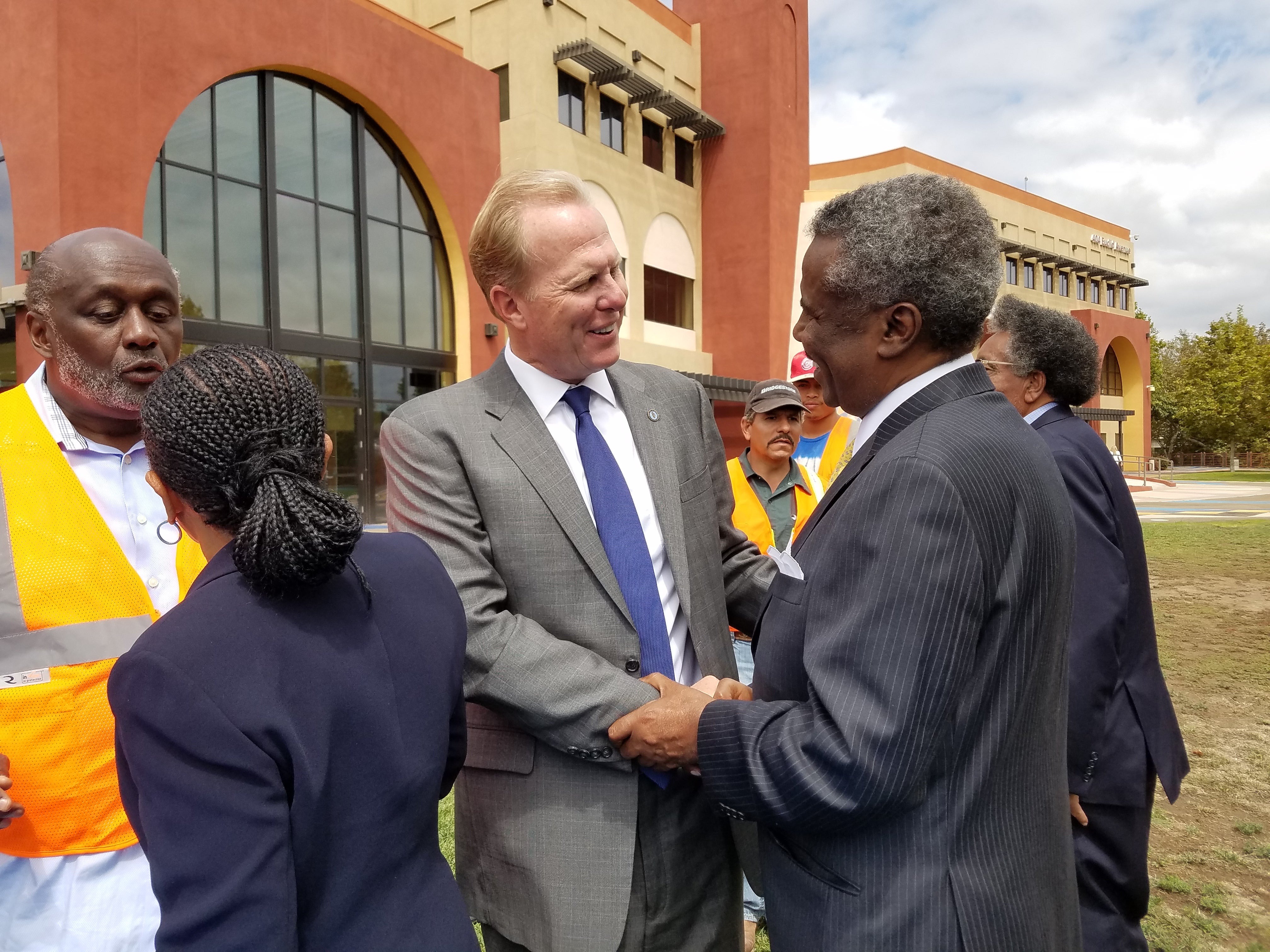 Tuesday, Sept. 13, 2016 - NEWS RELEASE
San Diego – As part of his continued commitment to create One San Diego by bringing opportunity to every resident of every neighborhood in San Diego, Mayor Kevin L. Faulconer signed an agreement with the Jacobs Center for Neighborhood Innovation in Southeastern San Diego today.
The memorandum of understanding between the City of San Diego and the Jacobs Center establishes a public-private partnership that aims to improve infrastructure, strengthen the community and enhance the quality of life in the Encanto neighborhood.
"San Diego will reach its full potential when every neighborhood in every community reaches theirs," Mayor Kevin L. Faulconer said. "This agreement strengthens the bond between the City and the center so we can continue our efforts to revitalize Southeast San Diego and create One San Diego where we all have the opportunity to succeed, regardless of race, gender or ZIP code."
The Jacobs Center owns 60 acres of land in Encanto, which makes them the largest land owner in City Council District 4. The agreement creates a partnership between the City and the center to help realize the full potential of the land. Some of the highlights of the agreement include:
Continuing to improve the infrastructure in the Market Creek Village Plan Area.
Exploring the creation of a business incentive fund to encourage more retail, entrepreneurship and job creation in Southeastern San Diego.
Working with public and nonprofit agencies to encourage businesses to create more job opportunities and skills training for youth.
"The Jacobs Center is honored to formalize its Public Philanthropic Partnership with the City of San Diego," said Reginald Jones, the President and CEO of the Jacobs Center. "It will greatly help our revitalization work in Southeastern San Diego by stimulating physical redevelopment and economic opportunity envisioned by its residents. The agreement lends coordinated city support to the Jacobs Center's community development effort. Further, it helps influence other investment, as well.  The Public Philanthropic Partnership is truly a tool that can advance Southeastern San Diego—making it stronger in the San Diego region."
Mayor Faulconer's office and the Jacobs Center have worked together over the last two years to improve the community through a variety of programs and projects including securing Promise Zone designation for the community to secure more federal dollars to create jobs, improve education, provide access to affordable housing and lower the crime rate. The City and center have also collaborated to update the area's community plan, secure a $4 million grant to make streets and sidewalks safer, and expedite the permitting of the first drugstore in the neighborhood.
View the

Memorandum of Understanding.
CONTACT: Jen Lebron at (619) 384-5289 or [email protected]