Mayor Faulconer Wins City Council Approval for Plan to Help Hundreds of Homeless Men, Women & Children Move Off the Street
Three Temporary Bridge Shelters Will Open Soon to Provide Supportive Services and Help People Transition to Permanent Housing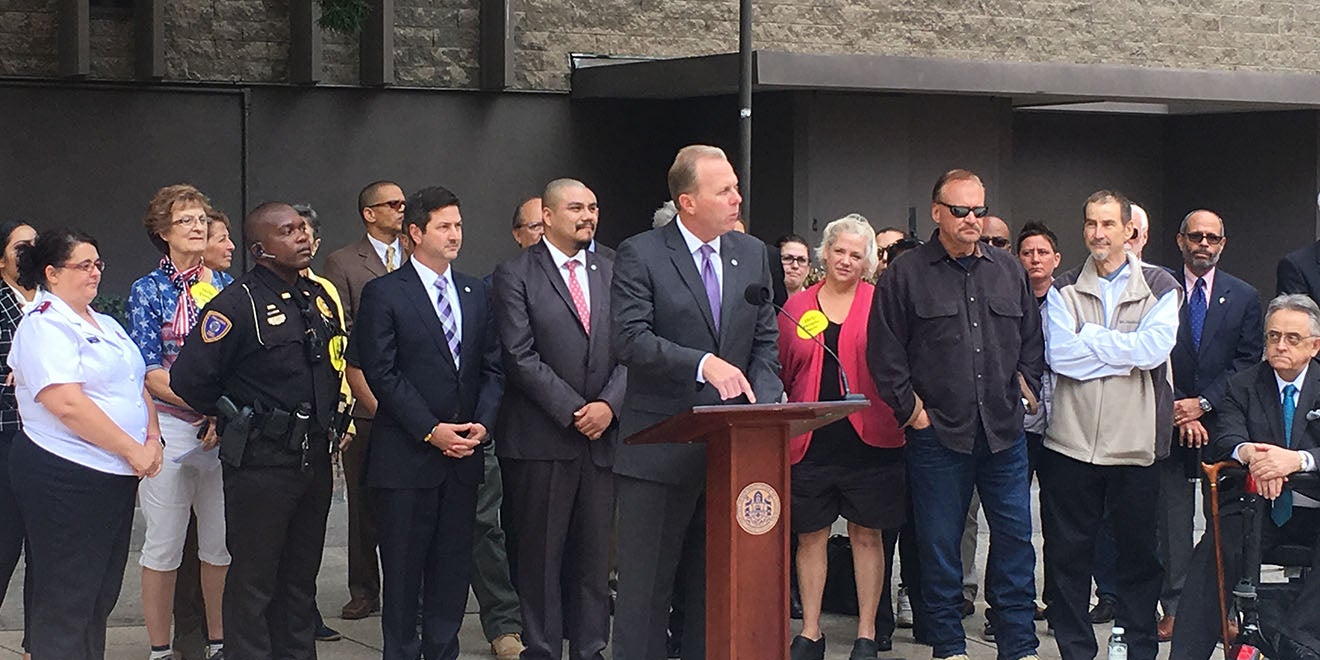 Tuesday, November 14, 2017 - NEWS RELEASE
San Diego – With the goal of reducing homelessness by creating more opportunities for people to get into permanent housing, Mayor Kevin L. Faulconer won City Council approval today to fund three Temporary Bridge Shelters that will help hundreds of homeless individuals and families turn their lives around.
The Temporary Bridge Shelters will provide beds for 700 people per day and include meals, showers, restrooms, 24-hour security, alcohol and substance abuse counseling, job training, and mental health services. Each person will be assigned a case manager to provide wraparound supportive services as they work toward permanent housing. As service providers help people find housing, they will cycle out of the shelters and new people will take their place.
"People without shelter who are sleeping on sidewalks, in canyons and along the riverbed need our help now," Mayor Faulconer said. "While we work to create more housing, these temporary bridge shelters will provide a safe and clean place for people to go. It's a place where men, women and children can find relief from life on the streets while they search for permanent housing. I want to thank the City Council for taking meaningful action right now to help stop the suffering on our streets."
The Temporary Bridge Shelters, currently under construction, are located at:
The parking lot on Father Joe's Villages campus at 14th and Commercial Streets in the East Village.

150 beds for adult women and families daily.

A vacant lot in the 2700 block of Sports Arena Boulevard (behind the Goodwill store) in the Midway District to be run by the Veterans Village of San Diego.

200 beds for adult veterans daily.

A vacated street at 16th Street and Newton Avenue with a shelter operated by Alpha Project.

350 beds for adults daily.
"The Hepatitis A outbreak is an emergency that demands quick action, and with lives on the line it is crucial to provide safe, sanitary facilities for homeless individuals that connect them to our coordinated entry system," said City Councilmember Chris Ward, Chair of the Council's Select Committee on Homelessness. "I commend the Mayor and his team, our philanthropic leaders, and my fellow councilmembers for acting quickly to not only get these tents up and running, but also provide programming consistent with best practices that will challenge us to keep our eyes on long-term solutions as we remain committed to Housing First."
Two of the shelters were purchased with a generous $1.5 million donation by business leaders Peter Seidler and Dan Shea. The City Council today approved $6.5 million in San Diego Housing Commission (SDHC) funding for the operation of all three through June 30. City officials plan to replenish those SDHC dollars with leftover redevelopment funds to ensure that SDHC's affordable housing projects proceed as planned.
The first Temporary Bridge Shelter at 16th and Newton is expected to open by Dec. 1, with the other two following shortly after.
Bridge shelters are an innovative approach that reflect best practices in serving the most vulnerable members of the homeless population. They serve as a crucial transition point where housing navigators will work with men and women without shelter to find them a permanent housing placement.
The new Temporary Bridge Shelters are markedly different than the City's former emergency winter shelter program – which provided little more than a place for people to sleep – that ended in 2015. Besides an array of supportive services to help individuals, service providers will be tracking their success through measurable outcomes, including goals that at least 65 percent of participants who leave the shelters exit to permanent housing, and no more than 15 percent of participants who leave the Temporary Bridge Shelters return to a shelter.
"We do have a crisis in San Diego, but with this step and other steps we are taking, we're turning the tide and we're helping individual homeless people," said Seidler, Managing Partner of the San Diego Padres. "Our city through hard work by so many people here is going to be a model city on this issue."
These new bridge shelters will operate alongside the City's existing programs at Father Joe's Villages – an indoor facility with 350 beds and supportive services for homeless individuals and veterans – and PATH San Diego's Connections Housing – which has 150 beds and 73 permanent supportive housing units. Both are open every single night of the year.
The City has also taken several other actions over the past year to address homelessness, including:
Housing more than 1,000 homeless veterans through the "Housing Our Heroes" campaign.

Opening a Transitional Camp Area last month in Golden Hill that serves 200 homeless individuals and families.

Expanding a Safe Parking Program that provides a safe space for homeless individuals living out of their cars. Two sites now serve more than 200 people each night.
Approving the SDHC's three-year plan to direct tens of millions of dollars toward programs that will provide permanent housing opportunities for thousands of homeless San Diegans, as well as prevent individuals and families from becoming homeless.
CONTACT: Greg Block at (619) 227-3752 or [email protected]