Mayor Faulconer Launches New Website to Help Residents, Businesses Get Things Done Faster
Input From Thousands of San Diegans, Local Tech Community Helped City Redesign SanDiego.gov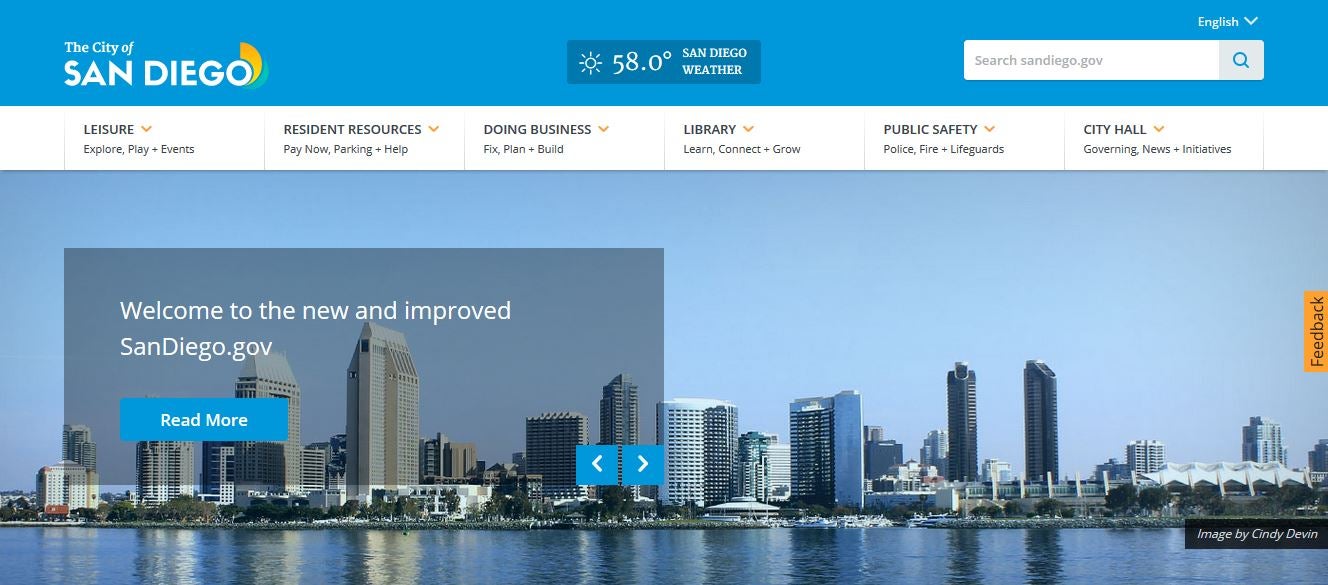 Monday, March 14, 2016 - NEWS RELEASE
San Diego – Following an unprecedented public outreach effort that included nearly 6,000 San Diego residents from across the city, Mayor Kevin L. Faulconer has introduced a newly redesigned City of San Diego website that focuses on making it easier for residents, businesses and visitors to do business with the City.
"A core focus of my administration is rebuilding San Diego's infrastructure. While that means fixing our streets, upgrading our parks and building new libraries, it also means updating our digital infrastructure," Mayor Faulconer said. "This website was designed by San Diegans, for San Diegans. Every line of code was written to help you find what you're looking for and complete tasks faster, representing another major step forward in our work to make your city government more efficient and effective."
"The City of San Diego and Mayor's office have set a new standard for community involvement with this website redesign. Code for America's guidelines for building a 21st-century government starts with looking at people's needs, which was a goal the City fully embraced," said Jeffrey Johnson, a local technology entrepreneur and the former Code for America San Diego Brigade Captain. "The City's research efforts were equivalent to the best practices for a private company and were unprecedented for any local government process I'm aware of. They truly made an effort to reach out to the public to find out exactly what San Diegans needed from their city website."
"Good design is founded on understanding the needs of the people using your service. By engaging residents to take part in the website redesign, the City of San Diego is demonstrating a commitment to making sure the site does what it's supposed to do: serve the needs of the community," said Paul Hong, the president of the San Diego Experience Design group, which helped host a "hackathon" to streamline the website. "Getting an opportunity to apply our skills to the civic realm, for the good of our own community, was something we couldn't pass up."
The new SanDiego.gov features new tools to help residents, businesses and visitors get things done faster than ever before. The website is designed to be more user-friendly and easier to understand. 
What's New
Get it Done: The new site features a "Get it Done" section to help users complete tasks faster, such as reporting a pothole, paying a water bill, finding a nearby park, checking the status of permits or applying for a business license. 
Designed with San Diegans in mind: Now users can quickly find the right page in just a few clicks or taps. While the previous website arranged information by City departments, the new site was designed with San Diegans in mind. The most popular City services and information can be easily found at the top of the homepage.
Unprecedented community outreach: Nearly 6,000 people provided input during the redesign process through surveys, focus groups and workshops. 
Focused on customer service: San Diegans asked for a better website and now they are getting it. Half of residents said they want to interact with the City online, according to the 2015 Resident Satisfaction Survey.
Mobile-Friendly: Now you can hold your government in the palm of your hand. The new website will better serve users on smartphones and tablets, which represent a third of the sandiego.gov's 20 million annual visitors. 
The project has been completed in a year thanks to collaboration from residents, businesses and community leaders who provided valuable feedback as the City developed the site. 
Community engagement was at the core of the website redesign project. It kicked off with a resident survey that anticipated 1,200 responses, but due to extensive outreach, garnered more than 4,500 responses. Survey participants represented all San Diego communities, as well as a variety of ages and ethnicities. 
The backbone of the previous website used a content management system that was implemented in 2002, making it inefficient and difficult to update. The new website uses Drupal, a system that is widely regarded across the technology industry as one of the world's top content management systems. Because it is open source, Drupal provides a future-proof solution that will ensure SanDiego.gov can keep up with web best practices for years to come.
The website cost $646,000 – 50 percent under the budget the City Council approved for the project. The remaining funds went into enhancing online services, including a new Public Records Portal to increase government transparency.
Though there have been significant improvements to the site, the City is still seeking input to make the site better. Mayor Faulconer is encouraging visitors to the new site to provide feedback via a yellow tab at the top right corner of every webpage. The City will continuously incorporate suggestions from the public and review analytics to help build a better website for San Diego.