Mayor Faulconer Announces Tentative Multi-Year Agreement with City Firefighters that Upholds Pension Reform
New Agreement Reforms Overtime and Vacation Rules & Brings All City Employee Groups Under Contract Extensions That Adhere to Proposition B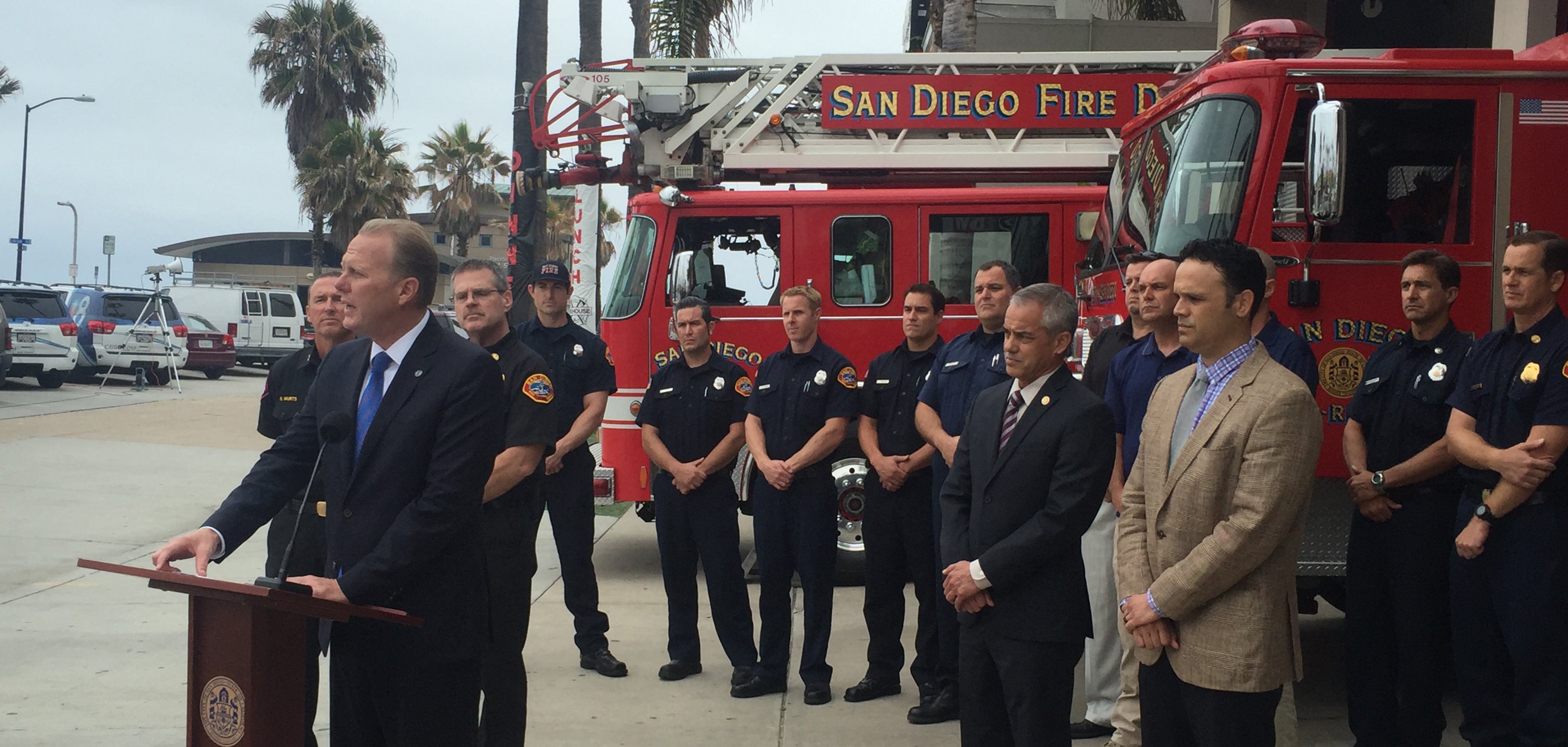 Tuesday, May 31, 2016 - NEWS RELEASE
San Diego – Today Mayor Kevin L. Faulconer announced that the City has reached a new multi-year tentative agreement with the City's firefighters that now brings all the City's recognized employee organizations under contract extensions that uphold pension reform approved by voters through Proposition B.
The agreement has been ratified by a majority vote of firefighters, represented by the International Association of Fire Fighters Local 145, and will go before the City Council next month for approval. The new contract extension also reforms overtime rules and vacation policies, provides increased health care funding and offers paid parental leave to firefighters for the first time – in line with private sector trends.
"We're working hard to make sure San Diego remains one of the safest big cities in the country," Mayor Faulconer said. "As our economy grows, we need to continue investing in public safety, including the brave men and women serving us as firefighters.  We crafted fair employee agreements that adhere to pension reform as set by the voters in Proposition B and will position the City to continue to offer high-quality service to San Diegans."
The new tentative agreement with the International Association of Fire Fighters Local 145 includes many of the same terms as other labor group contract extensions, including:
No across-the-board salary or pensionable pay increases in FY 2017 and FY 2018, locking in with the final employee group the final two years of the five-year pensionable pay freeze under the parameters set by voter-approved Proposition B*
3.3% compensation increases in FY 2019 and FY 2020
Parental leave of 160 hours paid time off for the birth, placement or adoption of a child, effective FY2017
Bereavement leave of 40 hours for all full-time employees, with step-parents, step-siblings and grandparents, grandchildren, mother-in-law and father-in-law added to list of covered deaths, effective FY2017
Increase in the annual tuition reimbursement benefit from $1,000 to $2,000 in FY2017 for education and job-related training
Parking reimbursement increased from 50 percent to 75 percent for employees parking at the Evan V. Jones Parkade, Civic Center Plaza or Central Library
The contract also includes changes that only affect firefighters, including:
Agreement on a multi-year strategy to reduce the City's liability for accrued annual leave, depending on date of hire and existing leave balances

Reduces City's liability for annual leave by roughly $8 million through 2020
Maximum annual leave is capped based on years of service
Employees will stop accruing leave if not below maximum accrual on the anniversary of their date of hire after July 1, 2018
To reduce leave balances for those employees above maximum, mandatory cash payouts will occur each fiscal year

No employee shall work more than 96 consecutive hours without a minimum 24-hour off-duty period
All employees are required to take four consecutive shifts of annual leave per year
Increase annual uniform allowance to $1,000, effective FY2017
"I am very pleased that we have come to an agreement with the firefighters," said City Council President Sherri Lightner. "As first responders responsible for lives and property, it is vital that we provide for adequate recruitment and retention for these staff."
The firefighter agreement follows previous agreements for contract extensions with the City's lifeguards (Teamsters Local 911), skilled-trades workers (American Federation of State, County and Municipal Employees Local 127), attorneys (Deputy City Attorneys Association), white-collar workers (Municipal Employees Association) and the Police Officers Association.
Now five of the City's six employee groups representing City workers have contracts through FY2020, with the sixth – the Deputy City Attorneys Association – through FY2019.
The five-year contracts the City reached with each of its employee groups in 2013 called for negotiations to be reopened this year.  
*Proposition B, approved by voters in 2012, allows the possibility of pensionable pay increases with two-thirds approval from the City Council.
CONTACT: Craig Gustafson at (619) 453-9880 or [email protected]