Mayors of San Diego and Mexicali Sign New Partnership to Expand Binational Collaboration
San Diego Mayor Kevin Faulconer Visited Mexicali to Sign Agreement, Tour a Tech Company and Strengthen Cali-Baja Economic Ties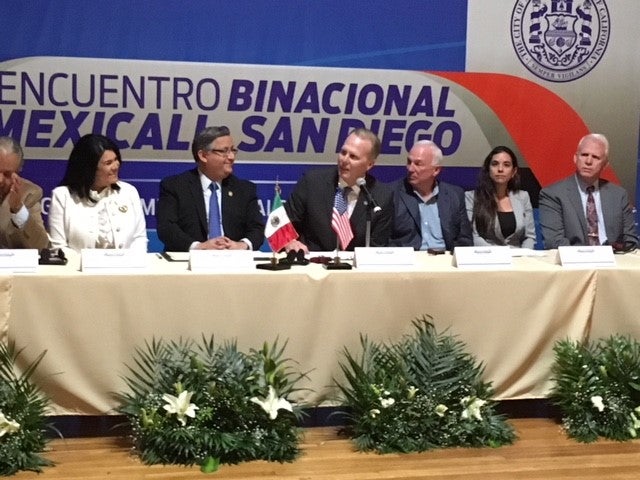 Friday, March 2, 2018 - NEWS RELEASE
Mexicali, Mexico – Continuing his push to strengthen economic ties with Mexico and expand international trade, San Diego Mayor Kevin L. Faulconer today signed a new partnership with Mexicali Mayor Gustavo Sanchez to expand binational collaboration between their two cities.
The Memorandum of Understanding (MOU) calls for generating, promoting and strengthening cross-border commerce between San Diego and Mexicali through collaboration.
"This is all about working together to create a lasting partnership that will strengthen our economies, create more jobs and build a better future for people on both sides of the border," said Mayor Faulconer, Co-Chair of the U.S.-Mexico Border Mayors Association. "San Diego and Mexicali are setting an example for how two cities can come together across international boundaries for the good of their citizens. I look forward to collaborating with Mayor Sanchez on issues that matter to our residents such as border infrastructure, public safety and trade."
After signing the agreement, Mayors Faulconer and Sanchez visited Skyworks Solutions, an American-based technology company with headquarters in Woburn, Massachusetts, and a manufacturing facility in Mexicali. Companies like Skyworks with facilities in both countries have leveraged the North American Free Trade Agreement to create jobs and expand their businesses.
The two mayors were joined today by business leaders from both sides of the border, including San Diego Regional Chamber of Commerce President and CEO Jerry Sanders.
The City of San Diego has had a similar MOU with Tijuana for years and it was renewed last year by Mayor Faulconer and Tijuana Mayor Juan Manuel Gastélum. As a result, department directors from both cities have met regularly to collaborate, resulting in cross-border training for firefighters, art exchanges at libraries and the joint promotion of the economic advantages the San Diego-Tijuana megaregion has to offer.
CONTACT: Christina Chadwick at (619) 727-9758 or [email protected]