New Online Tool Makes it Easy to See San Diego's Streets Data and Road Repairs
"StreetsSD" Web App Details Repair Work and Condition Assessments for San Diego's Entire Street Network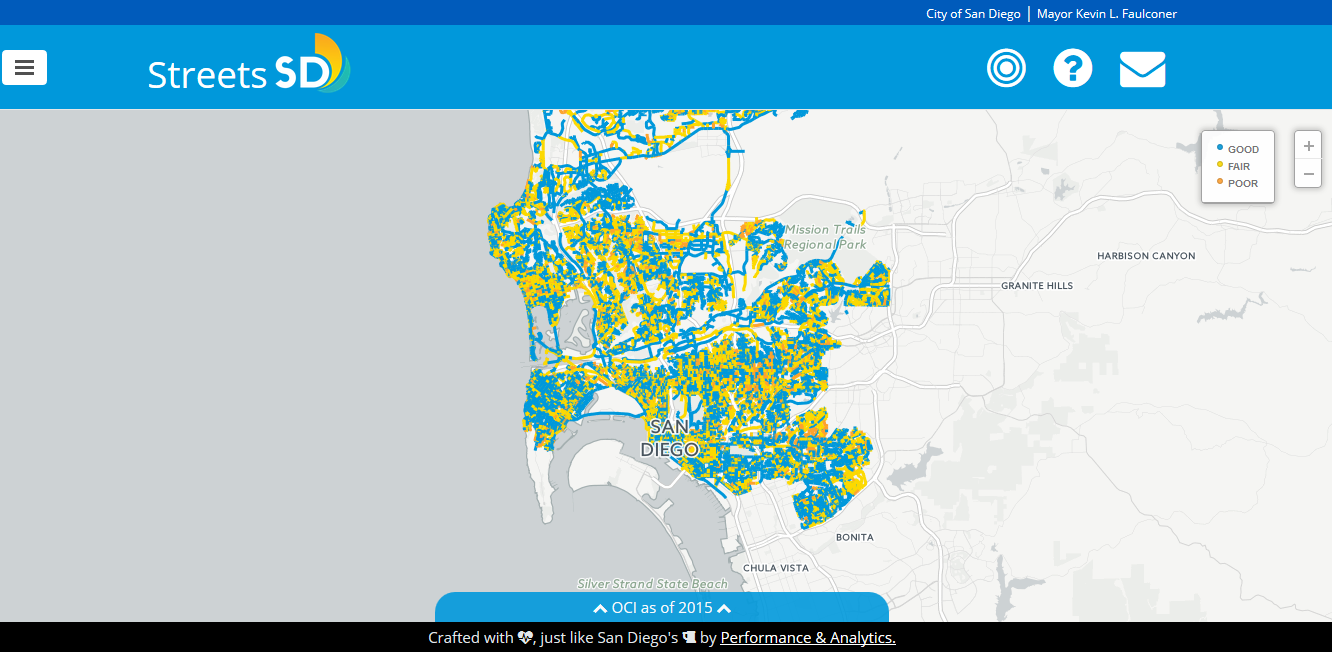 Friday, Sept. 23, 2016 - NEWS RELEASE
San Diego – Continuing Mayor Kevin L. Faulconer's push to create a City government as innovative as the people it serves, the City has launched a new interactive web application – StreetsSD – that allows residents to view street condition and repair data for San Diego's entire 3,000-mile street network.
"This is one of the most innovative and capable online street maps of any major U.S. city because it makes detailed information about our roads and road repairs available with just a click or tap," said Mayor Kevin L. Faulconer. "It updates automatically so residents have the most accurate data on streets in every neighborhood. We've got all this great information about streets and now we're sharing it with the public through this really cool tool that makes it easy for everyone to access." 
In the past, residents had to comb through reams of paperwork, PDFs and spreadsheets to figure out which streets have been repaired, where repairs are being planned and what condition their street is in – if they could find the information at all. Now all that information is at their fingertips.
StreetsSD provides the following information:
Which streets have been fixed recently: Shows types of street repairs (slurry seal, asphalt paving or concrete replacement) that have occurred since Fiscal Year 2014.
The latest condition status of streets: Displays the Overall Condition Index (OCI) of every assessed street in categories of good (70 to 100 OCI), fair (40 to 69 OCI) or poor (0 to 39 OCI). The most recent citywide assessment was released Tuesday and the information is already loaded into StreetsSD.
Historical assessment data: Includes the results from the 2011 citywide assessment study, which allows users to compare how a street has improved or worsened over the past five years.
Which streets are scheduled for future repair: Updates regularly to identify which streets have repairs coming soon.
How far along the City is on Mayor's road repair goal: Notes progress toward Mayor Faulconer's goal to repair 1,000 miles of streets over five years.
Street repair information will be updated quarterly to StreetsSD while the citywide assessments are point-in-time studies that will remain unchanged.
The Performance & Analytics Department developed this interactive tool in-house to help the public keep track of the street repair program and hold the City accountable.
"StreetsSD is just another in a series of civic engagement tools the City has recently deployed that uses our data to improve San Diegans' experience when they connect with City Hall," said Almis Udrys, Director of the Performance & Analytics Department. "With the support of Mayor Faulconer and the City Council, San Diego is really turning a corner on understanding its data and using it to enhance transparency, efficiency, and accountability. Our small team in Performance & Analytics is proud to do our part to make San Diego a leader in this space and there is much more to come."
Another public benefit to StreetsSD is that the City is making the code behind streets.sandiego.gov – written by the Performance & Analytics Department – publicly available for use by innovative San Diegans and other government agencies wishing to deploy a similar tool.
Unlike other cities with street maps, which typically require staff to manually update the data, the StreetsSD map will automatically pull information from the internal work order system quarterly, sparing City staff any extra efforts to keep the map updated and minimizing human error.
CONTACT: Craig Gustafson at (619) 453-9880 or [email protected]