Report: San Diego's Crime Rate Lowest in Decades for First Quarter of 2017
Mayor Faulconer, Chief Zimmerman Announce Crime Down 10 Percent From Last Year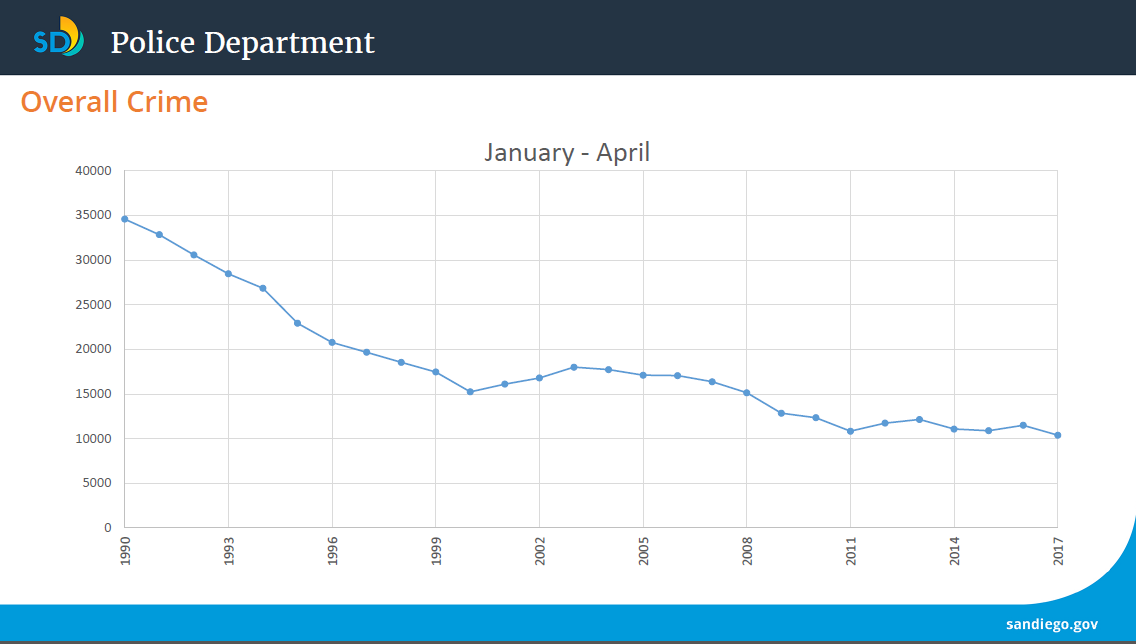 Friday, May 26, 2017 - NEWS RELEASE
San Diego – As visitors flock to San Diego for Memorial Day Weekend, Mayor Kevin L. Faulconer and Police Chief Shelley Zimmerman announced that San Diego remains one of the safest big cities in the nation after a new report shows that crime is at its lowest level in decades.
The report shows a 10 percent decrease in overall crime from January to April compared to the same period last year.
"As we head into peak travel season, San Diegans and visitors alike can rest assured that our city remains one of the safest in America thanks to the tireless efforts of our police officers," Mayor Faulconer said. "This report shows that our officers are doing an incredible job by protecting the public and forging bonds with residents in all neighborhoods."
The report shows historic lows for aggravated assault, violent crime, burglary, larceny and property crime, though crime was down for all categories year over year.
"I am pleased to announce that during the first four months of 2017, every major category of crime decreased when compared to the first four months of 2016," Chief Zimmerman said. "These kind of reductions don't happen by luck or accident. We are safe today because of the courageous hard work by our police officers and professional civilian staff, who are committed and focused on keeping San Diego safe, in collaboration with our law enforcement partners, and working closely with our community members."
Earlier this year, the police department announced that the 2016 total crime rate was at its lowest level in four decades.
San Diego police embrace a community policing philosophy that results in thousands of outreach activities each year that include ride-alongs, attending community meetings and participating in neighborhood events.
"I commend the San Diego Police Department and all public safety personnel for bringing San Diego's crime rate to the lowest it has ever been in decades," said Councilmember Chris Cate who also serves as the Chair of Public Safety and Livable Neighborhoods Committee. "Public safety is truly a shared responsibility. To continue on this path to eradicate crime in our city, if you see something, please say something."
Additionally, over the last several years, at the direction of Mayor Faulconer with support of the City Council, SDPD has equipped all officers in the field with body-worn cameras that have led to a 36 percent decrease in citizen complaints and allegations since 2013.
The department is also recognized as a leader in officer training with a focus on the concepts of de-escalation, non-biased policing, community policing and diversity.
CONTACT: Jen Lebron at (619) 384-5289 or [email protected]