Report: San Diego Ahead of Schedule in Reducing Greenhouse Gas Emissions
Annual Report Shows Early Success For Mayor Faulconer's Climate Action Plan With 19 Percent Cut in Emissions So Far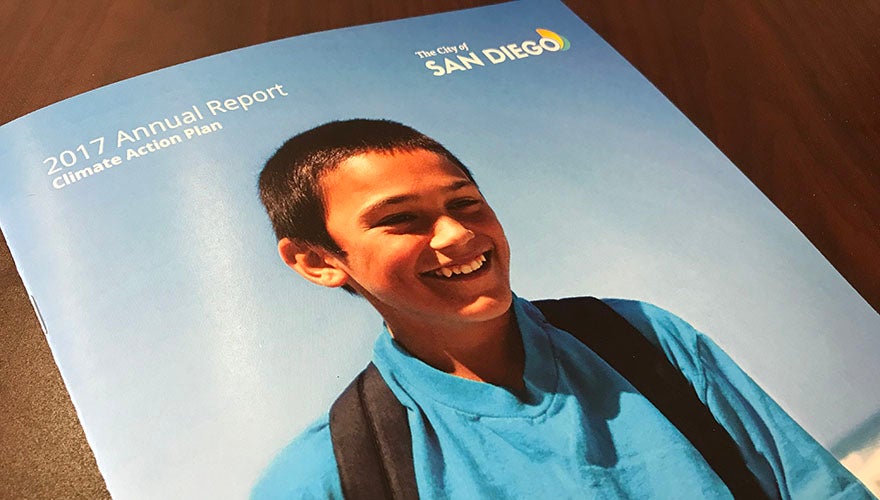 Wednesday, October 25, 2017 - NEWS RELEASE
San Diego – Flanked by energy efficient City vehicles that are helping to create a cleaner and greener San Diego, Mayor Kevin L. Faulconer was joined by business and environmental leaders today to release a new report that shows San Diego's landmark Climate Action Plan is seeing early results and the City remains ahead of schedule toward reaching ambitious goal of slashing greenhouse gas (GHG) emissions in half by 2035.
The Climate Action Plan's

second Annual Report revealed that overall GHGs have been reduced by 19.3 percent since 2010 – outpacing the 2020 goal of a 15 percent reduction. It also represents a 2 percent reduction since last year.
"It's been less than two years since we passed a landmark Climate Action Plan that won accolades from around the globe," Mayor Faulconer said. "Now the results are starting to roll in and we're seeing significant progress in our push to slash greenhouse gas emissions. We continue to be ahead of schedule on our ambitious goals which means the actions we're taking are making a difference – and that San Diegans are doing their part to leave a cleaner and more sustainable city than the one we inherited."
The analysis outlined in the report attributed much of the reduction to improved fuel efficiency in vehicles, expanding use of renewable energy sources, and increased the amount of reused or recycled trash.
"The City of San Diego is setting the example by using more energy efficient vehicles, making it easier to get solar panel permits and finding new ways to reuse or recycle trash before it ends up in the landfill," said Cody Hooven, the City's Chief Sustainability Officer. "We've seen a groundswell of residents and business leaders joining our efforts and helping us reach the ultimate goal of a healthy and sustainable San Diego."
For each of the past two fiscal years, the City has invested nearly $130 million annually in five bold strategies outlined in the Climate Action Plan. They are Energy and Water Efficiency; Clean and Renewable Energy; Bicycling, Walking, Transit and Land Use; Zero Waste; and Resiliency.
The GHG goal in the Climate Action Plan – unanimously approved by a bipartisan City Council in 2015 – was established based on San Diego's level in 2010. The plan also requires annual monitoring of greenhouse gas levels.
The report's other key findings include:
18 percent reduction in residential energy use

13 percent reduction in daily per capita water use

5 percent reduction in municipal energy use

43 percent use of renewable electricity citywide

12,000 linear feet of improved sidewalks

90 Zero Emissions Vehicles/45 hybrids in municipal fleet
Additionally, the report finds that sustainability efforts have helped spur the local economy and create jobs. For example, jobs related to sustainability grew 10.9 percent since 2010, with the largest increase in the clean and renewable energy sector. San Diego's clean tech job concentration is also 2.6 times the national average.
"The City of San Diego's landmark Climate Action Plan has the world watching and learning from our pursuit of environmental change alongside economic prosperity," said Cleantech San Diego President and CEO Jason Anderson. "The kind of bold climate action leadership we see here in San Diego creates an exciting economic opportunity, and our innovation community is eager and ready to answer the call to achieve the plan's goals and to create an even stronger cleantech economy that will continue to serve as a model for cities around the globe."
The City also continues to be a national leader in several categories, including:
No. 1 for solar rooftop installations, Shining Cities Report 2016

No. 1 for climate and carbon management, U.S. Clean Tech Leadership Index 2017

No. 4 for Clean Technology Leadership, U.S. Clean Tech Leadership Index 2017
Greg Block at (619) 227-3752 or [email protected]