Report: San Diego Making Significant Progress on Reducing Greenhouse Gas Emissions
New Analysis Shows the City Has Slashed Emissions by 17 Percent Since 2010, Ahead of Schedule to Meet Climate Action Plan Goals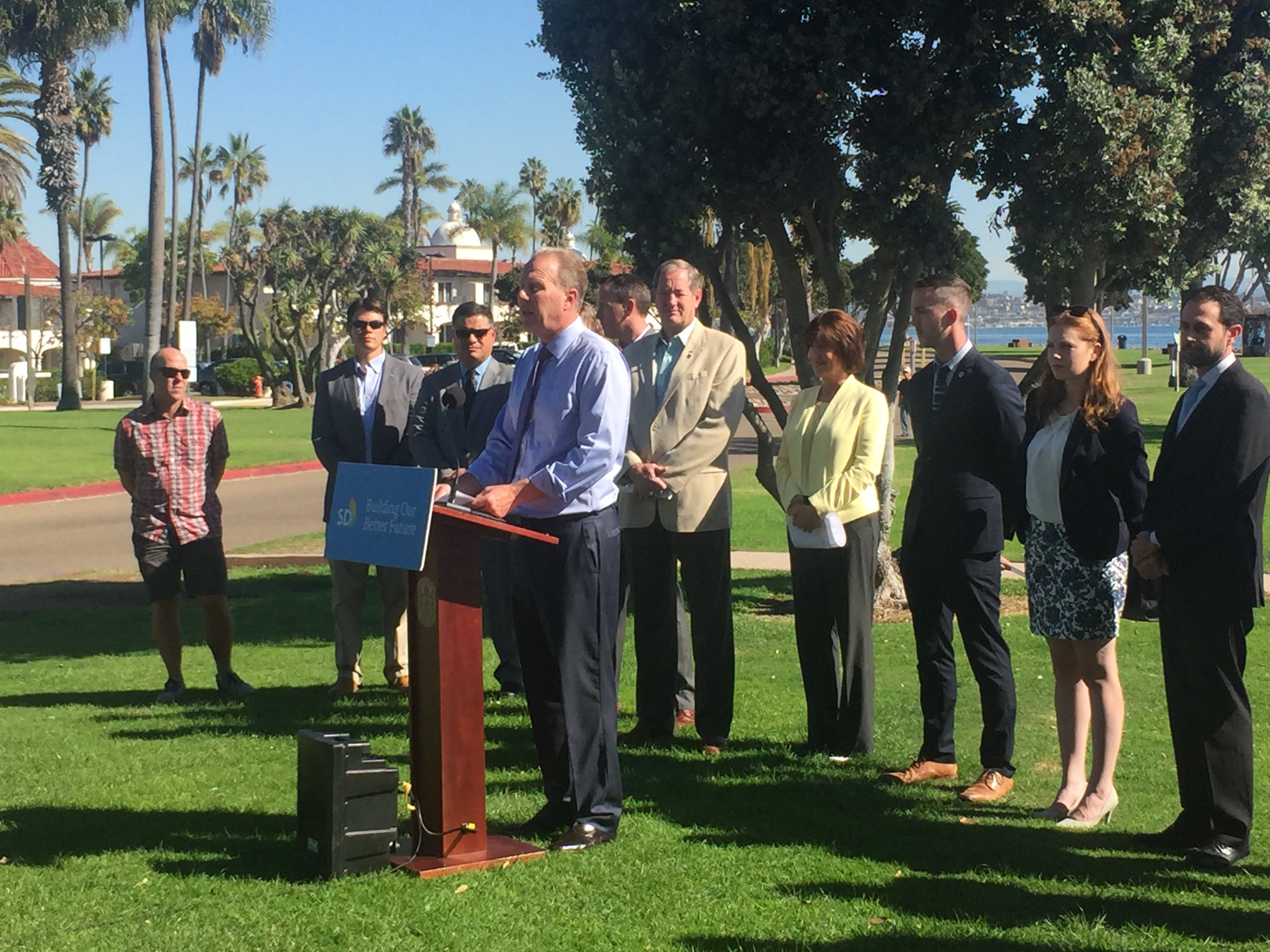 Thursday, Nov. 10, 2016 - NEWS RELEASE
San Diego – With the goal of slashing greenhouse gas emissions in half by 2035, Mayor Kevin L. Faulconer was joined today by business and environmental leaders to release the Climate Action Plan's first Annual Report which documents a 17 percent reduction in greenhouse gas emissions since 2010 – putting San Diego ahead of schedule to meet the goals of its landmark Climate Action Plan.
"We've made significant progress to create a cleaner San Diego and we're just getting started," Mayor Faulconer said. "Measuring our progress each year will tell us what's working and where we need to adjust course. The good news is we're on the right track and all the investments we're making today will lead to a better tomorrow for our children."
The

Climate Action Plan – unanimously approved by a bipartisan City Council in December – calls for eliminating half of all greenhouse gas emissions in the city and aims for all electricity used in the city to be from renewable resources by 2035.
One of the targets along the way was to reduce greenhouse gas emissions by 15 percent by 2020. An independent consultant analyzed data from the 2015 calendar year and determined that greenhouse gas emissions have been reduced by 17 percent since 2010, meaning the city is five years ahead of schedule.
"When I talk to my counterparts in other cities, I realize we are at the front of the pack in both the state and nation," said Cody Hooven, the City's Chief Sustainability Officer. "It's exciting to be part of a city that is committed to improving the environment and building a better future for its residents. We're making great progress, but there's a lot more work to do to reach our goals."
The analysis attributed much of the reduction to state policies and mandates, such as vehicle efficiency standards, and SDG&E's push to expand the share of renewable energy use in its portfolio.
The data used in the analysis also came from a time period before Mayor Faulconer invested nearly $130 million in the current budget in transportation, water, infrastructure, renewable energy and other initiatives that support the goals of the Climate Action Plan. Those investments include 50 miles of new or improved bicycle lanes, new energy efficiency and "smart" streetlights and planting trees, among other things.
"When we act in a way that is measured and strategic, the spending we do to protect our environment can be leveraged into an investment in local jobs and our economy," said Jerry Sanders, President and CEO of the San Diego Regional Chamber of Commerce. "It's hard work, but when we come together, instead of pitting jobs against the environment, we are able to show the world how to solve our most difficult collective challenges."
The goals in the Climate Action Plan were established based on San Diego's greenhouse gas emissions level in 2010 – the last time a full citywide analysis was conducted. The plan also requires annual monitoring of greenhouse gas levels.
Other findings in the Annual Report include:
16 gallon per capita reduction in water consumption (2020 target: Reduce 11 gallons per capita)
35 percent use of renewable electricity citywide (2035 target: 100 percent renewable electricity)
64 percent diversion rate for Miramar Landfill (2020 target: 75 percent)
75 percent of landfill gas captured (2020 target: 80 percent)
93 percent of methane captured from wastewater treatment (2020 target: 98 percent)
13 percent urban tree canopy cover (2020 target: 15 percent)
6 percent reduction in municipal energy use (2020 target: 15 percent)
The Climate Action Plan is a package of policies that will benefit San Diego's environment and economy. It will help create new jobs in the renewable energy industry, improve public health and air quality, conserve water, more efficiently use existing resources, increase clean energy production, improve quality of life and save taxpayer money.
CONTACT: Craig Gustafson at (619) 453-9880 or [email protected]