San Diego's Landmark Reform Continues to Transform Pension System, Locking in Long-Term Savings for Taxpayers
Number of City Workers Enrolled in 401(k)-Style Retirement Plan Continues to Grow as State Supreme Court Hears Proposition B Appeal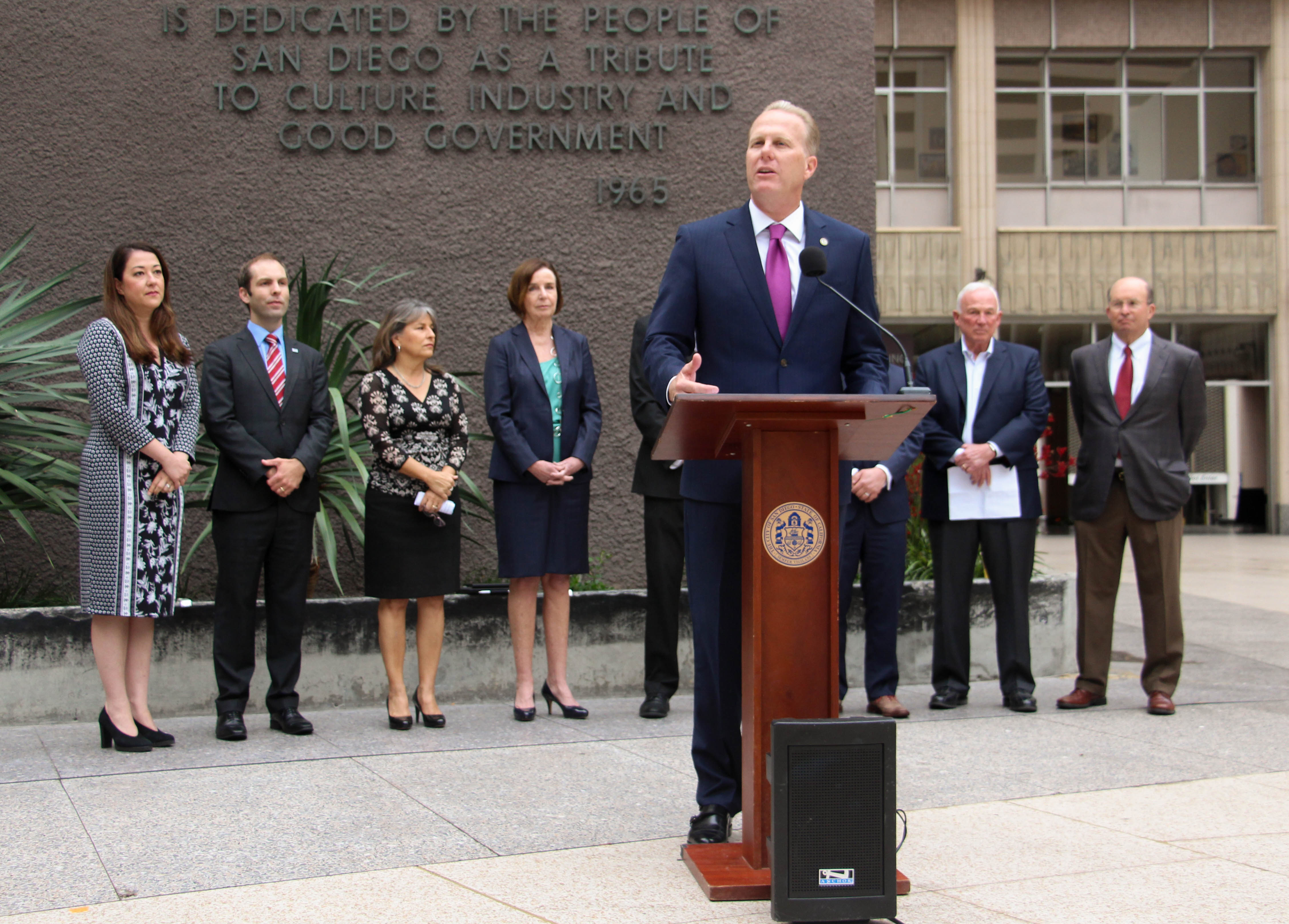 Thursday, May 24, 2018 - NEWS RELEASE
San Diego – Nearly six years after voters approved a major overhaul of San Diego's pension system in Proposition B, Mayor Kevin L. Faulconer was joined Thursday by several pension reform advocates to announce the citizens' initiative has led to a significant increase in City employees receiving 401(k)-style retirements rather than traditional pensions – a more affordable option for taxpayers that dramatically reduced future pension liabilities.
"Voters put San Diego at the forefront of pension reform and we can't turn back," Mayor Faulconer said. "We've changed the culture at City Hall so we're now investing in street repair and core neighborhood services that residents rely on rather than an unsustainable pension system. We're urging the court to uphold this landmark pension reform so we can continue the changes the people of San Diego have called for."
In April 2017, an appellate court ruling reversed a state board decision and upheld San Diego's pension reform. Now the California Supreme Court is scheduled to hear an appeal of that ruling (Boling v. Public Employment Relations Board) at 9 a.m. Tuesday in San Francisco with Mayor Faulconer, City Attorney Mara Elliott and City Councilmember Chris Cate planning to attend on the City's behalf. A final decision isn't expected for a few months.
"As a longtime taxpayer advocate, I'm proud to have spent years supporting the passage and implementation of Proposition B, the comprehensive pension reform initiative supported by two-thirds of voters," Councilmember Cate said. "Proposition B is critical to limiting the risk and costs associated with public employee pensions. On Tuesday, I will be traveling with a delegation from San Diego to the California Supreme Court to hear the case to ensure Proposition B is upheld, reaffirming the will of the voters who overwhelming approved this measure in 2012."
Proposition B, a citizens' initiative approved with 66 percent of the vote in 2012, closed the pension system to all new hires except police officers and implemented a five-year freeze on pensionable pay for all employees. San Diego became the first city in the state to overhaul its pension system to offer a 401(k)-style program to government workers.
Taxpayers and the City budget will reap the benefits of pension reform for years to come. The pay freeze, for example, was projected to reduce San Diego's pension obligation by nearly $1 billion over 30 years.
In the six years since Proposition B passed, the number of City employees outside of the pension system has steadily grown to nearly 4,300 (including hourly employees), or 37 percent, of the roughly 11,500-person workforce. That percentage is expected to grow significantly over the next decade as more new employees are hired.
CONTACT: Greg Block at 619-227-3752 or [email protected]