San Diego, Tijuana Mayors Highlight Binational Achievements that Help Build a Better Future on Both Sides of the Border
Mayors Faulconer, Astiazarán Discuss Cross-Border Collaboration & Celebrate El Universal's 100th Anniversary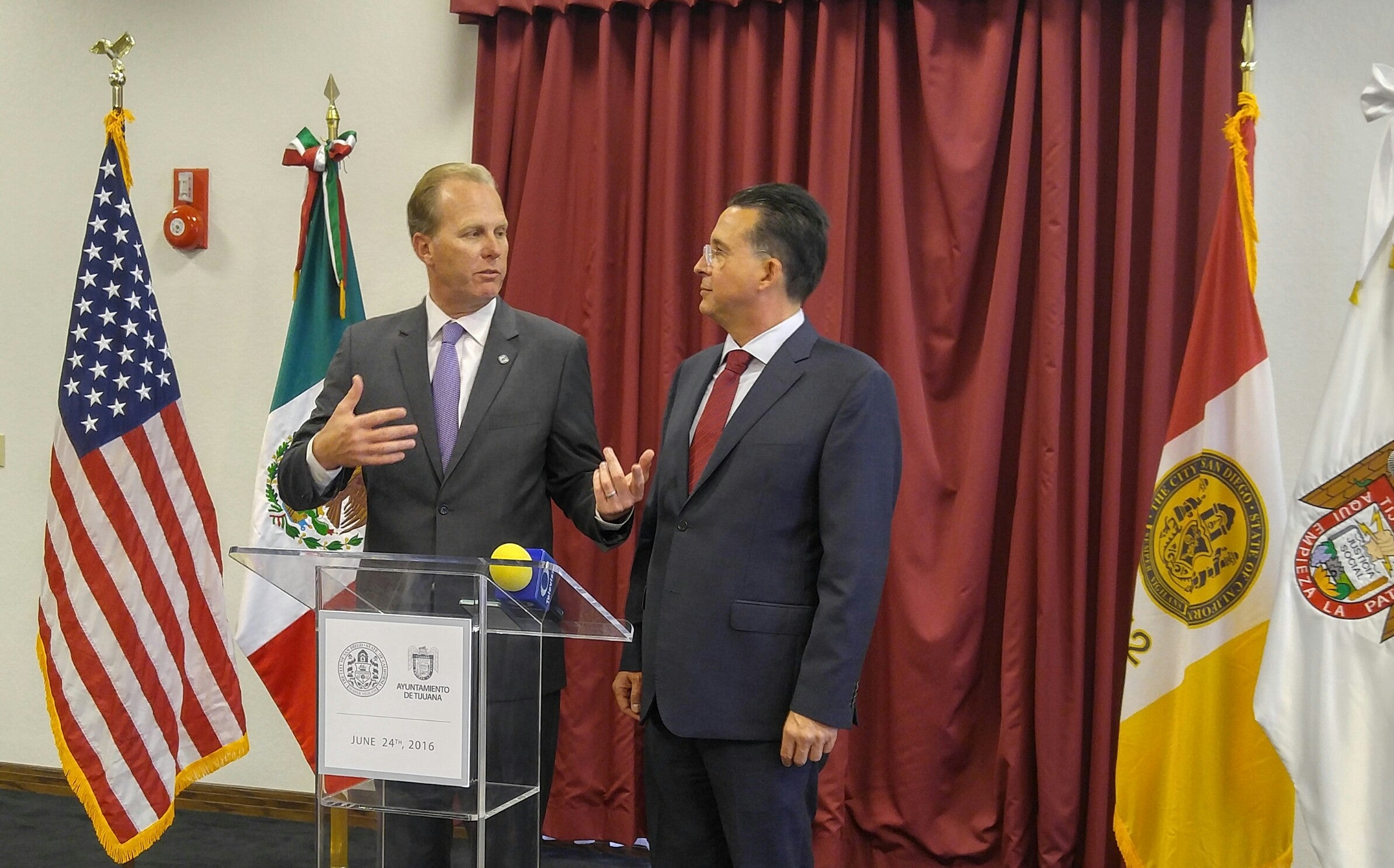 Friday, June 24, 2016 - NEWS RELEASE
San Diego – In a celebration of continued binational collaboration, Mayor Kevin L. Faulconer and Tijuana Mayor Dr. Jorge Astiazarán today announced they've made significant progress on several initiatives including making it easier for companies do to business on both sides of the border and developing a human-trafficking awareness program.
Mayor Faulconer and Mayor Astiazarán signed a Memorandum of Understanding in 2014 that calls for department directors from both cities to meet several times a year. The meetings are designed to foster communication between officials to improve the innovation economy, attract new investment, strengthen our cross-border infrastructure, enhance global tourism industries and protect our environmental assets.
"We are setting an international example of what two cities can achieve when they work together as one binational region," Mayor Faulconer said. "Thanks to the collaboration of our local governments, we are growing our innovation economies, keeping our cities safer and bringing together San Diegans and Tijuana residents to foster greater understanding. Together, we are building a better future for people on both sides of the border."
"Due to the close relationship and partnership with Mayor Faulconer, we advocate for public policy and promote our dynamic economy, to continue to grow the competitive advantages our region offers and increase the quality of life in our mega region, " Mayor Astiazaran said.
Since signing the memorandum, the cities of San Diego and Tijuana have made significant progress on initiatives that include:
Connecting businesses with both city's leadership teams to facilitate binational growth.
For the first time ever, developing a formal plan to make it easier for businesses in both cities to expand across the border.
Creating a human-trafficking awareness program. 
Hosting the first-ever binational Maker Faire.
Solidifying the San Diego-Tijuana megaregion as the largest hub for medical device manufacturing in the world.
Developing youth programs in San Diego and Tijuana libraries to promote literacy and celebrate our shared culture.
The Mayors also honored Mexican newspaper El Universal for its 100-year anniversary and participated in a panel discussing the economic and social benefits of developing strong binational ties. The panel also featured San Diego's new Consul General of Mexico Marcela Celorio Mancera. The panel was part of El Universal's annual Jack F. Ealy Workshop on Science Journalism.
Alcaldes de San Diego y Tijuana Destacarán Logros Binacionales que Ayudarán a Construir un Futuro Mejor en Ambos Lados de la Frontera
Los Alcaldes Faulconer Y Astiazarán Hablarán Sobre La Colaboración Transfronteriza Y Celebrarán El Aniversario Centenario De El Universal
Viernes, 24 de junio del 2016 - 
PARA MANDAR IMEDIATAMENTE
San Diego –  En celebración de la continua colaboración binacional, el Alcalde de la Ciudad de San Diego Kevin L. Faulconer y el Alcalde de la Ciudad de Tijuana Dr. Jorge Astiazarán hoy anunciaron  que han logrado avances significativos en varias iniciativas, incluyendo hacerlo más fácil para que las empresas en ambos lados de la frontera puedan hacer negocios y el desarrollo de un programa de sensibilización sobre la trata humana.
El Alcalde Faulconer y Alcalde Astiazarán firmaron un Memorando de Entendimiento en el 2014 acordando que los directores de departamentos de ambas ciudades se reunirán varias veces al año. Las reuniones están diseñadas para fomentar la comunicación entre los oficiales para mejorar la economía innovadora, atraer nuevas inversiones, fortalecer nuestra infraestructura transfronteriza, mejorar industrias del turismo mundial y proteger nuestros patrimonios ambientales.    
"Estamos estableciendo un ejemplo internacional de lo que dos ciudades pueden lograr cuando trabajan juntos como una región binacional", dijo el alcalde Faulconer. "Gracias a la colaboración de nuestros gobiernos locales, estamos creciendo nuestras economías de innovación, manteniendo nuestras ciudades más seguras y reuniendo a residentes de San Diego y Tijuana para fomentar una mayor comprensión. Juntos, estamos construyendo un futuro mejor para las personas de ambos lados de la frontera."
"Gracias a la estrecha relación que ambos alcaldes hemos mantenido, ha sido posible la generación de políticas públicas para la promoción de las bondades de la Mega Región y de esta manera elevar su nivel de competitividad que ha dado como resultado una mejor calidad de vida para las personas", mencionó Astiazarán Orcí.
Desde la firma del memorando, las ciudades de San Diego y Tijuana han logrado progresos significativos en iniciativas que incluyen:
Conectando empresas con equipos de liderazgo de las dos ciudades para facilitar el crecimiento binacional.
Por primera vez en la historia, se ha desarrollado un plan formal para que sea más fácil para las empresas de ambas ciudades para que crezcan al otro lado de la frontera.  
Creando un programa de sensibilización sobre la trata humana.
Albergando el primer Maker Faire binacional.
Solidificando la mega región San Diego-Tijuana como el mayor centro para la fabricación de dispositivos médicos en el mundo.
Desarrollando programas para la juventud en las bibliotecas de San Diego y Tijuana para promover la alfabetización y celebrar nuestra cultura compartida.
Los alcaldes también homenajearon al diario mexicano El Universal por su aniversario de 100 años y participaron en un panal sobre los fuertes lazos binacionales para el desarrollo de beneficios económicos y sociales. El panel también conto con el nuevo Cónsul General de México en San Diego, Marcela Celorio Mancera. El panal es parte del taller anual Jack F. Ealy de Periodismo Científico de El Universal.