Unprecedented Regional Collaboration Expands 'One San Diego Skills for Success' Program to Entire Region
Mayor Faulconer and Mayors from Throughout San Diego County Come Together to Increase Youth Employment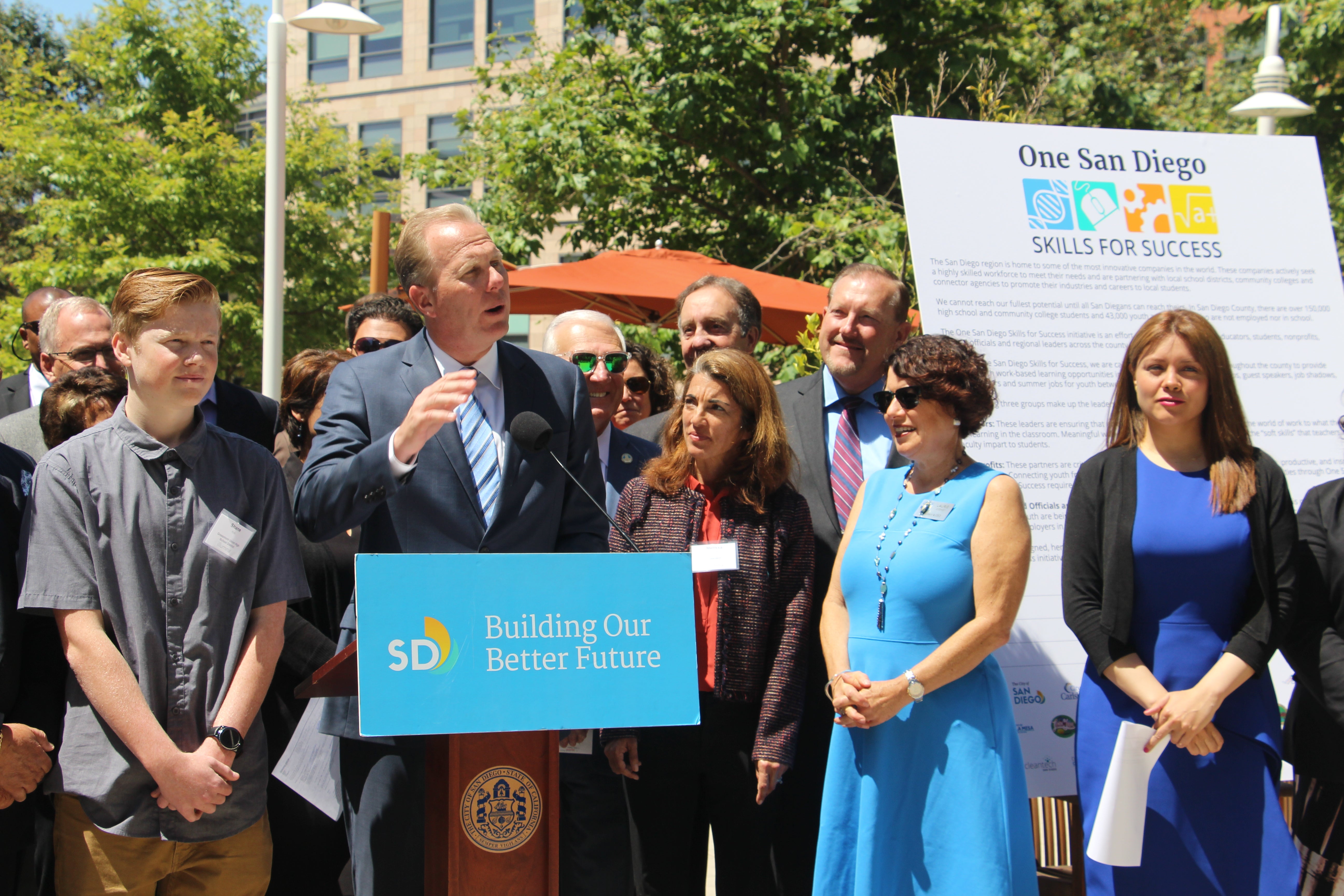 Thursday, May 18, 2017 - NEWS RELEASE
SAN DIEGO – Continuing efforts to help San Diego youth gain skills for successful careers, Mayor Kevin L. Faulconer has today announced that leaders from nearly 40 local agencies are joining him to create internships and summer jobs with local businesses. The collaborative effort will increase real-life career opportunities for opportunity youth, and high school and community college students through the expansion of Mayor Faulconer's successful One San Diego 100 program.
Mayor Faulconer in his 2016 State of the City Address committed to working with 100 employers in the city of San Diego to provide work-based learning opportunities including paid and unpaid internships, guest speakers, job shadows, company tours and summer jobs to youth between the ages of 16 and 24. The effort exceeded its initial goal of engaging 100 employers and now the program is expanding countywide.
"There is a growing chasm between good paying, middle-class jobs and workers with the skills to fill them," Faulconer said.  "Today, we are uniting to take action to bring economic opportunity to underserved communities throughout our region and help our youth gain the experience they need to have a successful career." 
The newly-renamed One San Diego Skills for Success program is expanding countywide due to the work of the San Diego County College and Career Readiness Consortium, which is comprised of K-12 districts, community college districts and nonprofit partners.  A $13.2 million workforce development grant from the California Department of Education was awarded to the Consortium on 2015 and served as the catalyst for this effort.
Mayors, superintendents, county supervisors, nonprofits, and community college district chancellors and presidents, will identify employers to provide meaningful work experiences for youth so they can learn the 21st-century skills they need to be successful.
The program is available to all 16-24 year olds in San Diego County enrolled in high school and college, plus the 43,000 youth who are not in school or employed.
"This kind of collaboration is unprecedented in our county," said MiraCosta College President, Dr. Sunita Cooke.  "Working together as a region is how we will ensure that all students are prepared for local high-skill, high-wage, high-demand careers."
Participating Mayors Include:
The Honorable Matt Hall, City of Carlsbad
The Honorable Mary Salas, City of Chula Vista
The Honorable Richard Bailey, City of Coronado
The Honorable Al Corti, City of Del Mar
The Honorable Bill Wells, City of El Cajon
The Honorable Catherine Blakespear, City of Encinitas
The Honorable Sam Abed, City of Escondido
The Honorable Serge Dedina, City of Imperial Beach
The Honorable Mark Arapostathis, City of La Mesa
The Honorable Racquel Vasquez, City of Lemon Grove
The Honorable Ron Morrison, City of National City
The Honorable Jim Wood, City of Oceanside
The Honorable Steve Vaus, City of Poway
The Honorable Jim Desmond, City of San Marcos
The Honorable John Minto, City of Santee
The Honorable Lesa Heebner, City of Solana Beach
The Honorable Judy Ritter, City of Vista
Consortium Partners include:
K-12 Districts:

Carlsbad Unified School District
Coronado Unified School District
Escondido Unified High School District
Fallbrook Unified High School District
Grossmont Unified High School District
San Diego County Office of Education/Momentum Learning
Mountain Empire Unified School District
Oceanside Unified School District
Poway Unified School District
Ramona Unified School District
San Dieguito Unified High School District
San Marcos Unified School District
San Diego Unified School District
Sweetwater Unified High School District
Vista Unified School District
Steele Canyon High School (Charter)

Community College Districts:
Grossmont Cuyamaca Community College District
MiraCosta Community College
Palomar Community College
San Diego Community College District
Southwestern Community College
Nonprofits:
Cleantech San Diego
East County Economic Development Council
Junior Achievement of San Diego County
San Diego Regional Economic Development Corporation
San Diego County Office of Education
San Diego Regional Chamber of Commerce
San Diego Workforce Partnership
United Way of San Diego County
An effort as large as this one requires broad and sustained participation from elected officials, industry leaders, community leaders, and employers.  Those who are interested in getting involved can go to www.onesandiego100.org for more information.
CONTACT: Francis Barraza at (619) 453-9897 or [email protected]