U.S.-Mexico Border Mayors Sign Resolutions in Support of Trade and Infrastructure Funding
Mayors Faulconer & Gastelum Leading Binational Summit on Trade Relations, Economic Competitiveness and Immigration Impacts on Border Communities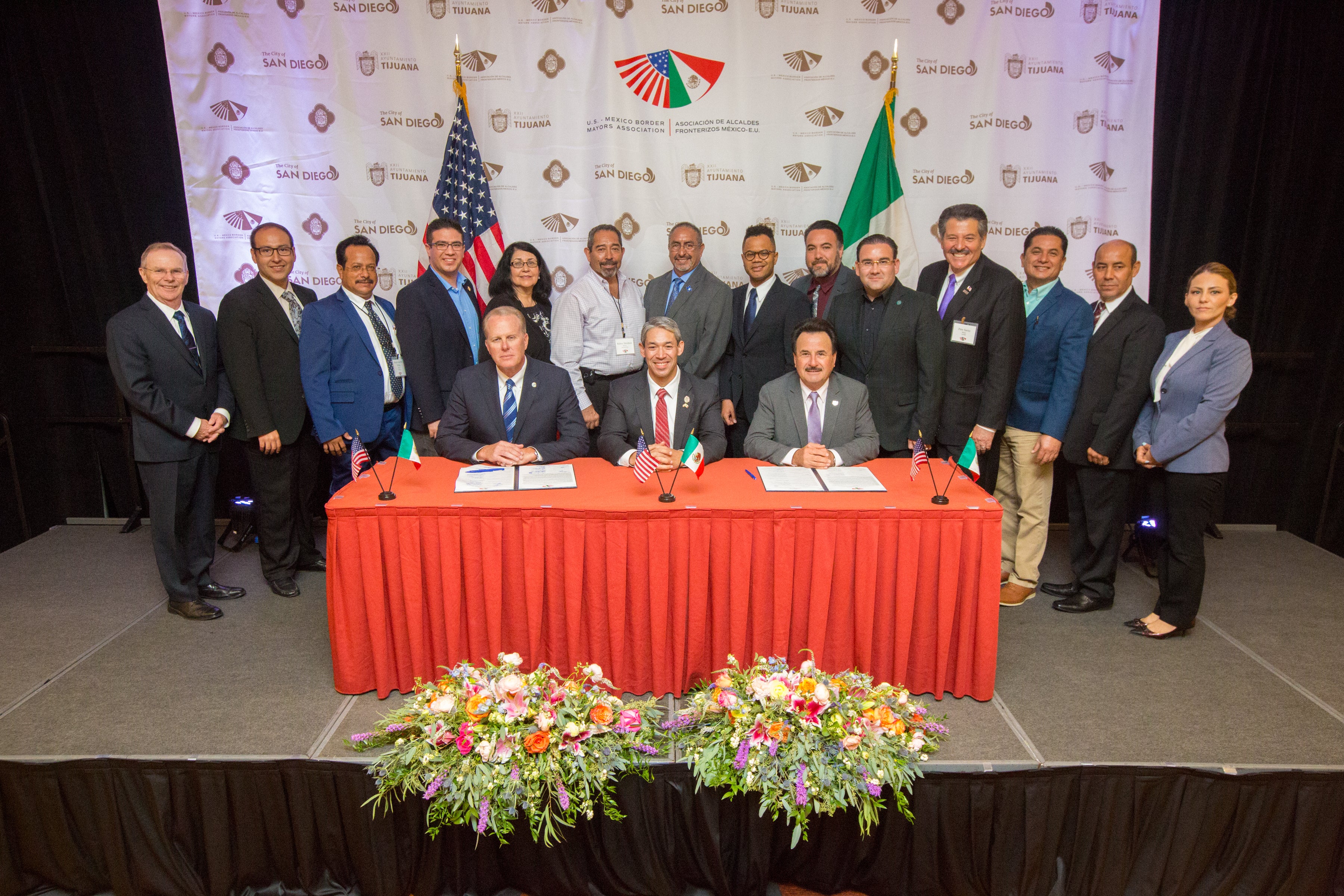 Friday, September 21, 2018 - NEWS RELEASE
San Antonio – As part of ongoing efforts to strengthen relationships between the United States and Mexico and bolster cross-border collaboration, the U.S.-Mexico Border Mayors Association convened this week in San Antonio for its seventh binational summit. Co-chaired by San Diego Mayor Kevin L. Faulconer and Tijuana Mayor Juan Manuel Gastelum, members of the association today signed two formal resolutions pledging support for international trade and continued funding for border infrastructure programs.
"By working together, this group of mayors plays a critical role in building bridges between our two countries and showing how collaboration can lead to economic prosperity for the border region," Mayor Faulconer said. "We've come together with a collective voice to call on our federal leaders to invest more in border infrastructure and modernize trade regulations as we work at growing the competitive advantage we have as border cities."
The resolutions between the 25 participating mayors solidifies their commitment to work together to continue building economic ties between the United States and Mexico.
"The joint efforts between bordering cities in Mexico and the United States is of vital impotence. Together we can strengthen social and economic development for our region. Especially on issues of border security and infrastructure, as this benefits citizens on both sides of the border," Mayor Gastelum said. "This 7th meeting is representative of our continued efforts to our commitment of working together with federal leaders from both countries on the importance of supporting the policies outlining the needs of our bordering cities."
The resolution on trade and cross-border infrastructure specifically calls for enhancing the legal flow of goods, services and people; supporting the modernization of NAFTA; establishing a trilateral agreement between the U.S., Mexico and Canada; and engaging federal leaders about the importance of cross-border and inter-agency coordination.
The North American Development Bank (NADB) was established in 1994 to enhance the quality of life for people living along the U.S.-Mexico border with cleaner water, air and land. The Border Mayors Association signed a resolution urging federal leaders to restore funding for the U.S.-Mexico Border Water Infrastructure Program in the Fiscal Year 2019 budget process.
The binational summit – hosted by the City of San Antonio and its Mayor Ron Nirenberg – brought together more than two dozen border mayors to collaborate on topics that affect border communities and to foster communication between border regions. Topics discussed included:
The Current State of U.S.-Mexico Relations
U.S.-Mexico Trade: The Border Perspective
Transportation Networks and Border Crossings
Impacts of Immigration in Border Communities
"The San Diego-Tijuana partnership demonstrates how diplomacy is done in the 21st century: people-to-people, community-to-community, making strategic investments in infrastructure and trade to create opportunity for all." Mayor Nirenberg said. "San Antonio is proud to be hosting the U.S.-Mexico Border Mayors Summit for the first time outside the official border region, and especially during our city's tri-centennial celebration."
San Diego and Tijuana have a long-standing relationship of cross-border collaboration and economic development going back several generations. Mayors Faulconer and Gastelum have continued to build on the megaregion's strong binational ties by advocating on behalf of both American and Mexican residents and businesses in Washington D.C. and Mexico City.
Mayor Faulconer currently serves as the Co-Chair for the U.S.-Mexico Border Mayors Association and Chair of the Trilateral Alliance for Trade in the Americas and continues to be a leading voice for the U.S. Border Trade Alliance.
Learn more about the resolutions signed today:
CONTACT: Ashley Bailey at (619) 392-0686 or [email protected]