Environmental Monitoring & Technical Services Laboratory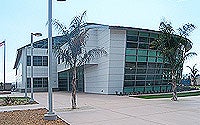 2392 Kincaid Road, San Diego, CA 92101
Opened in 2003, the new Environmental Monitoring & Technical Services Building supports the City's Ocean Monitoring Program, the largest and most comprehensive program of its kind in the world. The 37,000 square foot facility, built on the site of the former Naval Training Center off Harbor Drive, replaced the leased space at Driscoll's Wharf and relocated several lab sections from the City's Alvarado Labs. The building houses 52 scientists and support staff who perform a variety of functions.
The Administration and Permitting and Compliance Sections oversee all regulatory permits. They obtain them, insure that all provisions in them are complied with, and they renew them as necessary. This includes the City's Modified Permit for the Point Loma Wastewater Treatment Plant (PLWTP).
The Marine Biology and Ocean Operations Sections take samples of the ocean bottom, fish and water near the South Bay and Point Loma Outfalls. The bottom sediments are analyzed for pollutants (heavy metals, pesticides, etc.) and the small organisms that live there examined. The purpose is to insure that wastewater discharge is not affecting them. The fish are also examined and analyzed for the toxins, again to insure no accumulation of toxins is occurring and that the general population is healthy. The water is tested for bacteria and other parameters such as light transmittance and dissolved oxygen to insure compliance with regulatory requirements. It also gives a general idea of where the discharge plume is in the ocean.
All of this is done to put the discharges from the Point Loma and South Bay Ocean Outfalls in perspective with other inputs and sources of change to the ocean environment. Overall, it is to ensure compliance with the discharge permits of both plants and the modified permit for the PLWTP. In a broader sense, the work helps to answer the three basic questions: 1) Is it safe to swim? 2) Can you eat the fish? and 3) Are the resources and ecology of the ocean being protected?
The Chemistry and Industrial Waste Sections are based at Alvarado Labs. Samples collected from the ocean monitoring that need chemical analysis (fish tissue, sediments, etc.) are sent to Alvarado as well.
The Micro Biology/Bacteriology Lab, relocated from the Alvarado Labs, does a lot of work for the Storm Water Program and sampling results can help point the finger at illegal discharges. The result of its monitoring can result in further investigations.
Alvarado Labs
Located adjacent to the Alvarado Water Treatment Plant, the Alvarado Labs facility houses laboratory staff for both the Wastewater and Water branches of the Public Utilities Department. Wastewater staff in the facility includes chemists, microbiologists and sub-professionals. Samples are brought to this central location from the wastewater treatment plants and the ocean monitoring boats for chemical and biological analysis as necessary to insure proper operation of the treatment plants, compliance with federal and state permits and environmental protection.