Future Treatment Options at Point Loma (FAQ 4)
What is involved if the Point Loma plant upgrades to a Secondary Treatment level?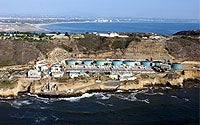 Additional land would be necessary for the most cost effective design of Secondary Treatment facilities; this means either on the adjacent Navy or National Park Service lands at a cost of about $1 billion and the loss of 30 acres of natural coastal habitat;
Or
The City would have to build the Secondary Treatment plant on the current plant site as a "second story". That cost would be about $1.5 billion due to added complexity of the construction and the fact that the current plant must stay in operation during any construction.
In either case, once constructed, the Secondary Treatment plant will cost an additional $40 million per year to operate.
What will the cost mean to me?
There are approximately 375,000 ratepayers in the Metropolitan Wastewater System. (2/3 in the City of San Diego, 1/3 in surrounding cities and districts)
Construction Costs for Secondary Treatment at Point Loma are expected to be approximately:
$1 billion = $2,600 per ratepayer
$1.5 billion = $4,000 per ratepayer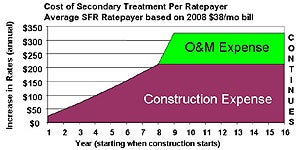 These notional rates to support Point Loma Secondary would build over an eight year period during construction. After construction there would be additional operating and maintenance expenses. The figure illustrates what these expenses could mean to the rates of a Single Family Resident in San Diego – building over the construction years to $325 per household per year starting in the first year of operation. Commercial and other higher volume users would have larger expenses. These are preliminary values; a formal cost estimate would be developed if Secondary Treatment approved.
Operating Costs for Secondary Treatment at Point Loma: More than $105/year per ratepayer.
If the City moves to Secondary Treatment can that treated wastewater (effluent) be used in any beneficial way?
No. Secondary Treatment does not meet the requirements for Title 22 reclaimed water – water that can be used for irrigation or industrial purposes. That requires Tertiary Treatment using micro filtration and disinfection. In San Diego such reclaimed water can currently only be produced at the North City Water Reclamation Plant and the South Bay Water Reclamation Plant.
What are the factors for the City's decision to modify Point Loma to Secondary Treatment?
Technical Data (i.e. land availability, discharge levels and environmental monitoring)
National Trend towards Secondary Treatment
Financing