Point Loma Ocean Outfall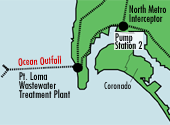 The Point Loma Ocean Outfall was built in 1963 for the discharge of treated wastewater into the ocean. In 1993, the Outfall was extended from a length of two miles off the coast of Point Loma to its present length of 4.5 miles. Twelve feet in diameter and operating via gravity-feed, the Outfall ends in 320 feet of water and splits into a Y-shaped diffuser to ensure wide dispersal of effluent into ocean waters.
The Point Loma Outfall is one of the longest and deepest in the world. Approximately 180 million gallons of wastewater treated at the Point Loma Wastewater Treatment Plant are discharged through the Outfall each day.