Eat It!

Here's some fun stuff to gross out your family and friends. Adult supervision is recommended when making any of these tasty treats.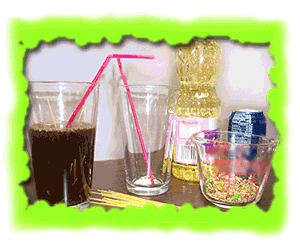 Sewage Soda*
This recipe makes two servings. Double it for four!
2 12-ounce cans cola
1/8 cup hard candy (any flavor)
10 spaghetti noodles (dry)
1 teaspoon vegetable oil
2 straws
2 tall glasses
1 quart pitcher
spoon
Break each spaghetti noodle into six pieces. Cook according to directions on the package. Set aside.
Place the hard candy in a plastic bag and seal it. Use a wooden spoon to grind the candy into small (pebble, sand-like) pieces. Set aside.
Pour cola into 1-quart pitcher. Add vegetable oil. Stir cola until flat. There should be no bubbles.
To the cola, add the spaghetti noodles and hard candy. Stir.
Pour into two tall glasses. Add a straw to each glass. Serve to unsuspecting friends! Yew!!!
*Important: Sewage Soda does not contain real sewage. Untreated raw sewage is dangerous to your health and should never be consumed.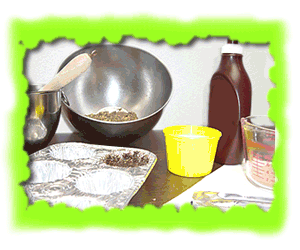 Fake Sludge Cakes
This recipe makes 1 dozen sludge cakes (12 servings).
1 (8 ounce) package cream cheese, softened
1/2 cup chocolate syrup
1/4 cup cocoa powder (any kind)
1 package chocolate sandwich cookies
non-stick cooking spray or butter
1 large plastic bag (1-gallon size)
2 large bowls
hand mixer (beaters), optional
1 muffin pan
Spoon
Lightly grease muffin pan with non-stick cooking spray or butter.
Place chocolate sandwich cookies inside large plastic bag.
Use backside of spoon to break cookies into small chunks.
Once crushed, open and pour cookies into large bowl. Use your hands-your clean hands-to crumble any cookie chunks that are too large. Try for a dirt-like texture.
In second large bowl, use hand mixer (or spoon) to beat cream cheese and cocoa powder until light and fluffy. Stir in chocolate syrup.
Add crushed cookies to the cream cheese mixture in small batches. Fold together. All cookie pieces should be coated with cream cheese mixture.
Firmly pack muffin tins to rim with cookie mixture.
Turn pan over and shake gently to remove fake sludge cakes.
Hold one in your hand. Fake out your friends-tell them that it's a sludge cake-then eat it!